Main content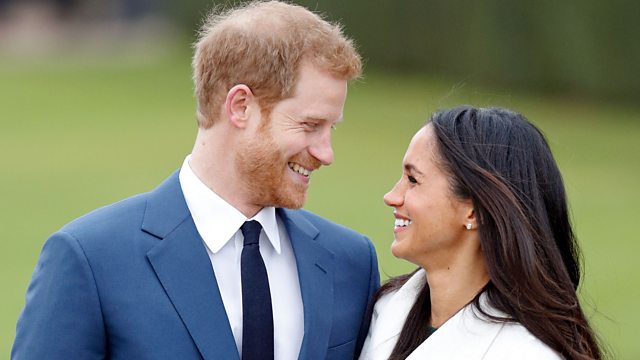 Matchmakers, Sexism, The Fix, Consent
Female perspectives on addictions and eating disorders, the pros and cons of matchmaking, talking to pre-teens about consent, and complaints of sexism at an awards ceremony.
Harry and Megan have been all over the news since the announcement on Monday of their engagement. And there's plenty of speculation about who made the match by introducing the British prince and the American actor. Favourite at the moment seems to be Violet von Westenholz, a childhood friend of Prince Harry. But how good an idea is it to become involved in the love lives of your friends and family? Felicity Morse is a freelance journalist. Gillian McCallum is the chief executive of the online dating service Drawing Down the Moon.
We hear from Emma Bridge from the University of Bradford about its decision to hand back a digital award presented at an event featuring burlesque dancers amid complaints of sexism and from Jacqueline de Rojas, President of TechUK and chair of the Digital Leaders board. How far do stereotypes of women persist in an industry seeking gender equality?
In the next in our series 'The Fix' about women and addiction Milly Chowles goes to the Longreach centre in Plymouth to find out whether there were women there who could link a struggle with addiction to an eating disorder.
Allegations of sexual impropriety have dominated the headlines in recent weeks, which has led to an awful lot of questions from children who hear or read the news and wonder what on earth is going on. So, how do you answer their questions and inform them about their own rights and responsibilities when it comes to sex? We've been talking to the sex education specialist, Rachel Fitzsimmons about what's appropriate for children of different ages - today it's the 9 to 13 year olds.
Presenter: Jenni Murray.
Chapters
Award ceremony

Duration: 09:12

The Fix: Eating disorders and addiction

Duration: 16:31

Talking to children about consent

Duration: 05:51

Matchmaking

Duration: 10:32

Credits

| Role | Contributor |
| --- | --- |
| Presenter | Jenni Murray |
| Interviewed Guest | Felicity Morse |
| Interviewed Guest | Gillian McCallum |
| Interviewed Guest | Emma Bridge |
| Interviewed Guest | Jacqueline De Rojas |
| Interviewed Guest | Rachel Fitzsimmons |
| Reporter | Milly Chowles |