Main content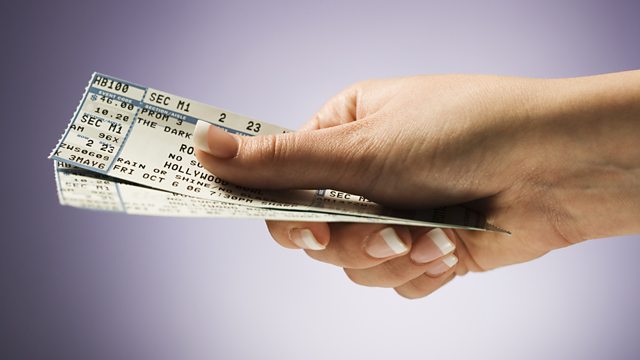 Secondary ticketing websites, Cannabis cafes, Fake reviews
Websites reselling events tickets could face legal action after an investigation by the Competition and Markets Authority. Plus a look at the growth of cannabis cafes in the UK.
Secondary ticketing websites could face legal action from the Competition and Markets Authority. It has been investigating the websites that resell event tickets often for inflated sums of money. The CMA says from now on these websites must make it clear whether there are any risks that customers will not be allowed to enter the event with a re-sold ticket, and must make it clear where the seats are at the venue.
You & Yours investigates reports that cannabis cafés are popping up at undercover venues in the UK, similar to the ones in Amsterdam. The cafés serve coffee and soft drinks and cannabis. They are not advertised openly, but our reporter, Jay Unger, has managed to find and visit one in the North East of England.
And restaurants and hotels are increasingly fielding fake and malicious reviews on online review websites. According to the British Hospitality Association, 85% of their members say they have received at least one. We find out what restaurants are doing to fight back.
Presented by Winifred Robinson
Produced by Natalie Donovan.
Chapters
Secondary Ticket Sites

People who buy concert tickets on resale sites, find they can't get in at the gate.

Duration: 07:20

Energy Supply

As you'll know, it's not easy to understand the charges on your energy bill.

Duration: 04:00

Facebook Memorial

A mother is unable to retrieve photos her daughter posted on Facebook before she died.

Duration: 07:09

Cannabis Cafe

New cannabis cafes are popping up in the UK

Duration: 07:45

Newcastle Parks

Newcastle City Council hand over the running of 33 parks and 60 allotments to charity.

Duration: 05:23

Fake Reviews

Restaurant and hotel managers are seeing fake and malicious reviews posted online.

Duration: 06:06

Jon Douglas was in Newcastle to find out what's happening with their public parks

Jon Douglas was in Newcastle to find out what's happening with their public parks

New cannabis cafes are popping up in the UK