Main content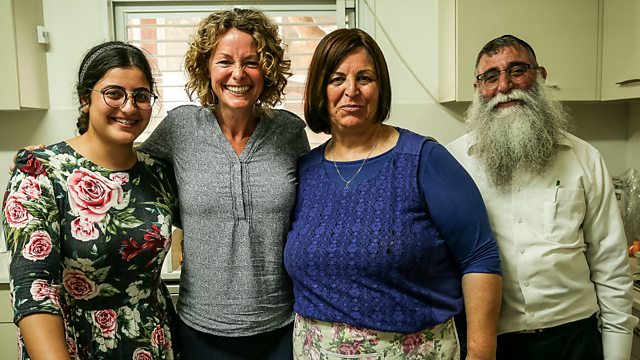 Kate Humble explores three diverse communities in Kenya, Israel and India. In this episode, Kate tries to access the intensely private ultra-Orthodox Haredim in Jerusalem.
Kate Humble travels to three countries - Kenya, Israel and India - where the roles of women are exceptional, complex and sometimes extreme.
In the second episode, Kate tries to access the intensely private ultra-Orthodox Haredim in Jerusalem. After the Holocaust during World War II, the State of Israel was created to offer sanctuary to the survivors and somewhere where the few remaining Haredim could practice their religious studies freely. Kate knows very little about this community, so she begins in a Haredi area of Jerusalem called Mea She'arim. The Haredim reject media intrusion, but after months of attempts to access the community by the production team, a Rabbi has agreed to meet Kate. He gives her vital advice about how she should conduct herself and insight into the society's values including modesty for women.
Finally, a woman agrees to open the doors to her home so Kate can learn about her day-to-day life. Miriam and her husband Haviv are part of the more outward-facing Habad group of the Haredim. They have 15 children and 26 grandchildren - having a large family is one of the key roles a Haredi woman must aim to fulfil. They invite Kate to join them in preparation for their holy day of Shabbat. During a supermarket shop to prepare for a meal of up to 40 guests, Kate learns that there are strict rules to enforce Shabbat, a day of rest, which begins at dusk every Friday.
Kate and Miriam also discuss how women must cover their heads with wigs or scarfs once they are married. Back at home, Kate helps the family prepare the meal until she and the crew must leave so the family can celebrate in private. No work is allowed during Shabbat, so businesses, restaurants, markets and roads in Haredim areas must all shut for 24 hours.
Women are expected to marry and bear large families, so Kate speaks to one of Miriam's daughters about the rules around how to find a husband. Once married, there's another set of rules to adhere to, including wearing a wig to cover their natural hair, so Kate visits a specialist wig shop to chat with a girl who's having a fitting before her impending wedding. She also meets a married woman who has undergone fertility treatment in order to have children.
The Haredim population is growing fast and as their numbers expand so does their lobbying power, which has created tension with Israel's secular community. The Haredim have always received state benefits, including subsidies allowing men to pursue religious studies. However, some benefits, including child benefit, are being reduced, which is hitting the community hard. It's said that 58% of Haredim live below the poverty line and many more women must go out to work.
Kate accompanies Miriam to her job as a schoolteacher. Girls and boys are taught separately from the age of three, with boys' focus being on the study of religious texts. Kate is surprised to learn that with a more general secular education, women do have greater employment opportunities. In
fact, twice as many Haredi women are in paid work compared to men. Kate admires how these women juggle being the main bread winners and raising enormous families.
Miriam has been very generous with her time but Kate is frustrated at not being able to discuss the more negative aspects of living in what she sees as a very prescriptive culture. In nearby Tel Aviv, she visits an organisation called Hillel, which offers support to women who leave the Haredi way of life. She hears distressing stories of abuse and speaks to a women who, having left the community, is banned from seeing her children. This has been one of the hardest communities to access that Kate has ever encountered. Before she leaves, she manages to secure one final meeting with a woman whose experience perhaps bridges the gap between Miriam who promotes her way of life at every turn and those women at Hillel who have chosen to leave the community. Surprisingly, Rachel is a radio broadcaster, who claims Kate Middleton as her role model.
Credits
| Role | Contributor |
| --- | --- |
| Presenter | Kate Humble |
| Executive Producer | Lucy Carter |
| Director | Grace Hughes-Hallett |
| Producer | Grace Hughes-Hallett |
| Director | Joyce Trozzo |
| Producer | Joyce Trozzo |
| Production Manager | Jennie Sawyer |