Main content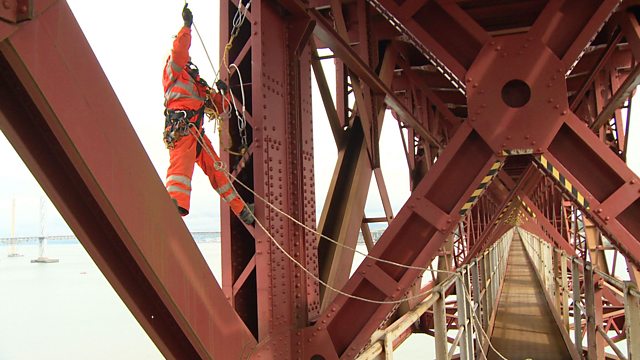 Cùm Grèim
Obair ruigheachd le ròp an Alba. Documentary that goes behind the scenes at two of Scotland's most successful rope access companies.
Tha obair ruigheachd le ròp ann an gnìomhachas a' sìor fhàs nas bitheanta air feadh an t-saoghail. Tha e nas luaithe, agus nas saoire, do eòlaichean air an deagh thrèanadh àite a'ruigheachd a tha fìor dhuilich faighinn thuige, na a' cuir suas sgafallachd. Slaoidte ris a bhidein is àirde air Drochaid Rèile Foirthe, crochte ri clach-dhùnaidh air drochaid-bhoghachan, no a' dìreadh ballaichean caisteil on treas linne deug - chan e dreuchd do neach gun mhisneachd a tha seo idir.
Tha am prògram aithriseach seo a' faighinn a-mach dè th' air cùl na h-obrach, cuide ri dhà dhe na companaidhean is soirbheachaile an Alba ann an ruigheachd le ròp.
Industrial abseiling is one of the fastest-growing industries in the world. Faster and cheaper than scaffolding, it allows trained specialists to access the inaccessible. Whether suspended from the heights of the iconic Forth Rail Bridge, dangling from the arches of a majestic viaduct or scaling the walls of a 13th century fortified castle, this isn't a job for the faint-hearted.
This documentary goes behind the scenes with two of Scotland's most successful rope access companies.