Main content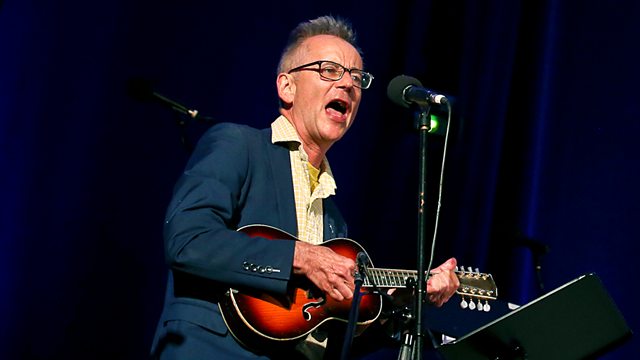 The Verb Celebrates 35 Years of Spoken Word
Ian McMillan and guests celebrate the story of spoken word in the UK, on the 35th anniversary of 'Apples and Snakes' - at the 'Contains Strong Language' festival in Hull.
Ian McMillan presents a special extended edition of Radio 3's The Verb recorded as part of Contains Strong Language, a season of poetry and performance from Hull, UK City of Culture 2017.
Ian McMillan is joined by a host of spoken word talent to celebrate the story of spoken-word performance in the UK on the 35th anniversary of 'Apples and Snakes'.
John Agard has been performing spoken word across the UK for over 30 years. His poem celebrates the Voice as he reminds us that 'Shakespeare was a performance poet'. Hannah Silva is an innovative playwright and performer, who presents a brand new poem. In this piece, specially commissioned by Apples and Snakes to celebrate their 35th anniversary, Hannah digs around in their archives to find poetic inspiration.
The Verb has also commissioned new work, a collaborative piece by SLAMbassadors UK founder Joelle Taylor and Zena Edwards. 'I remember you' examines the political history of spoken word. We also hear from Grace Nichols who brings a carnival spirit to the proceedings, Yomi Sode who takes us back to his awkward teenage years, and Dizraeli reads brand new work addressing toxic masculinity.
Apples and Snakes have also commissioned collaborative work from London based poet and grime artist Debris Stevenson and Hull's very own breakout grime star Chiedu Oraka.
John Hegley's first public performance was in Hull many years ago, so it's only fitting that he returns to the city to celebrate the birthday of Apples and Snakes, who have been an important part of his career for the past 35 years.
And there were so many fantastic performances at this Contains Strong Language event that we couldn't fit them all into the broadcast edition of the show, download our podcast to hear extra performances from all our guests and an extra podcast only appearance from poet and rapper TY and a brand new collaboration, commissioned by Apples and Snakes between Yomi Sode and Dizraeli.
Presenter: Ian McMillan
Producer: Jessica Treen.