Main content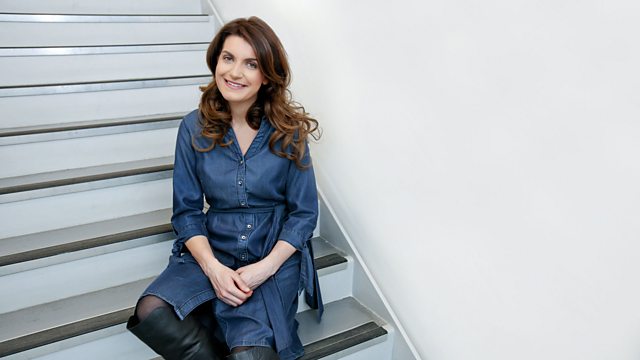 Thursday - Opera matinee: Donizetti's Lucrezia Borgia
Georgia Mann presents a Salzburg Festival concert performance of Donizetti's Lucrezia Borgia, starring Krassimira Stoyanova in the title role, with Juan Diego Florez as Gennaro.
Georgia Mann presents a concert performance of Donizetti's Lucrezia Borgia from this year's Salzburg Festival.
Set in 16th-century Venice and Ferrara, the opera tells the tale of the young nobleman Don Gennaro's encounter with one of the most infamous and deadly women of the Italian Renaissance, Lucrezia Borgia. Premiered at La Scala, Milan on 26th December 1833, and based on a play by Victor Hugo, Donizetti's opera captures the intrigue, passion and jealousy of an aristocratic dynasty tested by the arrival of a young and honest man brought up as the son of a lowly fisherman. Krassimira Stoyanova sings the title role, with Juan Diego Florez as Gennaro, and Ildar Abdrazakov as her husband, Don Alfonso D'Este, Duke of Ferrara. Then it's back to this week's featured orchestra, the BBC Scottish Symphony Orchestra, for music by Dvorak.
2pm
Donizetti Lucrezia Borgia.
Don Alfonso D'Este, Duke of Ferrara ..... Ildar Abdrazakov (bass)
Lucrezia Borgia ..... Krassimira Stoyanova (soprano)
Don Gennaro ..... Juan Diego Florez (tenor)
Maffio Orsini ..... Teresa Iervolino (contralto)
Jeppo Liverotto ..... Mingjie Lei (tenor)
Oloferno Vitellozzo ..... Ilker Arcayürek (tenor)
Apostolo Gazella ..... Gleb Peryazev (bass)
Ascanio Petrucci ..... Ilya Kutyukin (baritone)
Gubetta ..... Hans Peter Kammerer (bass)
Rustighello: Andrew Haji (tenor)
Astolfo ..... Gordon Binter (bass)
Vienna State Opera Chorus
Mozarteum Orchestra, Salzburg
Marco Armiliato (conductor)
16.20
Dvorak
The Water Goblin, Op.107
BBC Scottish Symphony Orchestra
Rory Macdonald (conductor).
Synopsis
Time: Early 16th century
Place: Venice and Ferrara
Prologue
The Palazzo Grimani in Venice
Gennaro and his friends, including Orsini, celebrate on the brightly lit terrace, which overlooks the Giudecca canal. The friends' conversation turns to Don Alfonso, Duke of Ferrara, to whose house they will be travelling the next day and to his wife, the infamous Lucrezia Borgia. On hearing Lucrezia's name, Orsini tells of how Gennaro and he, alone in a forest, were warned by a mysterious old man to beware her and the entire Borgia family and that the two of them would die together ('Nella fatal di Rimini'). Bored of Orsini's tale, Gennaro has wandered off and fallen asleep and when his friends are invited to rejoin the festivities, he is left alone. A gondola appears carrying a masked woman. She hurries over to the sleeping Gennaro and observes him with affection ('Com'è bello! Quale incanto in quel volto onesto e altero!') She kisses his hand, awakening him. He is struck by her beauty. He expresses his love for her and sings of his childhood as an orphan brought up by fishermen. He adds that he loves dearly the mother he has never met ('Di pescatore ignobile esser figliuol credei.') The others return and instantly recognise her as Lucrezia Borgia, listing in turn the members of their families she has killed. Gennaro responds with horror.


Act 1
Ferrara
The Duke, believing Gennaro to be Lucrezia's lover, plots his murder with his servant Rustighello ('Vieni: la mia vendetta è meditata e pronta.') Gennaro and his companions leave the house for a party and pass the Duke's palace with its large gilded coat of arms reading Borgia. Keen to show his contempt for the Borgia family, Gennaro removes the initial "B", leaving the obscene "Orgia".
In the palace, Lucrezia is shown into the Duke's chamber. Having seen the defaced crest, she demands death for the perpetrator, not knowing that it is Gennaro. The Duke orders Gennaro to be brought before her and accuses him of staining the noble name of Borgia, a crime to which he readily confesses. Lucrezia, horrified, attempts to excuse the insult as a youthful prank, but Don Alfonso accuses Lucrezia of infidelity, having observed her meeting with Gennaro in Venice. She denies any impropriety but Alfonso insists upon the prisoner's death and forces her to choose the manner of his execution. Pretending to pardon him, the Duke offers Gennaro a glass of wine and he swallows it. After a stunning trio ('guai se ti sfugge un moto, Se ti tradisce un detto') the Duke leaves and Lucrezia hurries to Gennaro, giving him an antidote to the poison the Duke has mixed with the wine. He drinks and in a last duet, she implores him to flee the city and her husband ('Bevi e fuggi ... te'n prego, o Gennaro!')
Act 2
The palace of the Princess Negroni
Ignoring Lucrezia's advice, Gennaro attends a party at the palace, swearing never to be parted from his friend Orsini. Orsini leads the party in a brindisi or drinking song ('Il segreto per esser felici') and they drink. Lucrezia enters and announces that in revenge for their insults in Venice she has poisoned their wine and arranged five coffins for their bodies. She has hitherto believed that Gennaro fled Ferrara on her advice, and is thus dismayed when he steps forward and announces that she has poisoned a sixth. Orsini, Liverotto, Vitellozzo, Petrucci and Gazella fall dead. Gennaro seizes a dagger and attempts to kill Lucrezia, but she stops him by revealing that he is in fact her son. Once again she asks him to drink the antidote, but this time he refuses, choosing to die with his friends. In a final cabaletta ('era desso il figlio mio'), Lucrezia mourns her son and dies.
Credit
| Role | Contributor |
| --- | --- |
| Performer | BBC Scottish Symphony Orchestra |