Main content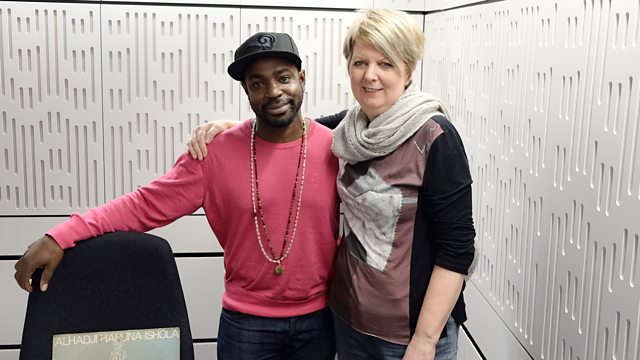 Fiona Talkington with Tayo Popoola
DJ, musician and podcaster Tayo Popoola drops by to help select songs for the evening, alongside a rare reissue of a Roland Kayn opus charting the history of electronic music.
DJ, musician, presenter, party promoter, radio producer and podcaster Tayo Popoola joins Fiona to select some fresh songs for the evening. His areas of expertise include house, hip hop and Nigerian music.
Also in the programme: a rare reissue of an old Roland Kayn opus comprehensively charts the history of electronic music; Sote's new album marries traditional and futuristic Iranian sounds; and we dig into the output of Discwoman, a collective promoting the interests of female-identifying artists in current club culture.
Produced by Jack Howson for Reduced Listening.
Last on
Music Played
Clarinet Factory

&

Alan Vitouš

Co Se Stalo? = What's Up

Alexander Gretchaninov

Lord, Now Lettest Thou Thy Servant, Op 34 No 1 = Nïne Otpushchayeshï

Choir: Holst Singers. Conductor: Stephen Layton.

Sote

Holy Error

Sacred Horror In Design.
Opal Tapes.

Oreka Tx

Keinuka Ilargiari

Quercus Endorphina.
Elkarlanean.

Tony Allen

&

Elvin Brandhi

Duet

Late Junction Collaboration Session.

Ebenezer Obey

Olowo Laiye Mo

Evergreen Songs Origina 14.
Ebenezer Obey Music Co. Ltd.

Alhadji Haruna Ishola & His Apala Group

Egbe Omojaiyejaiye Shagamu

N'Kouri

I Take You My Feeling

Christopher Fox

Escalation (feat. Heather Roche)

The Incredible String Band

Ducks On A Pond

Wee Tam & The Big Huge.
Elektra.

Bare Bones

(A Heavy Feather)

Reliquary (Parts I -VII).

Umfang

Weight

Symbolic Use Of Light.
Technicolour.

Ziúr

Moonlight

U Feel Anything?.
Planet Mu.

Cambodian Space Project

Pros Kangaroo (Kangaroo Boy)

2011: A Space Odyssey.
Metal Postcard.

The Remote Viewers

The Night Before The Journey

Esemble Vox Clamantis

,

Jaan-Eik Tulve

,

Jean-Pascal Ollivry

,

Kadri Hunt

&

Mikk Üleoja

Mâtines du jeudi saint: Deuxième leçon (Ton de silos)

Roland Kayn

Czerial

A Little Electronic Milky Way Of Sound.
Frozen Reeds.

Jim O'Rourke

Through The Night Softly
Broadcast