Main content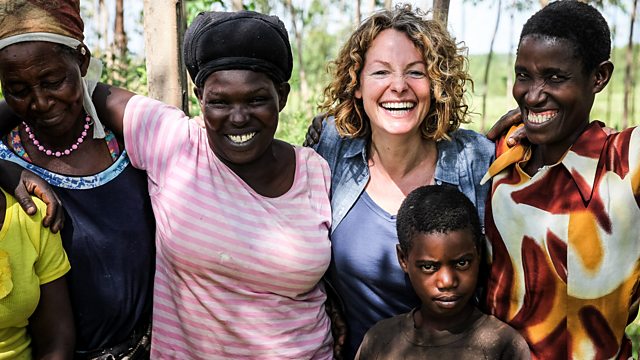 Series in which Kate Humble explores three diverse communities in Kenya, Israel and India. In Kenya, Kate looks at the extraordinary custom of woman-to-woman marriage.
Kate Humble travels to three countries - Kenya, Israel and India - where the roles of women are exceptional, complex and sometimes extreme.
In the first episode, Kate is in southwest Kenya in the district of Kuria. The Kuria people are polygamous, but what makes this community so fascinating is that they also practise woman-to-woman marriage known as nyumba mboke. Kate is invited to stay with a family headed by a man called Mosenda, who has four wives. She meets his first wife Paulina, and is then introduced to Paulina's own wives, Lillian and Faith.
Kate also meets a local anti-FGM campaigner, Susan, and hears about her distressing personal experience. She nearly died after being circumcised and had to undergo operations afterwards in order to be able to have children. At least 200 million women and girls alive today, across 30 countries, have undergone FGM. In Kenya the numbers are slowly going down, but those most at risk are young girls in rural areas like Kuria.
Susan invites Kate to accompany her on a risky rescue of a young girl whose father wants her to be circumcised. Under the cover of darkness and with an armed policewoman as back-up, Susan picks up the girl and takes her to a safe house.
The district commissioner of Kuria West tells Kate and Susan that it is the community's tribal elders who are perpetuating FGM because they benefit financially from the ceremonies. The elders themselves tell Kate that they cannot support the immediate end of female circumcision because it would anger their god Eresa. Then, days later, Kate is horrified to learn that because the police arrested some of the elders, they believed that Eresa told them to continue with FGM, and that over the previous night more than 300 girls from the community were circumcised.
More episodes
Previous
You are at the first episode
Credits
| Role | Contributor |
| --- | --- |
| Presenter | Kate Humble |
| Executive Producer | Lucy Carter |
| Director | Alexis Girardet |
| Producer | Alexis Girardet |
| Production Manager | Jennie Sawyer |