Main content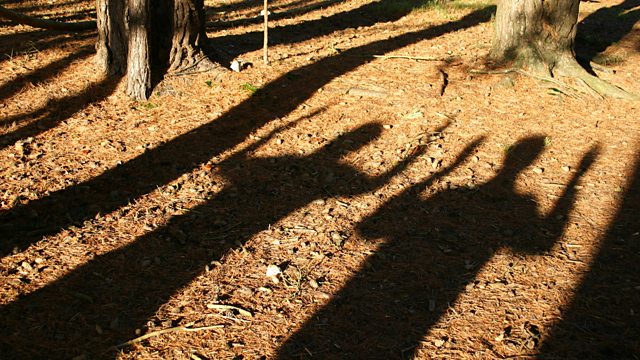 Walks in Two Worlds
Alexandra Gilbreath and Neil Pearson explore different worlds with readings of texts by Burnside, Coleridge and Vahni Capildeo and music by Chopin, MacMillan, Mussorgsky and Satie.
Theseus went into the maze, Orpheus into the dark of Hades. Heroes that they were, both emerged again to the light of the day. Alexandra Gilbreath and Neil Pearson are our guides to worlds galore, of magic and myth, and of love... for two people may share the same space but their thoughts? Who knows? How many worlds do we each inhabit as memory bends time back on itself?
So the familiar becomes the strange, with poetry from an Anglo-Saxon riddle, John Burnside, Vahni Capildeo, Ciaron Carson, Cecil Day-Lewis, Robert Devereux Earl of Essex, Thom Gunn, W S Graham, Selima Hill, Mervyn Peake, Warsan Shire, and prose from Paul Kingsnorth and Michael Ondaatje; with the music of Satie and Mussorgsky walking us through from one world to the next, plus Birtwistle, Britten, Chopin, Klami, George Lewis, James MacMillan and Jean Redpath.
Producer: Jacqueline Smith.
Music Played
Timings (where shown) are from the start of the programme in hours and minutes
Selima Hill

Dragon Fly, read by Alexandra Gilbreath

Les Murray

The Meaning of Existence, read by Neil Pearson

W. S. Graham

Imagine a forest (extract), read by Alexandra Gilbreath

John Burnside

A Stolen Child (extract), read by Neil Pearson

John Burnside

Parousia (extract), read by Neil Pearson

Louis MacNeice

Collected Poems, Canto XXIV (extract), read by Neil Pearson

Samuel Taylor Coleridge

The Rime of the Ancient Mariner, read by Alexandra Gilbreath

Owen Sheers

Winter Swans, read by Neil Pearson

Anglo-Saxon riddle, translated by Richard Hamer

Swan, read by Alexandra Gilbreath

Thom Gunn

Touch read by Neil Pearson

James K. Baxter

Moss on Plum Branches, read by Alexandra Gilbreath

Vahni Capildeo

Investigation of Past Shoes (extract), read by Alexandra Gilbreath

Robin Robertson

At Roane Head, read by Alexandra Gilbreath and Neil Pearson

Mervyn Peake

It Makes a Change, read by Alexandra Gilbreath

Warsan Shire

Backwards, read by Alexandra Gilbreath

Warsan Shire

Backwards, read by Alexandra Gilbreath

Cecil Day-Lewis

Walking Away, read by Neil Pearson

Charles Kingsley

The Water Babies (extract), read by Alexandra Gilbreath

E. E. Cummings

What if a much of a which of a wind (excerpt), read by Neil Pearson

Edward Thomas

The Combe, read by Alexandra Gilbreath

Robert Devereux, Earl of Essex

Verses Made By the Earl of Essex in His Trouble (excerpt), read by Neil Pearson

Ciaran Carson

The Fetch, read by Neil Pearson

Michael Ondaatje

The English Patient (excerpt), read by Alexandra Gilbreath

Paul Kingsnorth

Beast (excerpt), read by Neil Pearson

Selima Hill

Man With A Grasshopper on His Nose, read by Alexandra Gilbreath

Producer's Notes:

Jung, Frazer and Campbell mapped out the mono-myth that stories our lives and underpins our  sense of existence – the hero's journey, leaving the safety of home, plunging into the world of the uncanny, facing down challenges... coming back changed.  Using poetry and music and beauty as a form of spell and invocation, Walks in Two Worlds is a wander up and down the highways and by-ways of The Other – felt worlds, imagined, feared, exhilarating, funny – lived in and experienced as intensely as the quotidian.  Mussorgsky's Pictures from an Exhibition and Erik Satie's Gymnopédies will be our guides, lighting our way through a succession of adventures, shifting our moods up and down and round and round… not least because they have accompanied me on many a journey to the interior.    

Les Murray, W. S. Graham, and John Burnside tell their tales of magic forests, fey children and dangerous journeys, all transformative as Wagner's hero Parsifal discovered.  There will be other chancy places, where all is not as it seems and where the rules of the human world do not apply. 

Then there is Love.  Can two people really be one?  Or, however close their hands and their hearts, how can one know where the other's spirit is treading?  The Welsh poet Owen Sheers, an Anglo-Saxon riddle-maker, Thom Gunn and the New Zealand poet, James K. Baxter stir our senses. Further on and further in, we come across sex between human and fairy… sad but very beautiful.  Just listen to Jean Redpath singing The Grey Silkie or Robin Robertson's devastating At Roane Head and Buddug Verona James' with James Macmillan's ballad-setting of a William Souter poem. 

Or can we walk out of one world into another through sheer strength of will?  Who in the depth of grief or suffering has said to themselves, let this not be so, let it be different.   Warsan Shire's heart-breaking poem 'Backwards' says it all while the excerpt from Vahni Capildeo's beautiful Investigation of Past Shoes shows how time bends back on itself and joy once felt can be transmitted down the years and Cecil Day-Lewis' Walking Away shows how our worlds overlap in time, causing pain, producing wisdom.

In the otherworld of the ancients, Birtwistle, Britten and Gluck will show us two old heroes; Theseus who went into the maze and Orpheus who went down into hell; both return but they are changed.  

This is not the whole journey, there will be surprises and twists, moments of laughter, but Walks in Two Worlds is not a map, just a dream, just go with it and don't worry about what it means.  We don't know and most of the time that's fine.

Producer: Jacqueline Smith