Main content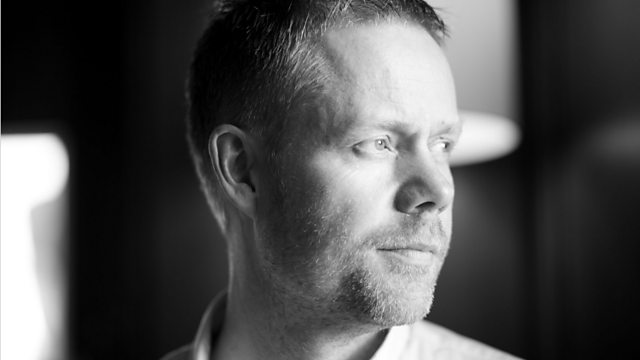 Max Richter
The composer, pianist and producer Max Richter introduces some of the music that has inspired him.
Last on
Music Played
Charles Ives

The Unanswered Question

Orchestra: New York Philharmonic. Conductor: Leonard Bernstein.

DEUTSCHE GRAMMOPHON : 429-220-2.
DEUTSCHE GRAMMOPHON.
9.

Urmas Sisask

Starry Sky Cycle Op.10 (No.25 Ursa Minor, Peace)

Performer: Lauri Väinmaa.

FINLANDIA : 544602.
FINLANDIA.
25.

William Byrd

Mass For 5 Voices (Agnus Dei)

Performer: Tallis Scholars. Conductor: Peter Phillips.

GIMELL RECORDS : CDGIM-345.
GIMELL RECORDS.
3.

John Luther Adams

Canticles Of The Sky (No.1 Sky with Four Suns)

Performer: Northwestern University Cello Ensemble.

The Wind in High Places.
Cold Blue Music.
5.

Johann Sebastian Bach

Harpsichord concerto No.5 in F minor BWV.1056 (Largo)

Performer: Cyprien Katsaris. Orchestra: Pforzheim Chamber Orchestra. Conductor: Sebastian Tewinkel.

Knut Nystedt

Immortal Bach

Choir: Ensemble 96. Conductor: Oystein Fevang.

Bill Evans

Peace Piece

Performer: Bill Evans.

RIVERSIDE : OJCCD-068-2.
RIVERSIDE.
7.

Pauline Oliveros

Crossing The Sands

Performer: Pauline Oliveros.

The Roots of the Moment.
hatOLOGY.
1.

Johann Sebastian Bach

Gottes Zeit Ist Die Allerbeste Zeit BWV.106 (Sonatina)

Performer: György Kurtág. Performer: Márta Kurtág. Music Arranger: György Kurtág.

ECM RECORDS : 1619-453 511-2.
ECM RECORDS.
13.

Michael Tippett

Concerto For Double String Orchestra (2nd Mvt)

Orchestra: English Symphony Orchestra. Conductor: William Boughton.

NIMBUS : ni-1759.
NIMBUS.
3.

Luciano Berio

Wasserklavier (from Six Encores)

Performer: Andrea Lucchesini.

Henry Purcell

Fantazia No.7 in C minor

Ensemble: Phantasm.

SIMAX : PSC-1124.
SIMAX.
7.

John Dunstable

Veni Sancte Spiritus

Choir: The Hilliard Ensemble. Director: Paul Hillier.

VIRGIN CLASSICS : VER-5613422.
VIRGIN CLASSICS.
1.

Nadia Boulanger

3 Pieces for Cello and piano (No.1, Modere)

Performer: Nicolas Altstaedt. Performer: José Gallardo.

NAXOS : 8.572105.
NAXOS.
2.

Arvo Pärt

De Profundis Clamavi

Performer: Theatre of Voices. Performer: Christopher Bowers-Broadbent. Performer: Dan Kennedy. Conductor: Paul Hillier.

HARMONIA MUNDI : HMU 907182.
HARMONIA MUNDI.
1.

Richard Wagner

Siegfried-Idyll

Orchestra: Vienna Philharmonic. Conductor: Herbert von Karajan.

DEUTSCHE GRAMMOPHON : 423-6132.
DEUTSCHE GRAMMOPHON.
2.

Franz Schubert

Abschied D.475

Performer: Gerold Huber. Singer: Christian Gerhaher.

Sony Classical: 88883712172.
Sony Classical.
4.
Broadcast

Podcast
A view of classical music from a range of presenters; themed series and one-off programmes