Main content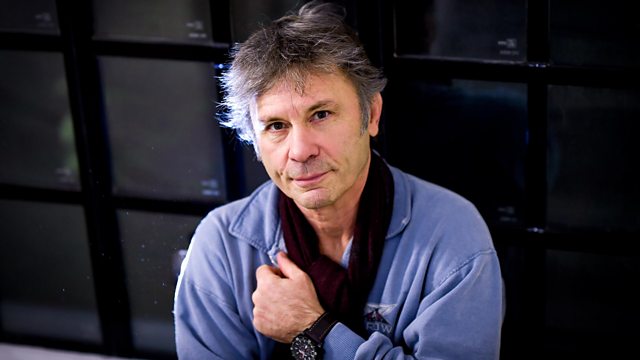 Bruce Dickinson
Extraordinary stories, unusual people and a sideways look at the world.
Bruce Dickinson is best known as lead singer one of the most successful heavy metal bands in history, Iron Maiden. But he's also a airline captain, international fencer, radio presenter, and writer, who has now written his autobiography. The man once billed a "Human air raid siren" joins Richard Coles and Aasmah Mir in the studio.
Alby Shale's father, Christopher Shale, died of a heart attack aged 56 in 2011 when Alby was 20. Not long before he died, he'd taken Alby to Rwanda to show him the volunteering work he'd been doing there, which had resulted in a plan to open the country's first national Cricket stadium. After his father's sudden death, Alby decided to help complete the project and joins us after having just returned from Rwanda where he watched the stadium's opening ceremony and inaugural match.
We also meet Shobna Gulati, actress, writer and dancer known for her roles in Dinnerladies and Coronation Street, about to star in Daisy Pulls it off.
And listener Clorinda Goodman is a solicitor turned stone mason. She will join us to talk about what she's got out of turning to this physically demanding and creative craft in later life.
We also have the inheritance tracks of television presenter, reality TV star, life coach and former professional footballer, Jeff Brazier.
and JP gets an insiders tour of Birmingham Royal Ballet's Nutcracker.
What does this Button do by Bruce Dickinson is out now
Daisy Pulls it Off is at the Park Theatre in London until 13 January
Birmingham Royal Ballet's production of The Nutcracker is at the Birmingham Hippodrome until the 13th of December
Producer: Corinna Jones
Editor: Beverley Purcell.
Credits
| Role | Contributor |
| --- | --- |
| Producer | Corinna Jones |
| Editor | Beverley Purcell |
| Presenter | Richard Coles |
| Presenter | Aasmah Mir |
| Interviewed Guest | Bruce Dickinson |
| Interviewed Guest | Alby Shale |
| Interviewed Guest | Shobna Gulati |
| Interviewed Guest | Clarinda Goodman |
| Interviewed Guest | Jeff Brazier |