Main content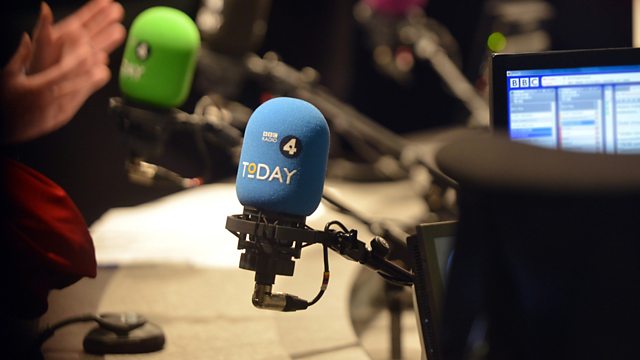 23/11/2017
Morning news and current affairs. Including Yesterday in Parliament, Sports Desk, Weather and Thought for the Day.
Last on
Today's running order
0650
Richard Dawkins has posted a picture on social media of a "cathedral" built by termites in Australia. Matt Shardlow is chief executive of the charity Buglife.
0652
Conservative MPs have given a cautious welcome to what was described as a make or break budget for the chancellor. Paul Johnson is an economist at the IFS.
0709
The Government is to get rid of stamp duty for certain first-time buyers on properties up to £300,000. Peter Truscott is CEO of Galliford TRY House Builders and David Miles is professor of financial economics at Imperial College Business School.
0715
Home broadband providers will have to ensure at least 50% of their customers can achieve advertised speeds at peak time under a crackdown to prevent misleading claims. Pete Moorey is campaign director at Which?.
0720
Every year the world gets brighter as a result of light pollution. Does it matter?  New research at the Free University in Berlin says it does. Dr Maja Grubisic is a biologist studying the effect of artificial light at the Free University in Berlin.
0732
The Office of Budget Responsibility seems to have given up on productivity coming back to pre-financial crisis levels. John McDonnell is the shadow chancellor.
0743
The row continues over whether water divining works. Richard Wiseman, a professor from the University of Hertfordshire, has spent 20 years researching the psychology of luck and the paranormal.
0750
57 million customers and drivers were affected by the data breach at Uber, something the company did not reveal, instead choosing to pay the hackers to delete the information they had accessed. Robert Hannigan is the former director of GCHQ.
0810
Chancellor Philip Hammond has given a sobering assessment of the economy, saying it is expected to grow more slowly than previously thought. He joins us on the programme.
0830
The new leader of Zimbabwe, Emmerson Mnangagwa, has said that the country is witnessing the start of a new democracy, and has promised to rebuild the economy. Shingai Nyoka is our correspondent and Christopher Adam is professor of development economics at Oxford University.
0840
Scotland's budget comes next month but what impact does Mr Hammond's budget have? Ian Blackford is the SNP's leader at Westminster.
0842
The Jewish community in Britain is increasingly polarised. Reform Judaism is doing well, but by far the fastest growing group are the ultra-orthodox - the haredim. Sanchia Berg reports.
0846
Motherland, a new BBC 2 comedy, is the latest in a line of TV programmes, blogs, films and books about the humour and challenges of modern motherhood. Anna Maxwell Martin is an actor who plays Julia in Motherland and Fiona Neill is an author.
0853
Could cash incentives for schools that get more pupils taking Maths A Level be a good thing? Bridget Rosewell is an economist at Volterra and Frances Cairncross is an economist and journalist.
All subject to change.
Broadcasts