Main content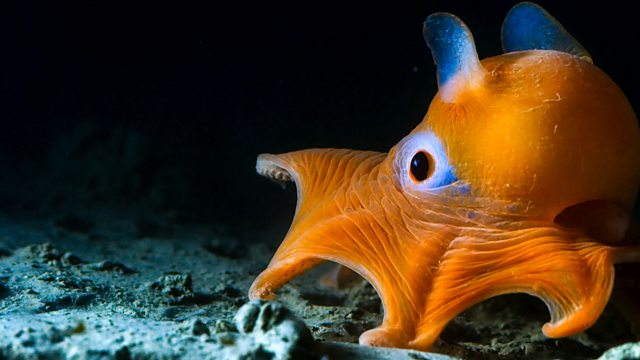 The wildlife documentary series narrated by David Attenborough goes on groundbreaking journey to the deepest parts of the oceans.
The deep is perhaps the most hostile environment on Earth, at least to us - a world of crushing pressure, brutal cold and utter darkness. We have barely begun to explore it, and yet it is the largest living space on the planet. Scientists already think that there is more life in the deep than anywhere else on Earth.
This episode takes us on an epic journey into the unknown, a realm that feels almost like science fiction. We discover alien worlds, bizarre creatures and extraordinary new behaviours never seen before. We encounter savage hordes of Humboldt squid hunting lanternfish in the depths and coral gardens flourishing in absolute darkness, with more species of coral to be found in the deep than on shallow tropical reefs.
On the desert wastes of the abyss, a whale carcass generates a frenzy as slow-moving sharks as big as great whites fight for what may be their first meal in a year. Food is hard to come by and finding a mate is even harder, but life adapts in ingenious ways. There are fish that walk instead of swim, worms that feed exclusively on bones and shrimps that spend almost their entire lives imprisoned with their mate in a cage of crystal sponge.
The deeper you go, the more extreme conditions become. The sheer weight of water above creates almost unendurable pressures. Yet even eight kilometres down, where the basic chemistry of life was once thought impossible, we find strange species swimming through the darkness. From here we journey on down to the deepest place on earth - the Mariana Trench - almost 11 kilometres from the surface, a vast chasm that ruptures the deep sea floor. Only three human beings have ever reached here, and yet there is still life to be found in these deep sea trenches.
The deep can be a violent place. Tectonic plates rip apart or collide in mighty clashes. And at these volcanic hotspots, extraordinary micro-worlds blossom into life, completely divorced from the energy of the sun. Hair-covered crabs feed on gushing plumes of otherwise toxic hydrogen sulphide. Shrimps hover on the fringes of billowing clouds of volcanic chemicals, so hot they could melt lead. We discover new species every time we visit these strange new worlds.
One of these geysers might even hold the secret to all life on earth. At a hydrothermal vent system in the middle of the Atlantic, seawater and rock react under extreme pressures and temperatures to produce complex hydrocarbons - the building blocks of life itself. Scientists have named this strange place the Lost City, and many believe that it was at a place just like this that life on earth first began, four billion years ago.
Credits
| Role | Contributor |
| --- | --- |
| Narrator | David Attenborough |
| Executive Producer | James Honeyborne |
| Series Producer | Mark Brownlow |
| Producer | Orla Doherty |
| Production Manager | Katie Hall |