Main content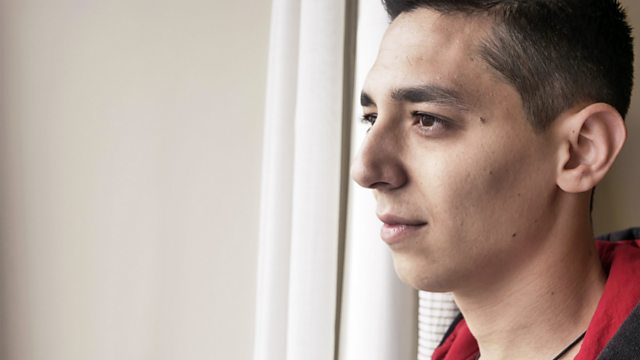 Hotel for Refugees
Documentary following the stories of Muslim Syrian refugees as they arrive in a small town in Ireland, discovering the role that faith has played in their journey.
Two worlds meet when a small Catholic town in the west of Ireland becomes the new home for hundreds of Muslim Syrian asylum seekers, brought over from refugee camps in Greece. Under an EU refugee relocation scheme, Ireland has accepted up to 4,000 asylum seekers in a single year, but plans to settle several hundred of them in a former luxury hotel in small rural community of Ballaghadereen have divided the town. Some townsfolk believe it is their Catholic duty to extend a charitable hand, while others are anxious about the impact of so many strangers on the town.
We follow the story of Ghassan, 20, newly arrived in Ireland after a two-year journey from Syria. Forced to leave his parents behind, Ghassan left the war-ravaged country with his great-aunt Seeham, his aunt Jenan and two cousins Judy and Ahlam. Together they made the dangerous boat journey across the Mediterranean Sea from Turkey to Greece. Now Ghassan finds himself living in the Abbeyfield, a former four-star hotel which fell victim to the financial crash and has been converted into an emergency reception and orientation centre (EROC). Ghassan is one of the first of 80 refugees to be housed there, and the hotel is to be their home while they wait for their asylum status to be approved.
Running the Abbeyfield is hotel manager and committed Catholic Jackie, who has a background working in luxury hotels but has never worked with refugees before. Jackie is aided by a network of volunteers who help get the refugees settled in. As they're shown around the town, Ghassan is introduced to some of the locals - Mary, a devout Catholic who runs the clothes shop and feels that the Irish should help the Syrians because of their own history of emigration, and Saj the local barber, who came to Ireland from Pakistan 15 years ago and knows what it feels like to be an immigrant arriving in a small town.
Saj believes it is his duty as a Muslim to help others and arranges a trip to the local mosque. Religion has become particularly important to Ghassan's friend Kamel. Kamel's mother was shot and killed by a stray bullet, and his faith has guided him through this most difficult period of his life. But not everyone is as keen to welcome the refugees as Mary and Saj. A local couple explain that seeing groups of Syrian men walking about the town makes them anxious, and Saj shows a provocative anti-Islam leaflet that was posted through letterboxes across town.
During Easter Holy week, the local parish priest delivers chocolate eggs to the refugee children at the Abbeyfield, but as the rest of the town celebrates Easter Sunday, Ghassan's great-aunt is left wondering why they haven't been invited to the town cathedral for Sunday mass, as back home in Syria they would celebrate Easter alongside their Christian neighbours. Learning of their disappointment Father Joseph invites the family to the cathedral, where in a moving scene they pray for the return of missing family members.
After several months at the hotel, relationships have started to form between the refugees and the townspeople. Mary is impressed with Ghassan's great-aunt's knitting - she's joined a local knitting group, teaching both local women and other Syrian women how to knit. Saj arranges a Gaelic football match between the townsfolk and the refugees and describes how working closely with the refugees has unexpectedly made him feel more positive about his own life.
Credits
| Role | Contributor |
| --- | --- |
| Narrator | Donna Anita Nikolaisen |
| Director | Alex Niakaris |