Main content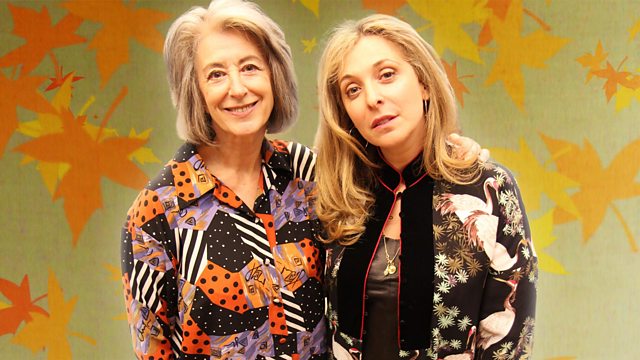 Theodora Potts: Victorian Psychic
Maureen Lipman is Theodora Potts, in Tracy-Ann Oberman and Ivor Baddiel's slightly surreal Victorian comedy drama, co-starring Tracy-Ann herself in an unusual role.
Theodora Potts: Victorian Psychic by Tracy-Ann Oberman and Ivor Baddiel
from an idea by Tracy-Ann Oberman
Theodora Potts is fast-becoming the go-to psychic of the Victorian age.
That is until a seance is interrupted by a real spirit.
Tracy-Ann Oberman co-wrote and co-stars
Theodora Potts ..... Maureen Lipman
Sioux Sioux ..... Tracy-Ann Oberman
Adolphus/Dr von Ubermench ..... Neil McCaul
Countess ..... Ellie Darvill
The Earl ..... Clive Hayward
Mr Brown ..... Rupert Holliday Evans
Clemmie ..... Abbie Andrews
Mr Soames ..... Gary Duncan
Woman with birthmark ..... Isabella Inchbald
Produced and directed by Marion Nancarrow
This is the last of four plays especially written for Maureen Lipman which form this month's "A Month of Maureen". Maureen Lipman's hugely successful career as actress, writer, artist and, most recently, director, has spanned 50 years and, in her honour, these 4 new comedy dramas have been especially commissioned for Radio 4, with the writers creating roles specifically for her. The results are 4 very different plays. In this final play, Maureen is Theodora Potts, a Victorian psychic with a secret, who's about to meet her match. Tracy-Ann Oberman co-stars in a surprising reincarnation - and also co-wrote the play for Maureen.
Tracy-Ann says she wanted the write the play because "I've always been been fascinated with the Theosophical Society and the Victorian craze for female psychics who could apparently contact the dead. Given credibility by the likes of Sir Arthur Conan Doyle, the Spirit World was just one seance away. If a woman ( and women were seen as more "sensitive" ) could master the sleight of hand and trickery needed to carry a theatrical and shock-filled seance, a good income and an introduction to Smart Society could be in store. One of the most famous fake psychics, Leah Fox, married a hugely wealthy man in America. A working class poor unmarried woman like Theodora Potts, who had little or no prospects, like many other 'mediums' of the time, hoped that a similar fate could be in store for them. The great thing about Maureen is that her nuance and ability to inhabit a range of characters with ease meant she could find all the layers to Theodora - who plays a variety of characters in one day to get what she needs!".
Credits
| Role | Contributor |
| --- | --- |
| Theodora Potts | Maureen Lipman |
| Sioux Sioux | Tracy-Ann Oberman |
| Adolphus | Neil McCaul |
| Dr von Ubermench | Neil McCaul |
| Countess | Ellie Darvill |
| The Earl | Clive Hayward |
| Mr Brown | Rupert Holliday Evans |
| Clemmie | Abbie Andrews |
| Mr Soames | Gary Duncan |
| Woman with Birthmark | Isabella Inchbald |
| Director | Marion Nancarrow |
| Producer | Marion Nancarrow |
| Writer | Tracy-Ann Oberman |
| Writer | Ivor Baddiel |