Main content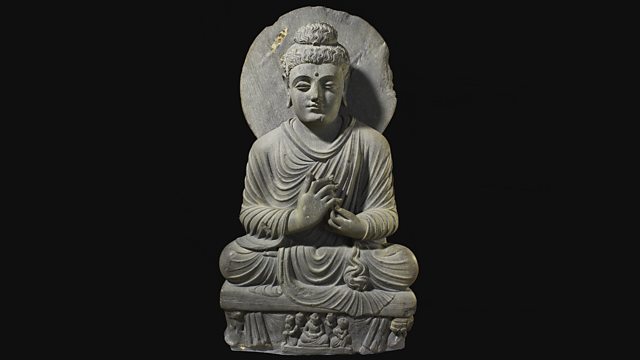 Change Your Life
Neil MacGregor focuses on images with a purpose, including a gruesome depiction of Christ's crucifixion, with blood raining from the body, and a serene figure of the Buddha.
Neil MacGregor continues his series about the expression of shared beliefs with a focus on images which seek to change the viewer's behaviour.
A small coloured wood-cut, created in the Netherlands around 1500, offers a particularly gruesome rendering of Christ's crucifixion. Christ is pictured with blood pouring from his torso, his head, his legs and his outstretched arms. These are not realistically arranged droplets; instead we see a flurry of vertical red strokes, tightly packed together and evenly spaced. Neil MacGregor reflects on the purpose of this image.
He also considers a serene figure of the Buddha, a halo behind his head, already in his enlightened state.
Producer Paul Kobrak
Produced in partnership with the British Museum
Photograph (c) The Trustees of the British Museum.
Podcast
Neil MacGregor explores the role and expression of shared beliefs around the world.