Main content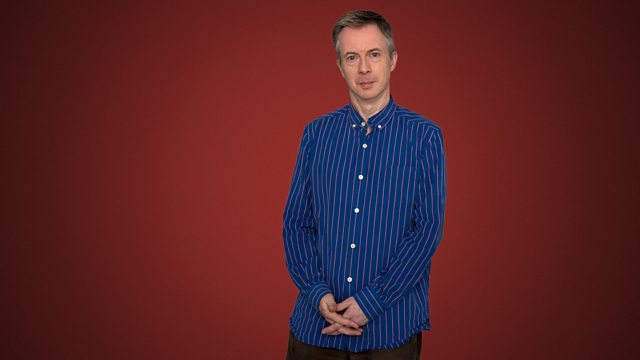 Chaminade, Francaix, Sollima and Glazunov
John Shea presents a programme of Chaminade, Francaix, Sollima and Glazunov with ATOS Trio and ZPR.
John Shea presents a programme of Chaminade, Francaix, Sollima and Glazunov with ATOS Trio and ZPR
12:31 AM
Cécile Chaminade [1857-1944]
Piano Trio No 2 in A minor
ATOS Trio
12:53 AM
Jean Françaix [1912-1997]
Piano Trio
ATOS Trio
1:12 AM
Giovanni Sollima [b.1962]
Arboreto salvatico for 2 cellos
Stefan Heinemeyer (cello), Kati Raitinen (cello)
1:25 AM
Alexander Glazunov [1865-1936]
String Quintet in A major, Op 39
ATOS Trio
1:55 AM
Sibelius, Jean (1865-1957)
Symphony No.5 in E flat major, Op.82
Norwegian Radio Orchestra, Ari Rasilainen (conductor)
2:31 AM
Antonín Dvořák (1841-1904)
Symphony No 7 in D minor, Op 70
BBC National Orchestra of Wales, Thomas Søndergård (conductor)
3:07 AM
Brahms, Johannes (1833-1897)
25 Variations and Fugue on a Theme by GF Handel for piano, Op 24
Simon Trpceski (piano)
3:33 AM
Max Bruch (1838-1920)
Romance, Op 85, for viola and orchestra
Adrien Boisseau (viola), Polish Sinfonia luventus Orchestra, José Maria Florêncio (conductor)
3:43 AM
Dubois, Pierre Max (1930-1995)
Quartet for flutes
Valentinas Kazlauskas, Lina Baublyte, Albertas Stupakas, Giedrius Gelgoras (flutes)
3:51 AM
Scarlatti, Domenico [1685-1757]
Sonata in D minor, Kk90, arr for mandolin and harpsichord
Avi Avital (mandolin), Shalev Ad-El (harpsichord)
4:00 AM
Granados, Enrique (1867-1916), text: Fernando Periquet (1873-1940)
4 Tonadillas from 'Colección de tonadillas escritas en estilo antiguo'
Isabel Bayrakdarian (soprano), James Parker (piano)
4:10 AM
Delius, Frederick (1862-1934)
On Hearing the First Cuckoo in Spring - from Two Pieces for Small Orchestra (1911/12)
Symphony Nova Scotia, Georg Tintner (conductor)
4:18 AM
Scheidt, Samuel (1587-1654)
Symphoniae for violins and continuo
The Sweelinck Ensemble
4:23 AM
Grieg, Edvard (1843-1907)
Symphonic Dance No 2 (Allegro grazioso), Op 64 No 2
Norwegian Radio Orchestra, Ingar Bergby (conductor)
4:31 AM
Handel, George Frideric (1685-1789), orch. Mozart, Wolfgang Amadeus (1756-1791)
Overture and Prelude to Act II of Acis and Galatea, K566
Norwegian Radio Orchestra, Andrew Manze (conductor)
4:41 AM
Kapp, Artur (1878-1952)
Cantata: Päikesele (To the Sun)
Hendrik Krumm (tenor), Aime Tampere (organ), Estonian Radio Mixed Chorus, Estonian Boys' Choir, Estonian Radio Symphony Orchestra, Neeme Järvi (conductor)
4:51 AM
Haydn, Joseph (1732-1809)
Piano Sonata in E minor (H.16.34)
Ingrid Fliter (Piano)
5:02 AM
Abel, Carl Friedrich (1723-1787)
Symphony, Op 10 No 2
La Stagione Frankfurt, Michael Schneider (conductor)
5:13 AM
Janácek, Leos (1854-1928)
Pohádka (Fairy Tale) for cello and piano
Elizabeth Dolin (cello), Francine Kay (piano)
5:25 AM
Leopolita, Marcin (?-1589)
Missa Paschalis
Il Canto: Barbara Janowska and Wanda Laddy (sopranos), Robert Lawaty (countertenor), Cezary Szyfman (baritone), Michal Straszewski (bass)
5:44 AM
Schumann, Robert (1810-1856)
String Quartet in A major, Op 41 No 3
Vertavo String Quartet
6:13 AM
Shostakovich, Dmitri (1906-1975)
Piano Concerto No 2 in F major, Op 102
Dmitri Shostakovich (piano), Sofia Philharmonic Orchestra, Konstantin Iliev (conductor).