Main content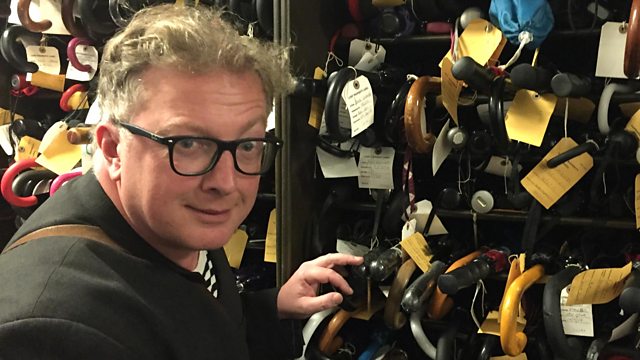 Being Human: The Lost Luggage Office, Ghosts and Warrior Poets.
Matthew Sweet travels to Canterbury, Portsmouth and the TFL offices in search of stories of the lost and found as part of the Being Human Festival running across UK universities.
Stories of objects, ghosts and histories lost and found recorded on location in Portsmouth's most haunted house, the site of a sacrifice in Canterbury and at the TfL Lost Luggage Office. Presenter Matthew Sweet meets academics taking part in Being Human which showcases research from universities around the UK.
How can the reflections of a warrior-poet from the distant past and the adventures of an Iron Age tribesman from the far future help us rethink our relationship with a city centre in the Britain of today? Matthew Sweet travels to Canterbury to find out.
The Transport for London lost property office is a labyrinthine cornucopia hidden away under the streets of central London. A visit there leads to reflections on our complicated relationships with things in a consumer society dominated by mass-produced goods, and the history of the concept of lost property casts a revealing light on the development of the city as an ordered space.
And, some say that Wymering Manor in Portsmouth is one of the most haunted houses in the country. Whether that's true or not, Matthew goes there to examine the ways in which the past of a building intrudes into its present.
Matthew's guests include:
Michael Bintley and Sonia Overall in Canterbury
Kate Smith and Paul Cowan at the TFL Lost Property Office
Karen Fielder and Benjamin Ffrench in Portsmouth
Producer Luke Mulhall.
Last on
Matthew Sweet in Canterbury and Portsmouth uncovering stories of the lost and the found.

The unexpected origins of lost property offices
Clips

Being Human Festival - What's On
November 19, 1:00 pm - 3:00 pm (Free) : The lost of Portsmouth and Sussex - Come along to Portsmouth's oldest and reputedly most haunted house, Wymering Manor, for three interactive tales of the lost and found of Portsmouth and Sussex...
Credits
| Role | Contributor |
| --- | --- |
| Presenter | Matthew Sweet |
| Interviewed Guest | Michael Bintley |
| Interviewed Guest | Sonia Overall |
| Interviewed Guest | Kate Smith |
| Interviewed Guest | Karen Fielder |
| Interviewed Guest | Benjamin Ffrench |
| Producer | Luke Mulhall |
Broadcast

Featured in...
Will Hutton, Lucy O'Brien, Richard Sennett on how topics are taught + campus free speech?

Creativity, performance, debate