Main content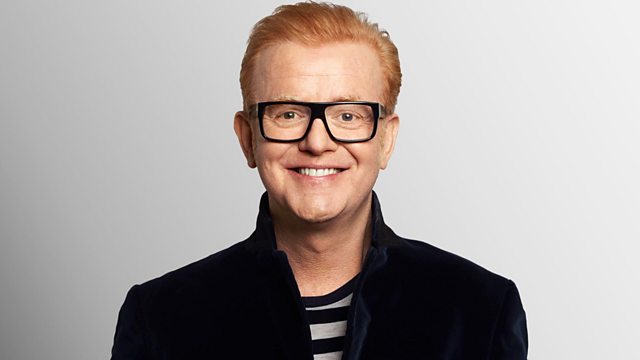 Children in Need Auctions
It is the final day of Chris's auctions for BBC Children in Need, and everything must go! With chances to see Cher in Las Vegas, camping at CarFest and a Peter Kay gig!
It's the fourth and final day of Chris' BBC Children In Need auctions and everything must go! Chris is joined in the studio by Peter Kay, Michael Ball, Tom Kerridge, James Cracknell and Carfest's Big Chris, plus the supervet himself, Professor Noel Fitzpatrick calls in to big up their Children in Need packages!
Reverend Kate Botley provides the daily Pause For Thought and we hear from Ellis, Caoilann, Joseph, Dua, Rosie and Poppy who all benefit from Children in Need funded projects.
We auction off opportunities to see Cher in Las Vegas, VIP family packages for CarFest North and South, Henley Regatta with Olympic rower James Cracknell, a Full On Tom Kerridge Experience with a pop up cinema trip, a visit to see the supervet live in action hosted by Michael Ball, and an intimate gig to see Peter Kay with a fish and chip supper!
Phone lines are now closed.
Pause for Thought: 'You're just one part of something that's so much bigger, bringing hope to thousands of deserving children.'
From the Reverend Kate Bottley:
On occasion, it has been said that I have a habit of taking things too far, hard to believe I know. And raising money for a good cause gives me, and others like me the perfect excuse. My friend Kat loves Children in Need, she's shaved her head, swam with an Olympian and two years ago lived on the roof of her house for a week. Seven days later and with seven grand raised she climbed down, cold and wet but definitely not miserable. This year she's getting sponsored to not shave her legs for 12 months. And I thought living on a roof was hairy…
I've done my own fair share of crazy stuff for charity. The best of which was organising 50 vicars, a bishop and two nuns to ride a rollercoaster in Blackpool. A few of the clerics took some persuading to be honest, 'But it's for CHARITY!' I reminded them and they were soon buckled in. Bishop David screamed, Father Rick went on twice and Reverend Fiona despite going a bit green, declared it 'the best day ever'. Cassocks flapping in the wind we all had a marvellous time, grinning from ear to ear, knowing it was for a good cause. From rickshaws and rollerblading, danceathons and dine and discos. There are a million different creative ways to raise a million. It's just one of the many wonderful things about Children in Need.
But it's not just the creativity that thrills me, it's seeing people like Kat and my rollercoaster buddies, rejoice in their giving and celebrate every pound. While for some, throwing loose change in a bucket is enough of a thrill. Some people like to turn every penny into a party.
The bible has plenty to say on generosity of spirit and the importance of charitable giving but it also says the Lord loves a cheerful giver, so whether you're Mr Davies at Sedgefield Community College having buckets of ice tipped over your head tomorrow or you're abseiling off the BBC Wales building, good luck Grace! 
Remember you're just one part of something that's so much bigger, transforming lives and bringing hope to thousands of deserving children and if that doesn't cheer up your day, put a spring in your step and a smile on your face, I don't know what will!