Main content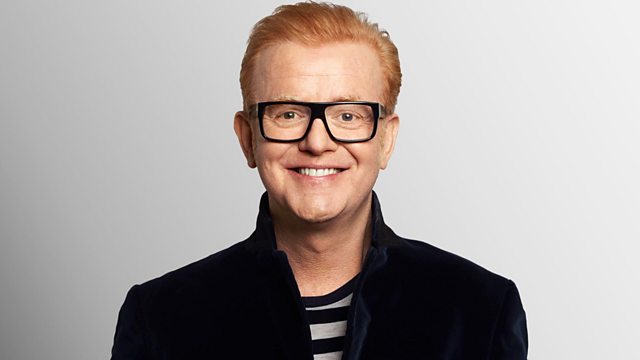 Dine & Disco Children in Need Auction
Dine & Disco is back for 2018! The show auctions off 50 pairs of tickets to see Take That in an intimate, unique venue.
Dine & Disco is back for another year and it's going to be bigger than ever! Chris auctions off 50 pairs of tickets to see Take That.
Warm up act for the night, The Feeling bring the party vibes to the studio as they perform live - including a Take That cover! Sarah Joseph provides the Pause For Thought and we hear from Daniel and Jake who benefit from the money raised by Children in Need.
Winners will stay in the five-star luxury Chewton Glen Hotel & Spa with a range of country pursuits for the during the day, the evening you will also evening starts with a range of food from celebrated chefs such as Tom Kerridge, José Pizarro, Atul Kochhar, Luke Matthews and Mo Gherras, plus wine from Olly Smith.
Phone lines for the auction are now closed.
Clips

Pause for Thought: "When we have sincerity, so much falls into place."
From Sarah Joseph, Editor of a Muslim lifestyle magazine:
I like auctions – particularly charity ones. The bidding process can get your heart racing if you participate, and with charity auctions you're not just winning a bid, you're helping people in so many positive ways.
I have vivid memories of a time when I was an auctioneer at a charity event. I'd primed the audience—reminding them of all the good that their donation would bring. Telling them they weren't just bidding on the beautiful paintings on offer that night, but bidding to build the community organisation and their work. 
Lot One was an exquisite piece of calligraphy, but no one was prepared to make an opening bid. At that moment I fully understood the Prophetic exhortation on being the first to do good. You're a leader in goodness. That night though, no one was raising their hand.
Suddenly a gleaming face from the back of the room started the bidding.
It was my husband.
Oh no! We didn't have the money for this!
We'd recently purchased a house. It needed complete refurbishment. Roof. Kitchen. Bathroom. Toilet. Heating. Rewiring. On top of that, I was pregnant with our second child. There was no spare cash! What was my husband doing?!
He was bidding away with a giant smile on his face, that's what he was doing.
Somehow, he had got the ball rolling. Others were bidding too. The auction was up and running. But he wouldn't stop. My glares across the room didn't stop him, and he wasn't to be outbid. Everyone else fell away.
"Going once. Going twice. Final call... Gone to the man in the corner, who I shall shout at later. 
The audience laughed. Maybe they took pity on me, or maybe they wanted a piece of the memories created on that night, but from that point on everything turned around, and a lot of money got raised. Different people taking home all manner of beautiful artefacts. Everyone taking home memories.
The Qur'an says "Compete with one another in good deeds". My husband was certainly a winner that night. We took home a magnificent painting we could ill-afford at the time but which hangs on our wall to this day. It was calligraphy from the Qur'an. A chapter called Sincerity. And when we have sincerity, so much falls into place.