Main content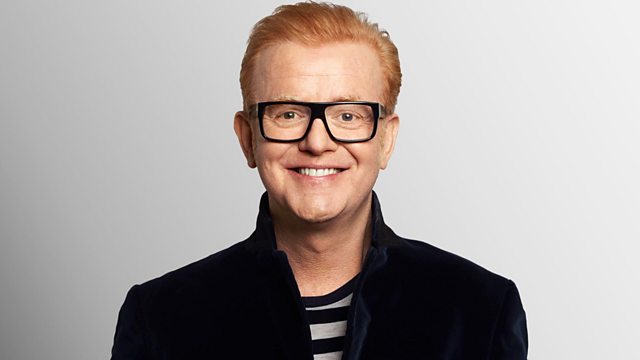 Children in Need Auctions
Chris auctions off sporting opportunities to run marathons with the team, play pro-am golf with professional players and celebrities plus VIP racing at the Cheltenham Gold Cup.
It's the second day of Chris' BBC Children In Need auctions!
For the Super Swing Package, the top two bidders will enjoy a Golfing week like no other at the PGA Championships. Play in a Pro-Am at Wentworth with Chris Evans, Graeme McDowell, Niall Horan, Vassos Alexander, Lee Westwood and Ronan Keating as well as getting season passes to the PGA Championships from Thursday 24th - Sunday 27th May 2018.
Record holder Paula Radcliffe, Steve Cram and Olympian Sarah Rowell join Chris in the studio to auction the Magnificent Seven Marathon Package. The top seven bids will receive a guaranteed place in The London Marathon on Sunday 22nd April 2018 and the New York Marathon on Sunday 4th November 2018.
And finally Luke Harvey and Victoria Pendleton gallop into the studio with details of The Cheltenham Gold Cup Package. The top four winning couples will have the time of their lives on Gold Cup Day at The Cheltenham Festival - the pinnacle of Jump Racing. Travel includes helicopter and steam train.
Lines are now closed.
Jahnavi Harrison provides the daily Pause For Thought, Kids for a Fanfare Freya tells us how much she raised for Pudsey's piggybank with her stall, and we hear from Ted, Kitty, Abbie, Max and Sam who all benefit from Children in Need.
Last on

Music Played
Stevie Wonder

I Wish

Songs In The Key Of Life (Vol.1).
Motown.

U2

Get Out Of Your Own Way

Songs Of Experience.
Island.

Ray Charles

I Got A Woman

Best Of The 50's (Various Artists).
Disky.

Nu Shooz

I Can't Wait

Club Classics From The 80's (Various).
Disky.

Lenny Kravitz

California

Lenny Kravitz - Baptism.
Parlophone.

The Banana Splits

The Tra La La Song (One Banana, Two Banana)

Television's Greatest Hits Vol. 5: In Living Color (Various Artists).
TVT Records.

Ian Dury & The Blockheads

Hit Me With Your Rhythm Stick

Fantastic 70's (Various Artists).
Sony Tv/Columbia.

Led Zeppelin

Rock And Roll

Led Zeppelin - Early Days.
Atlantic.

Gayla Peevey

I Want A Hippopotamus For Christmas

Dr. Demento Presents The Greatest Christmas Novelty CD Of All Time (Various Art.
Rhino.
5.

Kaiser Chiefs

Parachute

Stay Together.
Caroline.
001.

Tears for Fears

I Love You But I'm Lost

Rule The World: The Greatest Hits.
Virgin EMI Records.

Terence Trent D'Arby

If You Let Me Stay

Fantastic 80's Disc 1 (Various Artis.
Columbia.

The Kooks

She Moves In Her Own Way

Level 42

Running In The Family

Heaven (Various Artists).
Spectrum.

Sam Smith

One Last Song

The Thrill Of It All.
Capitol.

The Pointer Sisters

Jump (For My Love)

The Best Of The Pointer Sisters.
RCA.

Scissor Sisters

Only The Horses

Ronan Keating

Life Is A Rollercoaster

Roachford

Cuddly Toy

Walk On - Hits From The Last 2 Decade.
Columbia.
Pause for Thought: "I remember when I was young, my ears and eyes were always switched on, a bit too much maybe."
Writer and Musician, Jahnavi Harrison.
Last Saturday I was in Leicester to do a meditation session with a group of forty 10 year olds. At the beginning I asked them 'Who feels stressed sometimes?' I was a little surprised when they all immediately put their hands up - some even put two up! We had a lovely session doing breathing exercises - cue lots of giggling too, it has to be said - and ended with a big sing song, which I think is what they were waiting for right from the beginning.
On the drive home back to London I was thinking about reasons a child would feel stress and anxiety. Of course there's the obvious - exams, peer pressure, sibling drama - most of the Leicester kids cited these as their top 3. But of course you could say causes of stress are as varied and individual as those that experience it.
I was chatting with a child psychologist recently who primarily works in London schools with underprivileged teenagers. She shared that sometimes their life circumstances are so difficult and complex that all she can really do is offer a compassionate ear and be a reflective companion.
I sometimes worry that children are growing up in a world that can seem full of endless conflict and cruelty. I remember when I was young, my ears and eyes were always switched on, a bit too much maybe - I would notice everything - and of course I'd form my own meaning and conclusions.  Children can be so sharp, not to mention often extraordinarily kind themselves - like the 15 year old boy in Liverpool I saw on the news, who has been collecting and distributing stacks of sleeping bags for the homeless this winter.
One of the foundational principles of Hinduism is Seva, or service - especially toward those who are vulnerable - children, the sick and elderly, and I love that Children in Need gives an me an opportunity to show that I care and send out a message to those young people who are experiencing very difficult circumstances that there are millions of loving hearts in this country who feel the same way. 
Broadcast