Main content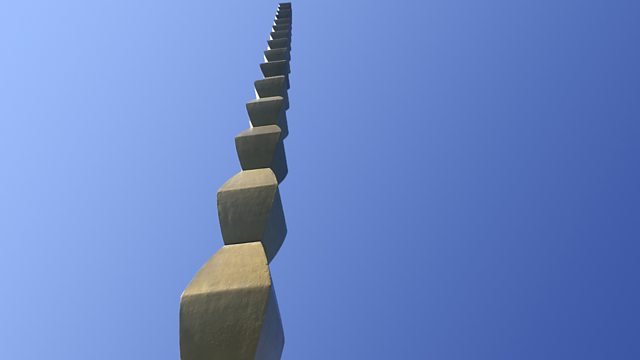 A Column for Infinity
Patrick McGuinness travels to Targu Jiu in Romania to explore Constantin Brancusi's First World War memorial The Endless Column, now considered a modernist masterpiece.
Brancusi's sculptural series in Targu Jiu, South West Romania, is a powerful memorial to the First World War, culminating with the Endless Column - he called it "a column for infinity". It is one of the great art works of the twentieth century: its simplicity, directness, and modularity helped to define the fundamental principles of modern abstract sculpture. Here, the writer Patrick McGuinness travels to the site to piece together the story of Brancusi's important work and its significance in the country today.
This is a story about a war memorial, but this is no ordinary piece of commemorative public art. It carries no specific reference to the dead of 1916 or of their heroic actions and their sacrifices. No names or dates are engraved into it. There are no slogans or mottoes, horses or lions or statesmen, saints or soldiers.
In theory Britain and Romania were allies, and it's easy in Britain to assume that there was one war - our version of it of course - and everyone was fighting for the same thing. In Romania World War One is also known as the War of National Unification. Could the expansion of Romania be symbolically represented in Brancusi's memorial?
Constanin Brancusi was born in 1876 to a large peasant family. As a boy he worked as a shepherd and carved birds and animals from the oak wood he found in the forest or from rocks along the riverbed.
As a young man he studied in the new arts and crafts school in nearby Craiova, then in Bucharest before he set out for Paris, the art capital of the world.
He joined in the ferment of Modernism, finding his own artistic language but without abandoning his roots. Whether he's young or old, in a Paris brasserie with his artist friends or alone in his studio, he's mostly pictured wearing a rough woven Romanian peasant jacket, wooden clogs and a big bushy beard. Sophisticated Parisian artist or Romanian peasant? Brancusi was both.
Patrick McGuinness lived in Bucharest in the 1980s and later wrote the novel The Last Hundred Days drawing on his experience of the end of the Ceausescu era. He talks to leading Romanian poet Ana Blandiana, historians Lucian Boia and Ioana Vialsu, Brancusi's engineer's daughter Sorana Georgescu Gorjan, artists Alexandra Croitoriu, Antony Gormley and others.
Producer: Kate Bland
A Cast Iron Radio production for BBC Radio 3.
Last on
Broadcasts