Main content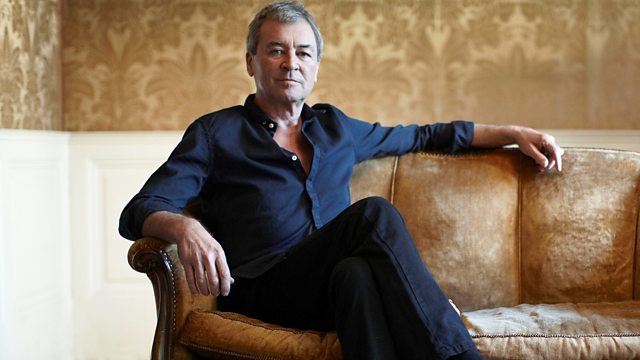 Locked Keys Confession, Whole Roasted Cauliflower, Ian Gillan
Whole roasted cauliflower with cashew sauce is on offer from resident cook Nigel Barden in 'Foodie Thursday', plus Simon speaks to Ian Gillan from Deep Purple ahead of tonight's 'In Concert'.
Whole Roasted Cauliflower with Cashew Sauce (Gobi Masallum)
by Hari Ghotra from The Easy Indian Slow Cooker Cookbook (Rockridge Press)   
Serves 6  
Prep time: 15 mins
Cooking time: 4-5hrs on low or 2-3hrs on high
This is a dish I have cooked on so many occasions, and it always remains a winner.  Whole roasted cauliflower is a bit of a "thing" at the moment, but it's an ingredient the people of India have been enjoying for many years.  A bit under-rated in the Western world, cauliflower is so versatile – it works with lots of different spices and can be cooked in so many ways.  This recipe has a rich a cashew sauce, which adds a creamy mouthfeel, and serving the whole head of cauliflower adds fun to your dinner table.
Ingredients
1 red onion, sliced3cm (1 inch) piece fresh ginger, cut into strips4 garlic cloves, sliced2 tomatoes, roughly chopped1 fresh green chilli, chopped5 tbsp raw cashews, soaked in water for 2hrs and drained1 large head cauliflower, outer leaves trimmed2 tbsp ghee or rapeseed oil1 tsp cumin seeds1 tsp coriander seeds1 tsp salt1 tsp Kashmiri chilli powder
(3 parts paprika to 1 part cayenne pepper)
1 tsp turmeric1 tsp Garam Masala160ml (⅔ cup) hot water1 tbsp dried fenugreek leavesHandful fresh coriander leaves, chopped 
Method
Preheat the slow cooker on high for 15mins, or use the sauté setting if you have one. 
Add the onions, ginger, garlic, tomatoes, and green chilli.  Stir and cook for 10 mins.
Add the drained cashews and place the head of the cauliflower on top of everything.Heat the ghee or rapeseed oil, if using, in a frying pan and toast the cumin and coriander seeds until they are fragrant.  Pour them over the cauliflower head and sprinkle in the salt, chilli powder, turmeric and garam masala.Add the water.  Cover and cook on low for 4-5hrs, or on high for 2-3hrs.When it's cooked (you can check by sticking a sharp knife through the middle), transfer the cauliflower head to a shallow ovenproof dish.  Using an immersion or regular blender, blend the cooking liquid that's left in the slow cooker to make a smooth sauce.  It should be like a thick batter, if it's too thick you can add a little hot water.Check and adjust the salt, if required.  Add the dried fenugreek leaves and then pour the sauce over the cauliflower head.  Place in the oven at 200C /400F /Gas 6 for 5-10 mins to crisp up.Sprinkle on some fresh coriander leaves and serve in chunky wedges.
Oven Baked Whole Roasted Cauliflower, with Cashew Sauce (Gobi Masallum) by Hari Ghotra
The whole head of the cauliflower is marinated with simple spices and roasted in the oven until it's soft and tender. If you want to you can make it even richer with some coconut milk.
Ingredients
3 tbsp raw cashews, soaked for two hours ½ tsp turmeric ½ tsp salt 1 head cauliflower, outer leaves trimmed off 2 tbsp ghee or rapeseed oil 1 red onion, roughly chopped 3cm ginger, sliced into strips 2 tomatoes, roughly chopped 1 green chilli, chopped 4 cloves garlic, roughly chopped 1 tbsp dried fenugreek leaves (methi) 1 tsp coriander seeds 1 tsp salt 1 tsp Kashmiri red chilli powder ½ cup water (more if needed) 1 tsp cumin seeds 1 tsp garam masala (see recipe below) Handful of coriander, chopped  
Method
Soak the cashews and heat the oven to 180°C . Fill a tall pot with water, then add salt and turmeric. Bring to a boil and gently submerge the cauliflower using a slotted spoon. Reduce the heat to medium and leave it to simmer for 5 mins, then flip the cauliflower over and simmer for another 5 mins. Keep the cauliflower submerged. Strain your cauliflower and set aside on some kitchen roll while you make the sauce. In a wide based pan heat the oil or ghee and add the onions. Sauté the onions until they soften, this should take about 5 mins. Stir in the garlic and cook until the onions start to brown. Add the chopped tomatoes, ginger, chilli, crushed coriander seeds, salt, Kashmiri red chilli powder and dried fenugreek leaves. Cook this until it becomes wonderfully aromatic and the tomatoes break down (about 7 mins). When the tomatoes have melted into the sauce add the garam masala and remove the sauce from the heat. Add the cashew nuts and some water and using a hand held blender blitz the masala sauce until it's silky and smooth. Place it back on a gentle heat and cook through for a few mins. The sauce should be the consistency of thick soup (add more water if the sauce gets too thick). Find an oven proof dish that the cauliflower will sit in comfortably and add the ghee or oil. Heat this dish and add the cumin seeds. When they sizzle and become fragrant remove the dish from the heat and place the blanched cauliflower into it. Pour the lovely sauce over the cauliflower so it's completely covered. Some of the sauce will end up in the base which is fine. You can also keep some sauce back to serve with too. Place the cauliflower in the oven and leave to bake for 40-45 mins until the cauliflower is dry to touch and has just started to brown. The sauce will also have thickened. Garnish with fresh coriander, slice and serve with some naan.  
Garam Masala
This is the iconic spice blend of North India and is usually added at the end of cooking to bring the dish together.  If you want to make your own, here is my family blend.  This will make about 3 tbsp and all you do is put the spices into a spice grinder and blend.
Ingredients
2 tbsp cumin seeds 1 tbsp coriander seeds 1 tsp black peppercorns ½ tsp carom seeds 5 cloves 4 green cardamom pods 2 bay leaves 2 black cardamom pods 3cm / (1 in), piece cassia bark, broken into bits