Main content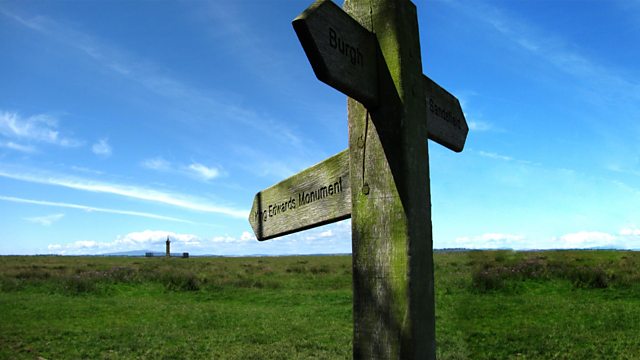 Between the Sea and a Hard Place
The 2017 TS Eliot prize-winning poet Jacob Polley returns to the place he is from, Cumbria's west coast, a place of flux and inspiration.
The 2017 TS Eliot prize winning poet Jacob Polley returns to the West Coast of Cumbria where he was born. Wedged between the Lake District and the sea it's home to a proudly independent border people, who voted for change in the referendum. Jacob wants to understand this place better - to find out why loyalties are shifting - and to get closer to understanding the source of his own writing. Jacob grew up on the Solway, an estuary that's an area of outstanding natural beauty and has been a hazardous shortcut to Scotland since people settled here.
Jacob has felt this marshy landscape of quicksand and shifting channels has always been in flux, and this has been a metaphor he's used in his poetry to capture the sense of vacancy that as a poet he's always felt here. Yet on his journey from the coast to the marsh, Jacob discovers this place is not vacant. It's home to a community who have through history had to fall back on their own resources, and who define themselves as much by what they do, as where they come from.
He visits the Cumbrian artist Conrad Atkinson whose work explores the themes of social injustice and unemployment. Cleator Moor born writer David Gaffney explains why when he was a teenager he felt he lived as far away from Carlisle - the county town of Cumbria - as people in Carlisle feel they are from London.
Yet, this is a place that has been at the centre of things, it was once on the frontier of the Roman Empire. In St. Michael's Church in Burgh-by Sands he discovers recycled Roman stones from the fort of Aballava, on Hadrian's Wall. The chancel was the resting place in 1307 of King Edward I of England, known as 'The Hammer of the Scots'. He died on Burgh Marsh of something called 'The Flux', on the way to crush a rebellion led by Robert the Bruce.
History lives and breathes here, as Jacob meets the Haaf-Net fishermen on the Solway, who catch salmon in the same way as their Viking ancestors did over a thousand years ago. Tuned as they are to the shape of the shifting nature of the Solway, their very adaptability has been the key to their survival.
Producer: Andrew Carter.