Main content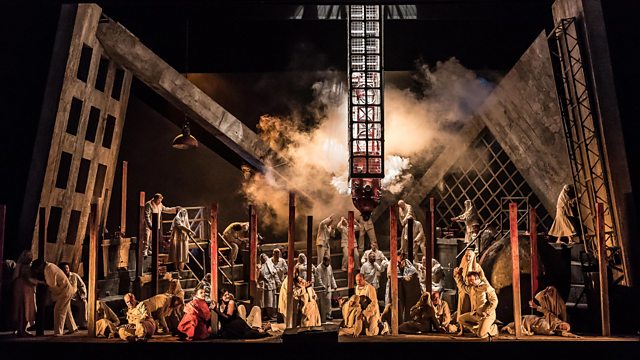 Khovanshchina by Mussorgsky
Andrew McGregor presents Mussorgsky's Khovanshchina, directed by David Pountney and performed by Welsh National Opera.
From the Wales Millennium Centre, a work of political machinations and religious upheaval in Welsh National Opera's production of Modest Mussorgsky's Khovanshchina. Premiered in St Petersburg in 1886, Mussorgsky created both the libretto and music for this opera based on true events from 17th century Russia with a country in turmoil. Here, Prince Ivan Khovansky, with his private army of Streltsy soldiers who defend Moscow, joins with the Old Believers, led by Dosifei, to rebel against modernising reforms being enforced by the Tsar. Ivan's son, Prince Andrei, is consumed by passion for Emma, whilst the reformer Prince Golitsyn becomes tainted by intrigue and is forced to flee. It's a story of both personal and political ambitions, as they clash with both religious and institutional forces. This struggle for power results in grave consequences.
Khovanshchina is in five acts, and Mussorgsky adds into this explosive pot the mythical character of Marfa, who is a fortune-teller with a dissolute past. She is linked to all these characters including being once the lover of Prince Andrei, and she also has a vision of Golitsyn's downfall. This paves the way for the reforming reign of Tsar Peter the Great, as do the acts of the aristocrat Shaklovity, who denounces Prince Ivan Khovansky as a rebel and then later assassinates him. In the face of defeat and persecution, Marfa and Prince Andrei join the Old Believers as they prepare the way for their own self-immolation.
This performance, directed by David Pountney, is sung in Russian and includes Igor Stravinsky's ending. Tomáš Hanus conducts the Welsh National Opera Chorus and Orchestra, who are joined by the soloists Robert Hayward, Adrian Dwyer, Mark Le Brocq, Simon Bailey, Miklós Sebestyén, Sara Fulgoni, Adrian Thompson and Claire Wild. Andrew McGregor presents this opera from the Wales Millennium Centre, and is joined by Anastasia Belina to discuss the social, political and religious overtones present in this unique opera by Mussorgsky.
Khovanshchina
Prince Ivan Khovansky .... Robert Hayward (bass-baritone)
Prince Andrei Khovansky .... Adrian Dwyer (tenor)
Prince Vasily Golitsyn .... Mark Le Brocq (tenor)
Shaklovity .... Simon Bailey (bass-baritone)
Dosifei .... Miklós Sebestyén (bass-baritone)
Marfa .... Sara Fulgoni (mezzo-soprano)
Scribe .... Adrian Thompson (tenor)
Emma .... Claire Wild (soprano)
Susanna .... Monika Sawa (soprano)
Welsh National Opera Chorus
Welsh National Opera Orchestra
Tomáš Hanus, conductor
Produced by Luke Whitlock.
BBC Radio 3's exploration of the 1917 Russian Revolution and its consequences.
Image courtesy of WNO - (C) Clive Barda
Synopsis
Act One
In Moscow's Red Square, the Streltsy sentry Kuz'ka has fallen asleep on his watch. His fellow soldiers wake him.
The Boyar Shaklovity dictates a letter to a scribe, denouncing the Khovanskys. Moscow citizens force the scribe to read a notice listing penalties imposed by the Streltsy on the nobility. They regret that punishing the rich does not help the poor.
Ivan Khovansky promises to overthrow the Boyars surrounding the regent Sofia, who he regards as corrupt. The people support him, under coercion.
Khovansky's son Andrei tries to kidnap a young woman, Emma, but his former lover Marfa prevents him.
Ivan Khovansky demands Emma for himself, but Andrei countermands his orders. Dosifei, the leader of the Old Believers, intervenes in their quarrel and hands Emma over to Marfa for her own safety. He urges Khovansky to support the Old Believers and prays for Russia's spiritual wellbeing.

Act Two
Golitsyn reads a love letter from the regent Sofia, and wonders if he can trust her.
Marfa tells Golitsyn's fortune, predicting disgrace and exile.
Golitsyn sends Marfa away and, fearful that she will spread rumours of his impending downfall, orders his servant to drown her.
Ivan Khovansky quarrels with Golitsyn over the Boyars' rights and privileges, which Golitsyn's reforms curtailed.
Dosifei recounts how he renounced his princely titles and possessions, and asks the two Khovanskys to join him in restoring the old beliefs and practices.
Marfa tells how she was attacked (by Golitsyn's servant) but rescued by Peter's troops.

Shaklovity announces that Peter is acting on a denunciation (his own, sent anonymously) to rein in
the over-powerful Khovanskys.


INTERVAL


Act Three
Old Believers sing. Marfa laments the loss of her lover, Andrei Khovansky. Susanna, a fellow Old Believer, scolds her for her sinful passion.
Dosifei curbs Susanna's hysteria. Marfa tells him of her love for Andrei and her wish to die with him. Dosifei tells her to be patient.
Shaklovity contemplates Russia's history and the malign role of the Streltsy.
The Streltsy wake up with hangovers and look around for more drink, while their wives curse their uncouth behaviour.
Kuz'ka sings about how gossip spreads.
The scribe brings news of mercenary soldiers marching on the Streltsy quarters.The Streltsy appeal to Khovansky for help but he is no longer able to fight Peter. They pray for deliverance.

Act Four, Part One
Khovansky is on his estate, waiting for news.
Golitsyn sends a warning but Khovansky ignores it and calls for his Persian slave to dance for him.
Shaklovity brings a summons: the regent Sofia requests his counsel. As Khovansky dresses for the meeting, Shaklovity stabs him to death.


Act Four, Part Two
Moscow citizens observe Golitsyn going into exile.
Dosifei reflects on the fate of Golitsyn and Khovansky. When Marfa reveals that Peter will move against the Old Believers, he and Marfa decide to immolate themselves.
Andrei confronts Marfa about Emma; the girl has been sent across the border, out of his reach.

When Andrei attempts to summon the Streltsy, they appear bearing instruments for their own execution. His power base has vanished. Marfa offers Andrei asylum amongst the Old Believers.
The Streltsy pray for God's mercy but their wives insist that they should be executed.
Peter's guard proclaims a pardon for the Streltsy.

Act Five
Dosifei prepares his followers for death. Marfa leads Andrei to the place of immolation.
The Old Believers, led by Dosifei, commit mass suicide.