Main content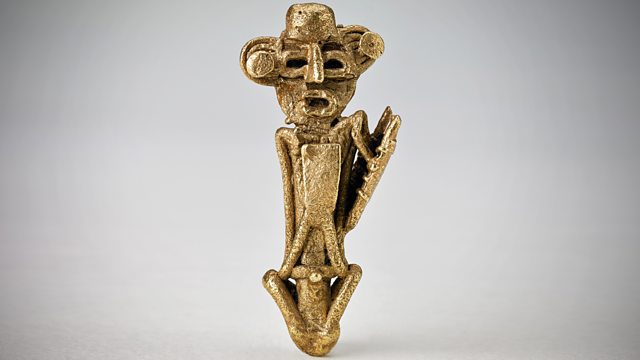 Gifts to the Gods
Neil MacGregor focuses on offerings, including gifts to the goddess Athena at the Parthenon in ancient Greece, and gold figures consigned to the waters of Lake Guatavita, Colombia.
Neil MacGregor continues his series on the expression of shared beliefs in communities around the world and across time, and focuses on offerings.
High in the Andes in Colombia, the indigenous Muisca population consigned highly-wrought gold figurines to the waters of Lake Guatavita.
Records of the treasures stored in the Parthenon, Athens, dating from around 400BC, reveal numerous gifts for the goddess Athena - gifts with a double role. The Parthenon was also a kind of central bank, capable of operating as a lender of last resort, creating an intimate connection between the temple of a goddess and the finance of the state.
Producer Paul Kobrak
Produced in partnership with the British Museum
Photograph (c) The Trustees of the British Museum.
Last on
Neil MacGregor tells the story of the "golden man" who commits treasures to the deep.
Broadcasts

Podcast
Neil MacGregor explores the role and expression of shared beliefs around the world.