Main content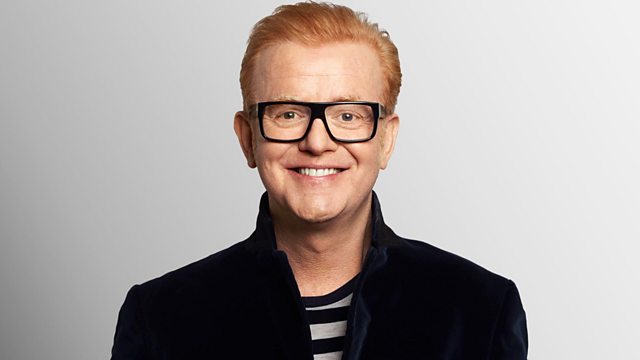 Sheridan Smith, Hayley Atwell, Ross Noble and Kelly Clarkson
Chris is joined by the sensational Sheridan Smith, comedy genius Ross Noble, amazing actress Hayley Atwell and Grammy award-winning American popstar Kelly Clarkson performs live.
Chris is joined by sensational star of stage and screen Sheridan Smith, who can't quite believe she's on the show to talk about her turn to music with her debut album Sheridan. Fantastic funnyman Ross Noble previews his new stand-up tour El Hablador and tells tales from behind the scenes of the Mel Brooks musical Young Frankenstein at the Garrick Theatre in London. Amazing actress Hayley Atwell previews her upcoming BBC period drama Howards End and has hopes that Peggy Carter may return to the Marvel superhero universe. Plus the incredible US singing superstar Kelly Clarkson performs live in the studio, with tracks from her brand new album Meaning Of Live and some Grammy award-winning classics.
Last on

Music Played
Katrina and the Waves

Walking On Sunshine

The Best Summer Ever (Various Artist.
Virgin.

Elkie Brooks

Rising Cost Of Love

Pearls: The Very Best Of Elkie Brooks.
A&M.

Jet

Are You Gonna Be My Girl

Hits 60 (Various Artists).
Sony Music TV.

Blondie

Call Me

Atomic: The Very Best Of Blondie.
EMI.

KC and the Sunshine Band

That's the Way (I Like It)

Disco Fever (Various Artists).
Global Television.

Paolo Nutini

Pencil Full Of Lead

(CD Single).
Atlantic.
1.

Shirley Bassey

Big Spender

Shirley Bassey - The Singles.
EMI.

Paloma Faith

Stone Cold Sober (Radio 2 In Concert, 9 Nov 2017)

The Dandy Warhols

Bohemian Like You

Pratt & McClain

Happy Days

Television's Greatest Hits Volume 3 70s & 80s.
Silva Screen Records Ltd.

Sheridan Smith

Anyone Who Had A Heart

Sheridan: The Album.
East West Records.
2.

Dolly Parton

9 to 5

Dolly Parton: The Ultimate Collection.
BMG/RCA.

Tears for Fears

I Love You But I'm Lost

Rule The World: The Greatest Hits.
Virgin EMI Records.

Kelly Clarkson

Stronger (What Doesn't Kill You) (Radio 2 Session, 10th November 2017)

Kelly Clarkson

Piece By Piece (Radio 2 Session, 10th November 2017)

Noel Gallagher's High Flying Birds

Holy Mountain

Who Built The Moon?.
Sour Mash Records.

Kelly Clarkson

Love So Soft (Radio 2 Session, 9th November 2017)

Kelly Clarkson

My Lovin' (Never Gonna Get It) (Radio 2 Session, 10th Nov 2017)
Pause for Thought: 'We as a community must come together in remembrance, and new commitment to peace.'
From the Reverend Richard Coles:
In France, a couple of years ago, I arranged to meet some friends in a chic little bar. Early, I ordered my customary aperitif, a Communard - red wine and cassis - and feeling like James Bond in a dog collar, perched on a stool. Unfortunately it want very stable and when I leaned back it slowly went over, and I fell, wordlessly, flat on my back on the floor, still holding my drink, which spilled like a bloodstain, across my chest.
I thought at once of Bernard Vann VC, lying in field near there, shot through the heart by a sniper a month before the end of the First World War. I had gone to Arras to pay my respects to him, a local hero from Rushden, and a priest, Chaplain at my school when war broke out. 
He joined up as an enlisted man, not a military chaplain, and on the battlefield seems to have discovered his warrior nature. Fearless under fire, he was promoted and promoted eventually to the rank of Lt Colonel, winning two MCs, the Croix de Guerre and a VC, until a bullet did for him.
What's a priest doing in battle? Called to suffer the wounds of humanity rather than inflict them, did he leave his priesthood behind in the mud and blood of Picardie? A hundred years later, and a priest myself I sometimes sit at a war veteran's death bed, and hear stories of what they experienced in Burma, in Italy, in the North Atlantic, in the skies over Germany, stories untold to family and friends because they want to leave them behind, not bring them home. How can we, who have never been under fire, understand what that's like? 
We can't, I think; but we can as a community come together on remembrance day, with them in sorrow at their suffering, and in memory of their loss, and in a renewed commitment, always, to peace. 
The barman, when he stopped laughing, refilled my glass with wine, and I thought of Vann again, of the silver chalice his men found in his pack when they recovered his body from the battlefield; the Holy Communion kit he took everywhere, that told of a loyalty beyond king and country and strife and war.
Broadcast