Main content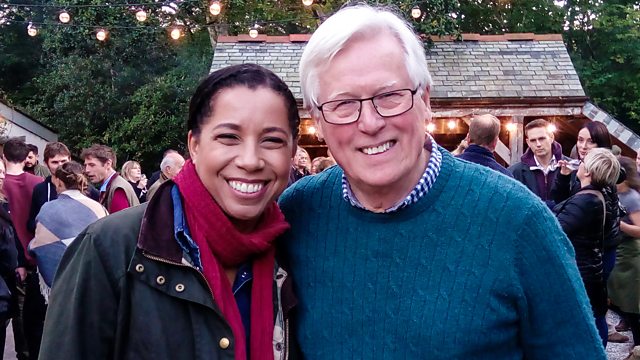 Cornish Heartlands
John and Margherita are in Cornwall, where John attends a food festival with a difference. Plus a profile of Cornish artist David Hosking.
John and Margherita are in Cornwall, where John attends a food festival with a difference. Over four nights local chefs will cook up 12 farm feasts for 1,000 guests, all from one red devon animal. John meets the 1,000 Mouths festival organiser Steve Chamberlain, to hear that every single bit of the animal will be used with nothing going to waste.
Margherita meets author Chrissie Gittins, who's on a mission to stop wild words disappearing from children's vocabularies. She also visits a vineyard that came about by accident, when the owners discovered the ground was better for vines than for farming.
We profile Cornish artist David Hosking, who returns to the farm of his birth for the first time since leaving 45 years ago.
Adam finds out if soya could be the crop of the future for British arable farmers while Tom's looking at calls to suspend public rights of way because of the rising number of dog attacks on livestock, but how will it affect our right to roam?
Nancarrow Farm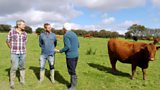 Away from the coast, in the heart of Cornwall, generations of farmers have made their living on the land, but increasingly small family farms have to diversify to survive. John Craven is on Nancarrow Farm just north of Truro, to see how their innovative approach is drawing in the crowds! The farm has been in Pete Mewton's family for 9 generations, and son-in-law Steve Chamberlain is the new kid on the block with some fresh ideas… BIG feasts! Not a new concept, but feeding 1000 mouths with one bullock is quite an undertaking; will they succeed with no waste? John will have to wait to see… 
The right to roam?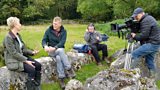 Attacks on livestock by dogs are on the rise and more and more farms are losing livestock on a weekly basis. Tom meets up with Andrew Gillett who's hoping to convince MPs to change the law and allow landowners to suspend public footpaths across their land in an attempt to solve the problem. But the right to roam was hard fought for and not everyone is happy.
Find out more about livestock worrying or report an attack
Nature's words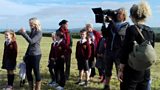 Nature has made a rich contribution to our language and wild words help us to explore and enjoy our wild world. Margherita Taylor is at the North Cornwall Book Festival to meet Laurence Rose, a keen writer with 30 years' experience within the RSPB. There is growing concern that future generations could grow up without words like wren, willow, conker, rhubarb. But words are just the beginning, for some this is a sign that the modern world is drifting further and further away from nature. But these wild words aren't going down without a fight.
Artist's return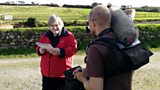 Cornwall's timeless landscapes have inspired poets, writers and artists alike for generations. David Hosking is a Cornish landscape painter, born in the rugged heart of the moors and now living and working in the beautiful harbour town of Porthleven. His inspiration comes from the expansive moorlands and the striking mine buildings that scatter the Cornish landscape, as well as his childhood home on Garlidna farm. David hasn't been back since he left as a boy and 45 years on his return is quite an experience. 
Feast preparation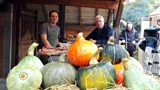 Feeding 1000 mouths is a momentous project, to celebrate local food and showcase the concept of field to fork in the best possible way. Just one of the farm's home-grown grass-fed bullocks will provide the main element of the feast, but it will need a few extras too and John Craven is meeting head chef Darren Broom and head gardener Alice Roettgen to help pick veg. Alice, originally from Germany, has helped start the kitchen garden, and everything is grown to order for Darren in the kitchen. Anything that doesn't get eaten is fed to the pigs. 
Soya harvest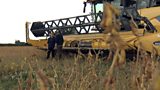 Most harvests are over and done with by this time of year, but as Adam discovers there's still one to go, Soya. Normally associated with the Americas, it's the largest imported foodstuff in the UK and is used in everything from baby food to beer. It's also one of our most common animal feeds. So can we grow enough of it here to reduce our dependence from overseas? Adam is in Oxfordshire where they're giving it a go and it's harvest time for Lucy Allen's first crop.
Cornish wine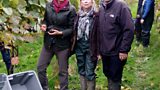 Cornwall's climate makes the region a paradise for produce that are difficult to grow anywhere else in the UK. A rich harvest of crops, from olives, to apricots can thrive with the warm summers and mild winters. Margherita Taylor is meeting a couple who originally intended to buy land with a lake to fish, but accidentally ended up with a very successful vineyard!   Liz and Engin Mumcuoglu bought fields that the other farmers didn't want and it turned out the poor soil was ideal for vines. 
The feast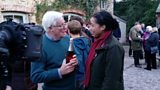 Back at Nancarrow, John's met the farmer, the chefs and the gardener to make sure there really is enough food for everyone and now the first hungry mouths are arriving. John checks in with Darren and the head chef's team who are hard at work in the kitchen only to discover they've never done anything on this scale before! 1000 people travelling to the food, rather than the food travelling to the people is a refreshing take on farming and feasting, the money raised will go to a charity helping to alleviate hunger in other parts of the world. 
Credits
| Role | Contributor |
| --- | --- |
| Presenter | John Craven |
| Presenter | Margherita Taylor |
| Presenter | Adam Henson |
| Presenter | Tom Heap |
| Executive Producer | William Lyons |
| Series Producer | Joanna Brame |