Main content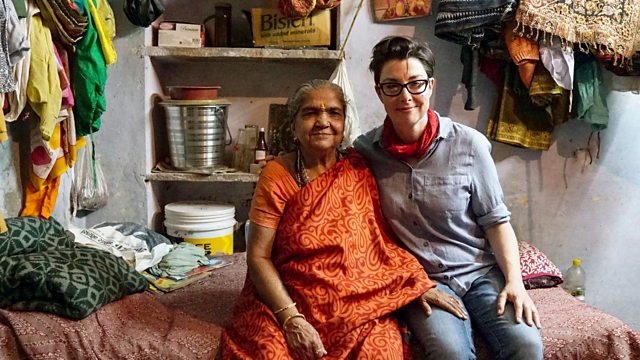 Sue Perkins undertakes an epic, personal journey along the Ganges. In this programme, she arrives in Varanasi, India's most intense, extraordinary and breathtaking city.
Sue Perkins goes on an extraordinary journey, spanning over 1,500 miles, from the source of the Ganges high in the Himalayas to the Bay of Bengal. She travels through some of the most extraordinary, chaotic and exciting places on earth, exploring the lives and landscapes of modern India at this crucial point in its history.
In this second episode, Sue is halfway down the Ganges in the ancient city of Varanasi, a place which, for India's 950 million Hindus, has a unique significance. Sue immerses herself into the complex life of Varanasi, where the power of the Ganges is at its greatest and where life and death exist side by side. But she also discovers that it is here that the river faces its biggest challenges.
In this intricate human habitat, Sue explores the lives of its people and sets out to understand more about the city's place in Hindu death rituals. She visits Varanasi's so-called death hotels, walks the lanes of the old city, encountering dead bodies being rushed past on their way to the cremation grounds, and on the steps of Varanasi's bathing ghats meets an Aghori monk going about his daily business - cleansing his soul in the Ganges river and rubbing the ashes of dead bodies over himself.
Sue quickly discovers the contradictions that lie at the city's heart. On the one hand, it is seen by millions as the spiritual centre of India, yet on the other, it contains some of the most polluted stretches of river in the entire world. But for many devout Hindus, the physical condition of the water is separate from the spiritual power it holds. Sue meets Professor Mishra, who is uniquely qualified to help her understand the paradox that lies at the heart of the great river.
Sue makes her final stop at the Manikarnika Ghat, Varanasi's most prestigious funeral pyre, where bodies are burned on open fires so their souls can be released into a different realm.
Credits
| Role | Contributor |
| --- | --- |
| Presenter | Sue Perkins |
| Production Manager | Val Croft |
| Executive Producer | Steve Robinson |
| Series Producer | Vicky Hinners |
| Producer | Catherine Phillips |
| Producer | Neil Ferguson |
| Composer | Nainita Desai |
| Editor | William Ennals |
| Production Manager | Dan Wheatley |
| Production Company | Folk Films |
| Production Company | Adroit Visuals |