Main content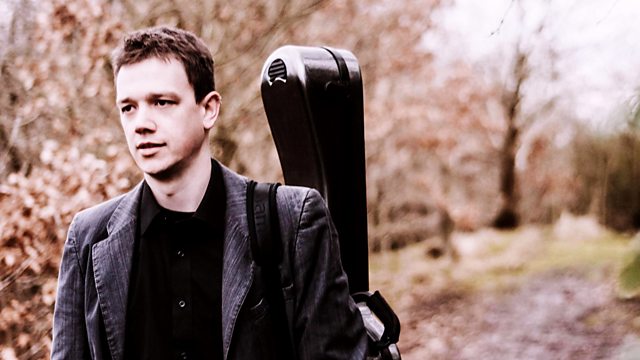 Thursday - Opera Matinee: Strauss's Salome
Tom McKinney introduces the 2010 production of Richard Strauss's Salome from the Royal Opera House, Covent Garden - part of Opera Cities Season.
Tom McKinney introduces the 2010 production of Richard Strauss's Salome from the Royal Opera House, Covent Garden - part of Radio 3's Opera Season, this is one of the seven operas featured in the current exhibition at the V&A, Opera: Passion, Power and Politics.
'Salome is an opera full of characters regarding each other, unable to communicate...everyone's desire is unfulfilled , but everyone is looking all the time', says David McVicar's of Richard Strauss's Salome, as his 2008 production is resurrected in all its shocking glory at the Royal Opera House, Covent Garden.
Based on a short biblical reference to a girl dancing for King Herod, and the immortal line: 'Bring me the head of John the Baptist', Oscar Wilde's play told a lurid tale of power and corruption, depravity and obsession...and Strauss set it to music without holding back in any way.
Angela Denoke stars in the title role, Irina Mishura as Herodias and Gerhard Siegel as Herod, conducted by Hartmut Haenchen.
Narraboth ..... Andrew Staples (tenor)
The Page ..... Sarah Castle (mezzo-soprano)
First Soldier ..... Nicolas Courjal (bass)
Second Soldier ..... Alan Ewing (bass)
Jokanaan ..... Johan Reuter (baritone)
A Cappadocian ..... John Cunningham (bass-baritone)
Salome ..... Angela Denoke (soprano)
Herod ..... Gerhard Siegel (tenor)
Herodias ..... Irina Mishura (mezzo-soprano)
First Jew ..... Adrian Thompson (tenor)
Second Jew ..... Robert Anthony Gardiner (tenor)
Third Jew ..... Hubert Francis (tenor)
Fourth Jew .....Steven Ebel (tenor)
Fifth Jew ..... Jeremy White (bass)
First Nazarene ..... Vuyani Mlinde (bass)
Second Nazarene ..... Dawid Kimberg (baritone)
Hartmut Haenchen ..... Conductor
Orchestra of the Royal Opera House
And at 3.45pm
Tom McKinney continues this week's focus on recent Ulster Orchestra recordings, including a tone poem by Rachmaninov as part of Afternoon Concert's continuing season.
Brahms: Symphony No.1 in C minor
Ulster Orchestra
Rafael Payare (conductor)
Rachmaninov: Caprice Bohemian Op. 12
Ulster Orchestra
Olari Elts (conductor).
Synopsis
A great terrace in the Palace of Herod, set above the banqueting hall. Some soldiers are leaning over the balcony. To the right there is a gigantic staircase, to the left, at the back, an old cistern surrounded by a wall of green bronze. The moon shines brightly.
Narraboth gazes from a terrace in Herod's palace into the banquet hall at the beautiful Princess Salome; he is in love with apotheosizes her, much to the disgust of the Page of Herodias. The voice of the Prophet Jochanaan is heard from his prison in the palace cistern; Herod fears him and has ordered that no one should contact him, including Jerusalem's High Priest.
Tired of the feast and its guests, Salome flees to the terrace. When she hears Jochanaan cursing her mother (Herodias), Salome's curiosity is piqued. The palace guards will not honour her petulant orders to fetch Jochanaan for her, so she teasingly works on Narraboth to bring Jochanaan before her. Despite the orders he has received from Herod, Narraboth finally gives in after she promises to smile at him.
Jochanaan emerges from the cistern and shouts prophecies regarding Herod and Herodias that no one understands except Salome, when the Prophet refers to her mother. Upon seeing Jochanaan, Salome is filled with an overwhelming desire for him. She praises his white skin and asks to touch it but he rejects her. She then praises his black hair, again asking to touch it, but is rejected once more. She finally begs for a kiss from Jochanaan's lips and Narraboth, who cannot bear to hear this, kills himself. As Jochanaan is returned to the well, he preaches salvation through the Messiah.
Herod enters, followed by his wife and court. He slips in Narraboth's blood and starts hallucinating. He hears the beating of wings. Despite Herodias' objections, Herod stares lustfully at Salome, who rejects him. Jochanaan harasses Herodias from the well, calling her incestuous marriage to Herod sinful. She demands that Herod silence him. Herod refuses and she mocks his fear. Five Jews argue concerning the nature of God. Two Nazarenes tell of Christ's miracles; at one point they bring up the raising of Jairus' daughter from the dead, which Herod finds frightening.
Herod asks for Salome to eat and drink with him. She refuses, saying she is neither hungry nor thirsty. Herod then begs Salome to dance for him, though her mother objects. He promises to reward her with her heart's desire – even if it were one half of his kingdom.
Having assured herself that Herod will honour his promise, Salome prepares for the "Dance of the Seven Veils". This dance, very oriental in orchestration, has her slowly removing her seven veils, until she lies naked at his feet. Salome then demands the head of the prophet on a silver platter. Her mother cackles in pleasure. Herod tries to dissuade her with offers of jewels, peacocks, and the sacred veil of the Temple. Salome remains firm in her demand for Jochanaan's head and Herod is forced to accept her demands. After a desperate monologue by Salome, an executioner emerges from the well and delivers the severed head as requested.
Salome declares her love for the severed head, caressing it and kissing the prophet's dead lips passionately. Horrified, Herod orders his soldiers to kill her. They rush forward and crush Salome under their shields.