Main content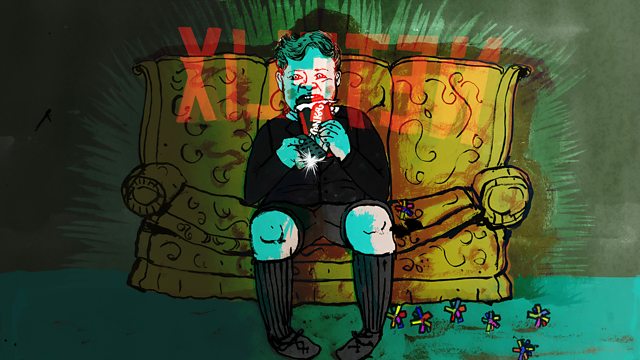 Insatiable
Aleks Krotoski takes a step back in evolution to understand our insatiable appetite for digital content. How are our buttons being pushed and how can we learn to push back?
For many of us the modern world is thankfully one of abundance, where we can indulge ourselves at every turn. But why is it so difficult to say when we've had enough; of foods we know aren't good for us, of TV programmes that play the next episode automatically, of the fleeting social connections we get through online platforms?
As advanced as our technological world has become our brains haven't evolved much since we lived on the African Savannah. And all the things that we sought out to survive there remain hardwired into us today. And it's the consequences of that Aleks will explore.
Some of the tricks nature plays on us go even further back in evolution. Take the humble if duplicitous Cuckoo, laying eggs in another bird's nest. When hatched the cuckoo chick's mouth is that bit wider, that bit redder than those it's sharing the nest with (should any other chicks have survived). The result is the deceived parents will feed it preferentially as the best bet for survival. That extra redness and wider gape is an example of a phenomena in animal behaviour called super normal stimuli. We encounter something we like but with its attributes boosted and we go mad for it, there numerous examples across the animal kingdom.
The difference with humans is we've learnt to super-normally stimulate ourselves; with foods with more sugar and fat than occur in nature, with images of the opposite sex carefully manipulated to make them even more arousing. We've mastered how to push our buttons and we do it, or have it done to us repeatedly.
Aleks sees how this plays out across a range of experiences from the playing of slot machines to competitive eating, to learn the tricks being played on us and how we might outsmart the tricksters.
Producer: Peter McManus.
Last on
Music Played
Kyle Dixon

Walkin' in Hawkins

Bernard Herrmann

North by Northwest
Broadcasts