Main content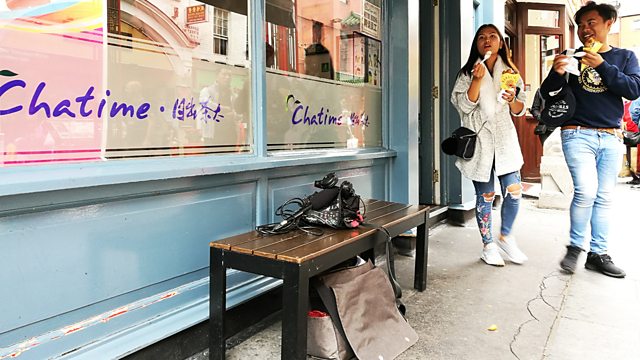 29/10/2017
Sarah Howe crafts a poem around stories of hope and home, family and food, told by migrants and British-born Chinese sitting with Anna Scott-Brown on a bench in London's Chinatown.
Anna Scott-Brown hears more stories from the people who stop to sit beside her on benches around the country.
In this edition, she sits on a bench in London's Chinatown. Throughout the programme a specially commissioned work by the poet Sarah Howe draws on the voices of those passing by - and sometimes pausing on - the bench outside a bubble tea shop in Gerrard Street.
These hidden stories are glimpsed through snatched moments and the painful and beautiful stories people tell Anna in this busy urban setting - the life on hold of an illegal immigrant, the gambler who has lost everything and found God but who is still fighting his addiction, the woman whose father committed suicide after the handover of Hong Kong to China, the political exile turned lawyer, the successful businessman, the artist and the chef.
Throughout it all, the importance of food and family emerges as people speak of where they find their roots - in Mainland China, Singapore, Malaysia, Australia, London's Chinatown itself - and compare the experiences of being a migrant to Britain with a British-born Chinese.
Hidden lives are revealed and common threads recur as Anna's gentle but insistent questions elicit poignant and profound responses from those sitting on the bench.
Producer Adam Fowler
An Overtone production for BBC Radio 4.
Last on
Broadcasts