Main content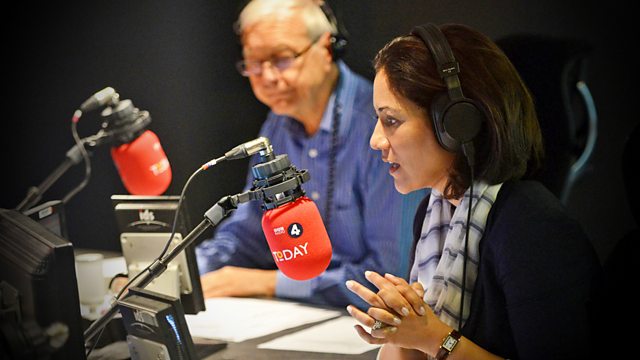 03/11/2017
Morning news and current affairs. Including Yesterday in Parliament, Sports Desk, Weather and Thought for the Day.
Today's running order
0650
While there are laws to prevent harassment and abuse in the workplace, bringing a case to an employment tribunal can be an extremely arduous process which comes at a great personal cost. Today's Zoe Conway reports and Daphne Romney QC is a leading employment barrister.
0710
Labour has suspended Luton North MP Kelvin Hopkins after it was alleged he sexually harassed a party activist. The Labour MP Jess Phillips sits on Parliament's Women and equalities committee.
0715
A new report out this morning is warning that the use of connected devices such as smart TVs and voice-activated home assistants by criminals seeking to steal data poses an emerging threat to UK consumers. Lord Toby Harris is chair of National Trading Standards.
0720
Syria's army and allied fighters have captured the city of Deir Ezzor from so-called Islamic State in a Russian-backed operation, a monitor said on Thursday. Martin Patience is the BBC's Middle East correspondent.
0725
A cabinet minister has been accused of potentially breaching the ministerial code after a private visit to Israel that included meetings with a politician, private companies and charities. James Landale is the BBC's diplomatic correspondent.
0730
For the first time since 2007 the Bank of England has raised interest rates - from 0.25% to 0.5%. Ben Broadbent is deputy governor of the Bank of England.
0740
The much talked-about iPhone X arrives in shops today, and it's Apple's most expensive phone yet. Sam Leith is literary editor of The Spectator, and author of the book, Write to the Point.
0750
"There's never been a previous president ...who had the impulsivity that Mr. Trump exhibits." That is the verdict of John Brennan, who was director of the CIA for four years under President Obama.
0810
For the first time since 2007 the Bank of England has raised interest rates - from 0.25% to 0.5%. Peter Dowd is shadow chief secretary to the Treasury and Jayne-Anne Gadhia is CEO of Virgin Money UK.
0820
Former Defence Secretary Sir Michael Fallon has said that he "categorically denies" allegations that he made inappropriate sexual comments to Commons Leader Andrea Leadsom. John Pienarr is the BBC's deputy political editor.
0830
Yemen is continuing to fight one of the worst cholera outbreaks on record. Najwa Al-Deeb is Unicef's Health and Nutrition Specialist working in Sana'a and Nawal Al-Maghafi is the BBC's correspondent who has been following the conflict and travels regularly to Yemen.
0835
The world's biggest property deal for a single building has been announced in Hong Kong. The BBC's John Simpson reports from Hong Kong.
0840
The BBC has learned that the International Development Secretary, Priti Patel, held undisclosed meetings in Israel without telling the Foreign Office while accompanied by a powerful pro-Israeli Conservative lobbyist. James Landale is the BBC's diplomatic editor.
0845
The National Democratic Institute in Washington has this week presented the Oxford Internet Institute with the prestigious Democracy award for its work analysing the spread of propaganda and misinformation around the world. We asked the Oxford institute's director of research, Philip Howard, how those behind fake news operate.
0850
When Sir Michael Fallon resigned as Defence Secretary he said: "The culture has changed over the years. Petronella Wyatt is former Deputy Editor of the Spectator and Sophie Walker is leader of the Women's Equality Party.
All subject to change.