Main content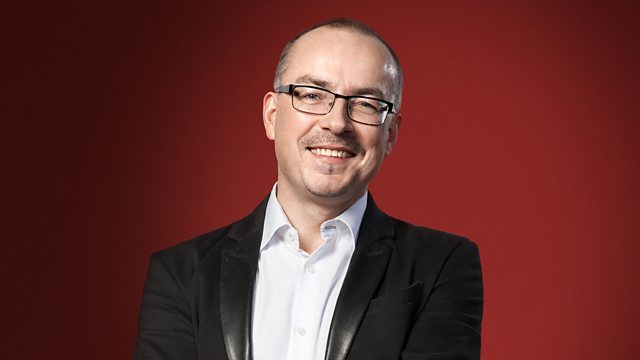 Andrew McGregor with Kirsten Gibson and Elin Manahan Thomas
with Andrew McGregor; Building a Library is on Dowland's Lachrimae with Kirsten Gibson, and Elin Manahan Thomas reports on a recording session of Mozart's Requiem in Berlin.
with Andrew McGregor
0930
Building a Library on Lachrimæ or Seven Tears with Kirsten Gibson. This collection of instrumental music was composed by John Dowland. It was published in 1604 when Dowland was employed as lutenist to Christian IV of Denmark. Dowland points out in his dedication that there are different types of tears. "The teares which Musicke weeps" can be pleasant: "neither are teares shed always in sorrow but sometime in joy and gladnesse".
1045
This summer, conductor René Jacobs recorded the Mozart Requiem for the first time. The project, with the period-instrument Freiburg Baroque Orchestra and RIAS Chamber Choir, was overseen by legendary producer Martin Sauer at Berlin's Teldex studios. From the many available versions of the Requiem, Jacobs chose to record 'Süssmayr Remade', a reworking of Süssmayr's completion by a young French composer, Pierre-Henri Dutron. Elin Manahan Thomas reports from the sessions and talks to Jacobs, Dutron, Sauer and performers about their approach to recording a new version of such a well known work.
1145
Andrew chooses an outstanding new release as his Disc of the Week.
Record Review
9.00am
BEETHOVEN – THE LATE QUARTETS  
LUDWIG VAN BEETHOVEN:  Quartet No.12 in E flat major, Op.127 for strings; Quartet No.13 in B flat major, Op. 130 for strings; Quartet No.14 in C sharp minor, Op.131 for strings; Quartet No.15 in A minor, Op. 132 for strings; Quartet No.16 in F major, Op.135 for strings; Quartet No.17 in B flat major, Op.133 'Grosse Fuge' for strings.
Quatuor Mosaiques
Naïve  V 5445  (3 CDs)
THE CELLO IN WARTIME
CLAUDE DEBUSSY: Sonata for Cello and Piano L.144
FRANK BRIDGE: Sonata for Cello and Piano, H.125
GABRIEL FAURÉ: Sonata No.1 in D minor for Cello and Piano, Op.109
ANTON WEBERN: Drei Kleine Stücke, Op.11
CAMILLE SAINT-SAËNS: The Swan
HUBERT PARRY: Jerusalem
IVOR NOVELLO: Keep The Home Fires Burning
TRADITIONAL: God Save The King
Steven Isserlis (cello); Connie Shih (piano)
BIS BIS-2312 (SACD)
BARTÓK: CONCERTO FOR ORCHESTRA, ETC.
BÉLA BARTÓK: Concerto for Orchestra, BB123; First Rhapsody, BB 94B; Part II of the First Rhapsody, with alternative ending; Second Rhapsody, BB 96B; Dance Suite, BB 86A.
Bergen Philharmonic Orchestra, James Ehnes (violin), Edward Gardner (conductor).
Chandos CHSA 5189  (CD)
9.30am – Building a Library
Building a Library: a weekly look at a piece of music, a comparison of the available recordings, and a recommendation.
Composer: John Dowland
Piece: Lachrimae or Seven Tears
Reviewer:  Kirsten Gibson
Recommended Recording:
Lachrimae, or Seven Tears
Phantasm, Elizabeth Kenny (lute), Laurence Dreyfus (director)
LINN CKD527
Other Recommended Recordings:
The Parley of Instruments, dir. Peter Holman with Paul O'Dette (lute)
Helios CDH55339
Hesperian XX, Jordi Savall (director)
Auvidis-Astrée E8701
John Holloway (with Monika Baer, Renate Steinmann, Susanna Hefti, Martin Zaller)
ECM 4810430
Fretwork/Christopher Wilson (lute)
Virgin Classics VC5450052
10.15am – New Releases
TCHAIKOVSKY – SYMPHONY No 6 – PATHÉTIQUE
MusicAeterna (orchestra), Teodor Currentzis (conductor)
Sony Classical  88985404352  (CD)
DEBUSSY – RACHMANINOV – STRAVINSKY
CLAUDE DEBUSSY: Printemps
SERGE RACHMANINOV:  Vesna Op.20
IGOR STRAVINSKY: Le Sacre du printemps
Rodion Pogassov (baritone), Royal Liverpool Philharmonic Orchestra & Chorus, Vasily Petrenko (conductor).
Oynx Classics  ONYX 4182  (CD)
11.00am - Session Report: Mozart Requiem
Elin Manahan Thomas reports from recording sessions that took place this summer in Berlin where René Jacobs recorded the Mozart Requiem with the RIAS Chamber Choir, Freiburg Baroque Orchestra and an international quartet of soloists. The Requiem was left unfinished at Mozart's death and was completed by Franz Xaver Süssmayr. In this recording Jacobs uses a new version of Süssmayr's completion by the young French composer Pierre-Henri Dutron. Includes interviews with Dutron, Martin Sauer (the recording's producer), Freiburg basset horn player (Lorenzo Coppola) and conductor René Jacobs.
MOZART: REQUIEM
WOLFGANG AMADEUS MOZART: Requiem in D minor, K626
Sophie Karthauser (soprano), Marie-Claude Chappuis (mezzo), Maximilian Schmitt (tenor, Johannes Weisser (baritone)
Freiburger Barockorchester, RIAS Kammerchor, René Jacobs (conductor)
HARMONIA MUNDI HMM902291 (CD)
(LP released on 17/11/17)
11.45am Disc of the Week
MARIANNE CREBASSA – SECRETS
CLAUDE DEBUSSY: 3 Chansons de Bilitis; 3 Mélodies
MAURICE RAVEL: Shéhérazade; Vocalise-étude en forme de habanera
GABRIEL FAURÉ: Mirages
HENRI DUPARC: 4 Mélodies
FAZIL SAY: Gezi Park 3
Marianne Crebassa (mezzo-soprano), Fazil Say (piano), Bernhard Krabatsch (flute)
Warner Classics/Erato  0190295768973   (CD)