Main content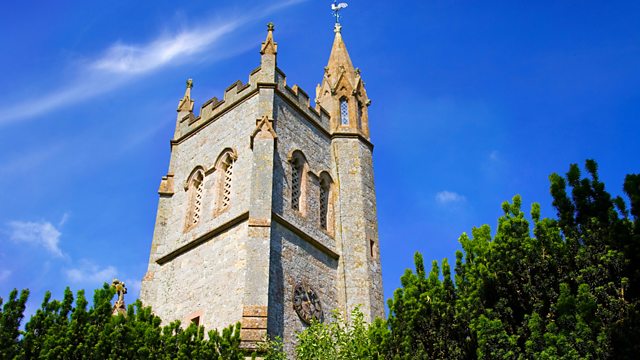 22/10/2017
Marking the Scottish Reformation from St Andrews University, led by the Rev Donald MacEwan. The preacher is Prof Ian Bradley, and the chapel choir is directed by Tom Wilkinson.
From St Salvator's Chapel in the University of St Andrews.
Marking the 500th anniversary of the Reformation from the UK's designated Reformation City,
Led by the Chaplain, The Rev Dr Donald MacEwan; Preacher: Rev Professor Ian Bradley.
St Salvator's Chapel Choir directed by Tom Wilkinson; Organist: Sean Heath
Readings: Joel 2:21-22, 26-29
Romans 1: 7-17
Hymns: All people that on earth do dwell (Tune: Old 100th)
Alone thou goest forth, O Lord (Tune: Martyrs)
Nun danket alle Gott (Harmony by Bach) / Now thank we all our God
Dear Lord and Father of mankind/I have a dream, a man once said (Tune: Repton)
Anthem: Buxtehude - Ecce super montes
Organ Voluntary: Scheidemann - Es spricht der Unweisen Mund wohl
Producer: Mo McCullough.
Script
Leader:  Chaplain, Rev Dr Donald MacEwan
Preacher: Rev Prof Ian Bradley
Director of Music: Tom Wilkinson
Organist: Sean Heath
Choir of St Salvator's Chapel
Opening Announcement from R4 Continuity:
And now we go live to St Andrews, the only place in the UK designated a Reformation City this year, in the first of two Sunday Worships marking the 500th anniversary of the Reformation. 
The preacher is the University of St Andrews' Professor of Cultural and Spiritual History, Ian Bradley, and the service is led by the Chaplain, the Reverend Doctor Donald MacEwan.
DONALD:
Good morning.  If you spend any time in St Andrews, you quickly sense how many people come here.  There are golfers on the Old Course, holidaymakers in the cafes, and students thronging the streets.  It's a busy scene, noisy but good-natured.  But look a little more closely at the ancient buildings, and you can sense a more conflicted past.  The medieval Cathedral lies ruined, the stones re-used in houses nearby.  Memorials to religious pioneers are inscribed on the streets.  And this University Chapel of St Salvator has empty spaces where once were statues and decoration.  Five hundred years ago this month, Martin Luther posted 95 Theses on a German church door, and within a few short years its effects were felt across Europe, as far as this northern shore.  Fewer than 50 years after Luther's action, Scotland was a Protestant country, and much of the country's faith and culture were set on their particular path.  St Andrews is the only place in the United Kingdom designated a Reformation City this year by the Community of Protestant Churches in Europe.  Today's service, from the University Chapel which stood then and witnessed these events, will explore in words and music the impact of Luther's Reformation in St Andrews and beyond, commemorating the anniversary.  But in remembering, we are open to new ways of being faithful to the gospel, and finding ever deeper peace and unity with our sisters and brothers in faith. 
Our hymn is a metrical psalm, a form of congregational singing closely bound up with Reformed worship in Scotland, All people that on earth do dwell.
MUSIC:   ALL PEOPLE THAT ON EARTH DO DWELL (Tune: Old Hundredth)
DONALD:
Some of today's prayers and readings are led by members of the chaplaincy's ecumenical Ministry Discernment Group.
IONA KIMMITT          
Let us pray. 
Eternal God,
we come before you,
God who is eternal, yet accompanies our journey through time,
God who is in every place, yet who inspires faith in particular countries and locations,
God whose gift is unity, yet whose followers take different paths,
God who offers yourself to us today in worship, prayer, commemoration and hope.
We thank you for leading women and men through the centuries in faith, in words and music, in dreams and visions.
We remember your servant Martin Luther,
and are grateful that the faith of many people across this country was made alive by his ideas,
and for all the ways your people have been renewed across 500 years by that reforming spirit.
Merciful God,
we acknowledge that a new spirit in the Christian faith
was accompanied by the old human failings –
anger, resentment, self-righteousness, exclusion and violence.
Where we continue to reject others because of differences of belief, or approach, or form of expression,
we repent.
We are truly sorry.
May we be open to your forgiveness,
offered by Jesus,
who was rejected on the cross,
but rose to bring peace and hope,
by your Spirit.
Amen. 
DONALD
Our first reading, from the prophet Joel, promises the presence of God in his spirit found in the young, in their visions for how things could be.
FANNY EMPACHER    [Old Testament Reading: Joel 2:21-22, 26-29]          
21 Do not fear, O soil;
    be glad and rejoice,
    for the Lord has done great things!
22 Do not fear, you animals of the field,
    for the pastures of the wilderness are green;
the tree bears its fruit,
    the fig tree and vine give their full yield.
26 You shall eat in plenty and be satisfied,
    and praise the name of the Lord your God,
    who has dealt wondrously with you. And my people shall never again be put to shame.
27 You shall know that I am in the midst of Israel,
    and that I, the Lord, am your God and there is no other.
And my people shall never again
    be put to shame.
28  Then afterwards
    I will pour out my spirit on all flesh;
your sons and your daughters shall prophesy,
    your old men shall dream dreams,
    and your young men shall see visions.
29 Even on the male and female slaves,
    in those days, I will pour out my spirit.
DONALD
St Salvator's Chapel Choir will now sing an anthem in Latin by Dieterich Buxtehude, a Lutheran composer.  Although one aspect of Lutheran reformation was people speaking their own languages in church, some traditional forms of worship were retained, including the use of Latin.  The text builds on the sense of prophetic vision in the reforming spirit:
Behold, upon the mountains
the feet of one bringing good news
and proclaiming peace.
MUSIC:  Choir / Organ   ECCE SUPER MONTES (Buxtehude)
DONALD 
In a few moments the Professor of Cultural and Spiritual History here at the University of St Andrews, Ian Bradley, will give the address.
Luther's thought was deeply influenced by scripture, and by the letters of Paul in particular.  And no text was more significant for him than verses from the first chapter of Romans. 
Following those words, we'll join in a medieval hymn reflecting on the cross of Jesus, set to a tune which in its name reflects the disturbing history of religious conflict in Scotland – Martyrs. 
FANNY EMPACHER    [New Testament Reading: Romans 1:13-17] 
13 I want you to know, brothers and sisters, that I have often intended to come to you (but thus far have been prevented), in order that I may reap some harvest among you as I have among the rest of the Gentiles. 14 I am a debtor both to Greeks and to barbarians, both to the wise and to the foolish 15 —hence my eagerness to proclaim the gospel to you also who are in Rome.
16 For I am not ashamed of the gospel; it is the power of God for salvation to everyone who has faith, to the Jew first and also to the Greek. 17 For in it the righteousness of God is revealed through faith for faith; as it is written, 'The one who is righteous will live by faith.'
MUSIC:  ALONE THOU GOEST FORTH, O LORD  (Tune: Martyrs)
IAN BRADLEY       Sermon
In the middle of the cobbled pavement outside this Chapel the initials PH are picked out in stones. They mark the spot where Patrick Hamilton, a young graduate of this University, was slowly burnt to death at the stake on 29 February 1528. Today's students carefully steer round the initials as stepping over them is regarded as bringing bad luck and specifically as risking failure in exams.
Hamilton, who was just 24 when he faced his agonising end, was the first martyr of the Scottish Reformation. He was far from being the only one. Here in St Andrews alone three other men were put to death as heretics for their Protestant beliefs. They are commemorated on a stark obelisk erected in 1843 overlooking the sea and by the former Martyrs Church opposite this chapel which was recently turned into a University library.
There are other powerful physical reminders here in St Andrews of the violent animosity between Protestant and Catholic Christians in the sixteenth century. The massive Cathedral, once the biggest and grandest in Scotland, now stands roofless and ruined. It was first attacked by an angry congregation, whipped up by the preaching of the reformer John Knox in 1559. Nearby the former bishops' palace is also in a ruined state having been stormed by Protestant nobles who assassinated Cardinal David Beaton, the Roman Catholic Archbishop of St Andrews and hung his body out of the same window from which he had earlier watched one of the Protestant martyrs, George Wishart, being burned alive. Visitors have sometimes said to me that they feel the streets of our small and beautiful city are still haunted by the legacy of this bloody and violent period.
Why were men put to death by their fellow Christians during the time of the Reformation? The four St Andrews martyrs had all been deeply influenced by the writings and ideas of Martin Luther, the Augustinian monk whose statements and actions are generally taken to mark the start of the Protestant Reformation. Luther's followers were brought before the church authorities and condemned for propagating what were regarded as dangerous heresies, including  reading the Bible in their own language rather than Latin and supporting the marriage of priests.
At the heart of what took these Protestant Reformers to the stake was their belief in justification by faith alone. This was the crux of Luther's theology, a breakthrough which ended years of anguished agonising about his own salvation. It came to him while he was reading the passage in St Paul's Epistle to the Romans that we heard this morning. Luther became convinced that salvation is not dependent on our own merits or on any works that the church does - rather God in his infinite mercy pardons our sins and welcomes us to eternal life with him, offering a new start and complete forgiveness – all we have to do is to respond in faith. In the words of Paul, the power of God brings salvation to everyone – the righteous will live by faith.
In the eyes of its opponents, the Medieval Catholic Church preached and practised a very different view of salvation which rested on the power of priests, on performing works to gain merit and on obtaining indulgences to reduce the time spent in Purgatory, that intermediate state between this world and the next where souls would be purged before the Last Judgement. The Reformers, by contrast, preached the priesthood of all believers and the centrality of faith alone in the attainment of salvation and eternal life.
And it was for holding and propagating these beliefs that the St Andrews martyrs were put to death. I am always struck by their huge age range – Patrick Hamilton was just 24 when he died, Walter Mylne, the oldest St Andrews martyr, was 82. Today St Andrews is a town similarly dominated by the young and the old. The two biggest groups in the population here are students in their late teens and twenties and retirees in their 60s, 70s and 80s.
The prophet Joel spoke about a time when the Spirit will be poured out on all people and the young shall dream dreams and the old shall see visions. Peter repeated this prophecy at Pentecost, taken by Christians to mark the coming of the Holy Spirit and the birth of the church. There is a sense in which the young and the old still share a sense of idealism and are more inclined to dream dreams and see visions than those in the middle age groups who are perhaps more preoccupied  with the daily grind of work and the responsibilities of family life. We should celebrate the idealism of those of us reaching the twilight of our years, and I speak as a soon to be retired baby boomer. It is often said that our generation, which has had it so good, has left the young without the chances and benefits that we had. Perhaps the least we can do is share something of our dreams and visions with them and stand together across the generations, just as Patrick Hamilton and Walter Mylne did, not as martyrs, but in a shared hope and faith.
For many years I have organised a walk of witness and prayer through the streets of St Andrews every Good Friday afternoon. We pause to reflect and pray at several of the sites associated with our troubled religious history. Initially, this walk involved just the congregations of the Church of Scotland parish churches but some years ago I invited the local Roman Catholic priest to join us. Standing in front of the castle, the old Bishops' Palace, scene of so much hatred and violence, he publicly apologised for the atrocities committed by the Roman Catholic Church against Protestants in the past, and spoke from the heart about the importance of people being able to follow their own consciences. I replied acknowledging that Protestants too had done some pretty terrible things in this period and asking for forgiveness. I think it touched all of us who were present, and it was certainly one of the most moving personal experiences I have had in more than 30 years of living here in St Andrews.  
It's spontaneous ecumenical and eirenic gestures like these which begin to heal our wounds and bring us together as one in Christ. In nine days' time there will be a service here in St Andrews commemorating the 500th anniversary of the Reformation and involving virtually every church in the town. We will pledge ourselves not just to work together, but to be open to the insights of others and to listen to and learn from one another rather than just condemn and judge. We will acknowledge the deeply held convictions of the past but look to the future, a future where, filled by the Spirit, the young will dream dreams and the old will see visions, joined together in faith, in hope and in love.
DONALD
St Salvator's Chapel Choir will now sing a verse of a familiar German hymn with organ music interposed between the lines, a traditional adornment to Lutheran worship.
MUSIC: Chapel Choir with organ interpolations   NUN DANKET ALLE GOTT
Nun danket alle Gott
mit Herzen, Mund und Händen,
der große Dinge tut
an uns und allen Enden;
der uns von Mutterleib
und Kindesbeinen an
unzählig wiel zu gut,
und noch jetzund, getan.
DONALD
Across Europe such Lutheran hymns were translated and sung by congregations, and so we now sing an English version of that German hymn.
MUSIC:  CHOIR / CONGREGATION  NOW THANK WE ALL OUR GOD
KELLY NORRIS:
Let us pray.    
Loving God,
We believe in the Holy Spirit, who binds us together as the Church Universal.
We pray that despite our differences, we may find a greater sense of common life.
Guide us, Lord, to grow in love for our brothers and sisters in Christ.
Help us to live in communion with one another, so that together we may live out our calling as the body of Christ in the world, a calling that compels us to care for the poor, the sick, the hungry, and the stranger.
Help us meet the challenge of living in community, trusting that your Spirit will be our ever-present guide.
ANISHA NETTO
Heavenly Father, we bring to You our prayers for all those who have faced loss, both great and small, over recent days.
Be near them in your faithfulness,
and give them your comfort.
Reflecting on Reformation and its effects in the past,
we pray today for relations of respect and understanding throughout Scotland
and across the United Kingdom,
and for peace across Europe and the world,
remembering places of deep disagreement and conflict.
Even as we thank You that You are the God of rest,
we pray for those who know little rest today,
for those facing persecution because of their faith,
for those who are forced to flee from their homelands and seek refuge elsewhere, and for those who no longer have a place to call home,
for your mercy and grace to accompany them
We gather up these and all our prayers in the words that your Son Jesus taught us:

ALL: 
Our Father who art in heaven,
hallowed be thy name,
thy kingdom come,
thy will be done,
on earth as it is in heaven.
Give us this day our daily bread.
And forgive us our trespasses
as we forgive those who trespass against us.
And lead us not into temptation
but deliver us from evil.
For thine is the kingdom, the power,
and the glory forever and ever.
Amen.
DONALD:
Commemorating the Reformation cannot be an unmixed celebration.  Religious change involved violence here – and it continues to do so across our world.  And so we sing now a familiar hymn asking God for forgiveness for the ways we go wrong.  But the well-known hymn tune, Repton, has also been put to newer words, which draw on that 20th Century preacher who was named after Martin Luther, and whose Reforming spirit has proved influential in the ways of freedom and hope – Martin Luther King. 
I have a dream, he said, and we will sing.
MUSIC:  Choir / Organ / Congregation  DEAR LORD AND FATHER / I HAVE A DREAM
[Dear Lord and Father Verse 1
I have a dream  Verses 1, 3, 4  (Published in Scottish Church Hymnary 4th Edition (CH4)
Dear Lord and Father Last Verse]
DONALD:
Go in the peace of God, and the blessing of God almighty, Father, Son and Holy Spirit, be with you, now and evermore.
CHOIR:  Sung Amen
MUSIC:  ORGAN VOLUNTARY ES SPRICHT DER UNWEISEN MUND WOHL  (SCHEIDEMANN)