Main content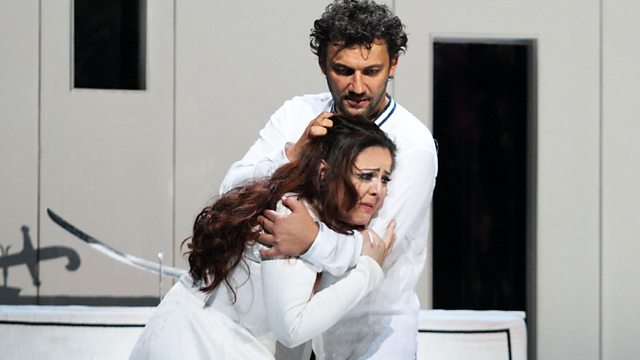 Verdi's Otello: Kaufmann at 50
To mark Jonas Kaufmann's 50th birthday, another chance to hear him sing the title role in Verdi's Otello from the Royal Opera House, conducted by Antonio Pappano, recorded in 2017.
In celebration of Jonas Kaufmann's 50th, another chance to hear him sing the title role of Verdi's Otello from the Royal Opera House, recorded in 2017
Verdi's great Shakespearean tragedy of revenge, this gripping drama about the human psyche pushed to the limits by jealousy stars Jonas Kaufmann as the great general brought low by the evil schemes of his ensign Iago, sung by Marco Vratogna. Maria Agresta is Otellos's innocent and falsely accused wife, Desdemona, in Keith Warner's new production which emphasises the claustrophobia of this all-too-human tragedy. The Chorus and Orchestra of the Royal Opera House, Covent Garden are conducted by Antonio Pappano. James Naughtie presents this performance, recorded in July 2017 and his guest in the box is Flora Willson.
Otello ..... Jonas Kaufmann (tenor)
Desdemona ..... Maria Agresta (soprano)
Iago ..... Marco Vratogna (baritone)
Cassio ..... Frédéric Antoun (tenor)
Roderigo ..... Thomas Atkins (tenor)
Emilia ..... Kai Rüütel (mezzo-soprano)
Montano ..... Simon Shibambu (bass)
Lodovico ..... In Sung Sim (bass)
Herald ..... Thomas Barnard (bass-baritone)
Royal Opera House Chorus and Orchestra
Antonio Pappano (conductor).
Last on

Synopsis
Act I
On a stormy evening, Cypriots wait anxiously for the return of their governor Otello, who has led his forces into a naval battle against the Turks. Otello's ship struggles to make port. While the crowd pray for their governor's safety, Otello's ensign Iago hopes for his destruction.
Otello arrives safely and announces his victory over the Turks (Esultate!). Iago engages the young Venetian Roderigo in conversation. Roderigo is in love with Otello's wife Desdemona and has followed the couple to Cyprus. Iago, resentful that Otello has promoted Cassio to the position of captain rather than himself, offers to help Roderigo.
The crowd celebrate Otello's victory (Fuoco di gioia). Iago plies Cassio with wine, (Inaffia l'ugola!) and encourages Roderigo to pick a fight with the captain by suggesting that Cassio loves Desdemona. The outgoing governor Montano calls Cassio to guard duty and is shocked to find him drunk; Iago lies that this is a nightly occurrence. Roderigo laughs at Cassio's drunkenness, and Cassio attacks first him then Montano. As Cassio and Montano fight, Iago sends Roderigo to wake up the town.
Otello arrives and stops the fight. Iago expresses confusion at what has happened. Otello strips Cassio of his captaincy, summons help for the wounded Montano and restores calm.
Alone, Otello and his wife Desdemona enjoy the peaceful evening (Già nella notte densa). Desdemona remembers how Otello told her about his past: she loved him for his misfortunes and he loved her for her compassion. Otello cannot imagine ever again being so happy. Desdemona prays for their continuing contentment, and the couple kiss.

Act II
Iago urges Cassio to ask Desdemona to intercede for him with Otello. After Cassio has gone to find Desdemona, Iago rejoices in his own malignity: he believes that a cruel God created him (Credo in un Dio crudel).
Iago provokes Otello to jealousy with subtle hints about Cassio's friendship with Desdemona. A group of Cypriots arrive with their children to serenade Desdemona, and their song briefly calms Otello, but when Desdemona begins to plead with her husband for Cassio's pardon, his suspicions return, and he responds curtly. Desdemona offers to bind her husband's aching head with her handkerchief, but he throws it to the ground. Desdemona's attendant Emilia picks it up. As Desdemona reminds Otello how much she loves him, to no avail, Iago quietly forces his wife Emilia to hand over the handkerchief.
Otello becomes convinced of Desdemona's treachery, and mourns his lost happiness (Ora e per sempre addio sante memorie). He demands definite proof from Iago of Desdemona's infidelity. Iago tells Otello that he heard Cassio talking in his sleep about his affair with Desdemona, and that he has seen Cassio holding Desdemona's embroidered handkerchief. Otello is now certain of his wife's guilt, and he and Iago vow vengeance (Si, pel ciel marmoreo giuro!).

Interval


Act III
Emissaries are due to arrive from Venice. Iago promises to show Otello physical proof of Desdemona's guilt.
Desdemona comes to speak with Otello. Their conversation initially seems courteous, but when she again pleads for Cassio's pardon, Otello becomes agitated, and demands that Desdemona bind his aching head with her embroidered handkerchief. Desdemona explains that she doesn't have it with her, and Otello warns her of the awful consequences of losing it. He grows increasingly angry, accuses Desdemona outright of infidelity and orders her away. Alone, Otello despairs (Dio! mi potevi scagliar). Iago tells Otello that he can provide further proof of Desdemona's treachery. He persuades Otello to hide, then gossips with Cassio about the latter's mistress, Bianca. Otello, who can hardly hear the men, thinks they are discussing Desdemona. Cassio confides that he has found a woman's handkerchief in his lodgings, and produces Desdemona's (hidden in Cassio's room by Iago). After Cassio has gone, Otello determines that Desdemona must die that night. Iago suggests that he suffocate her in her bed. Otello agrees, and promotes Iago to captain.
The crowd hails Otello and the Venetian emissaries. The Venetian ambassador Lodovico notes that Cassio is absent. Desdemona attempts to explain what has happened, but Otello silences her curtly. Otello reads out a decree from the Venetian Doge: he and Desdemona are to return to Venice, and Cassio will become Cyprus's new governor. Otello turns in a fury on Desdemona, ordering her to kneel on the ground and weep. Desdemona is distraught, and Otello's inexplicable treatment of his wife arouses the Cypriots and Venetians to pity. Meanwhile, Iago insists that Otello take action that evening, and promises to arrange Cassio's death. He then tells Roderigo to murder Cassio in order to ensure Otello and Desdemona remain in Cyprus.
Otello furiously and repeatedly orders everyone to leave, and curses his wife. He imagines he can see Desdemona and Cassio embracing, and collapses in a fit. As the crowd hail the 'Lion of Venice', Otello lies prostrate, and Iago seems triumphant.
Act IV
Desdemona prepares for bed. She sings the Willow Song (Piangea cantando) that she learnt from her mother's maid Barbara, who was abandoned by her sweetheart. She feels a presentiment of her own death, and says goodbye to Emilia. She then prays (Ave Maria), and falls sleep.
Otello wakes his wife with a kiss. He orders her to confess her adultery before he kills her. Desdemona insists on her innocence and pleads for mercy, but Otello refuses to listen, and smothers her. Emilia arrives with the news that Cassio has killed Roderigo, and to hear Desdemona protest her innocence again as she dies. Emilia calls for help, and Cassio, Montano and Iago arrive with soldiers. Emilia, Cassio and Montano reveal how Iago deceived Otello, and Iago flees. Full of remorse for what he has done to Desdemona, Otello stabs himself (Niun mi tema). As he dies he begs Desdemona for one more kiss.
Broadcasts