Main content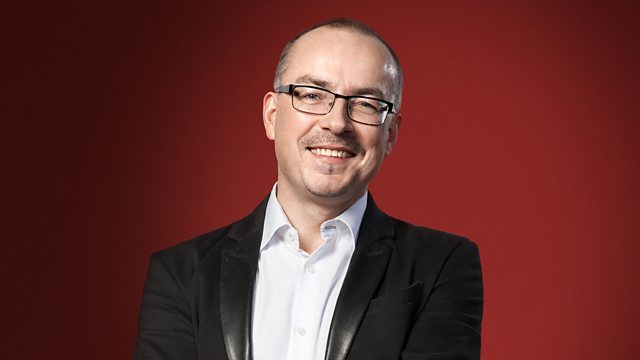 Andrew McGregor with Anna Picard and Andrew Mellor
Building a Library focuses on Puccini's opera Il Tabarro with Anna Picard and Andrew Mellor discusses organ music. Presented by Andrew McGregor.
with Andrew McGregor
0930
Building a Library on Puccini's opera Il Tabarro with Anna Picard. Tabarro is the first in Puccini's triptych of one-act operas, Il Trittico. Set on a barge on the Seine, it is a sordid tale of lust and revenge among the tinkers and stevedores of early-20th century Paris. And out of this grim world Puccini's passionate music pulsates with hope and passion.
1045
Andrew talks to Andrew Mellor about a fascinating group of new organ releases on organs from Scandinavia to Mallorca including music from J S Bach to Per Norgard
1145
Andrew chooses an outstanding new release as his Disc of the Week.
Record Review
9.00am
BACH: MAGNIFICAT GARDINER  
J.S. BACH: Missa in F major BWV 233; Süẞer Trost, mein Jesus kömmt BWV 151; Magnificat in E flat major BWV 243a.
Monteverdi Choir, English Baroque Soloists, John Eliot Gardiner (conductor)
Soli deo Gloria SDG728 (CD)
JUST BACH
J.S. BACH: Orchestral Suite no.1 in C major BWV 1066; Also hat Gott die Welt geliebet BWV 68; Herr, gehe nicht ins Gericht BWV 105; Harpsichord Concerto in F minor BWV 1056; Ich hatte viel Bekümmernis BWV 21; Ich geh und suche mit Verlangen BWV 49; Liebster Jesu, mein Verlangen BWV 32; Der Herr denket an uns: Sinfonia BWV 196; Weichet nur, betrübte Schatten BWV 202.
Johannette Zomer (soprano), Bart Schneemann (baroque oboe); Tulipa consort.
Channel Classics CCS 39917 (CD)
PROKOFIEV: SYMPHONY NO.7
SERGEY PROKOFIEV: Symphony No. 7 in C sharp minor, Op. 131; The Love for Three Oranges – Suite, Op. 33bis (excerpts) (1919); Lieutenant Kijé – Suite, Op.60 (1934).
São Paulo Symphony Orchestra, Marin Alsop (conductor).
Naxos  8.573620  (CD)
9.30am – Building a Library
Building a Library: a weekly look at a piece of music, a comparison of the available recordings, and a recommendation.
Composer: Giacomo Puccini
Piece: Il Tabarro
Reviewer: Anna Picard
Recommended Recording:
Maria Guleghina (Giorgetta), Neil Shicoff (Luigi), Carlo Guelfi (Michele),
London Symphony Orchestra, Antonio Pappano (conductor)
WARNER CLASSICS 0190295900632
Other Recommended Recordings:
Renata Scotto (Giorgetta), Placido Domingo (Luigi), Ingvar Wixell (Michele)
New Philharmonia Orchestra, Lorin Maazel (conductor)
SONY CLASSICAL 88697527292
Mirella Freni (Giorgetta),Giuseppe Giacomini (Luigi), Juan Pons (Michele)
Orchestra of the Maggio Musicale Fiorentino, Bruno Bartoletti (conductor)
DECCA 4780341
10.20am New Releases – Dvorak Chamber
DVOŘÁK: PIANO TRIOS 2: NOS. 1 & 2    
ANTONÍN DVOŘÁK:  Piano Trio No.1 in B flat major, Op.21, B.51; Piano Trio No.2 in G minor, Op.26, B.56.
The Tempest Trio.
Naxos 8.573723  (CD)
BRAHMS & DVOŘÁK – PIANO TRIOS
JOHANNES BRAHMS: Piano Trio in B Op 8
ANTONÍN DVOŘÁK: Piano Trio Op 90 'Dumky'
BRAHMS ARR. LOUIS RIES: Hungarian Dance no 6 in D
The Z.E.N. Trio
Deutsche Grammophon  DG40191  (CD)
DVOŘÁK: PIANO QUARTETS NO. 1 & 2        
ANTONÍN DVOŘÁK: Piano Quartet No.1 in D major, Op.23; Piano Quartet no.2 in E flat major, Op.87.
Busch Trio, Miguel Da Silva (viola)
Alpha Classics ALPHA288  (CD)
DVOŘÁK: STRING QUARTET Op. 105 – STRING QUINTET Op. 97
ANTONÍN DVOŘÁK: String Quintet in E flat major Op. 97; String Quartet in A flat major Op. 105.
Takás Quartet, Lawrence Power (viola).
Hyperion CDA68142 (CD)
DVOŘÁK: QUINTETS OP. 81 & 97
ANTONÍN DVOŘÁK:  Piano Quintet No.2 in A major, Op. 81; String Quintet in E flat major, Op.97
Pavel Haas Quartet, Pavel Nikl (viola), Boris Giltburg (piano)
Supraphon SU 4195-2  (CD)
11.03am Andrew Mellor on organ recordings
J.S. BACH – CLAVIER-ÜBUNG III
James Johnstone (organ)
Metronome MET CD 1094 (2 CD)
PER NØRGÅRD: THE ORGAN BOOK & CANON
PER NØRGÅRD: Orgelbogen (The Organ Book); Canon.
Jens E Christensen (organ)
Dacapo 6.220656  (CD)
MALLORCA EDITION HISTORIC ORGANS
Works by SOLER, D. SCARLATTI, LIDÓN, AGUILERA DE HEREDIA, BRUNA
Martin Schmeding (organ).
Cybele 6SACD 001404  (6 SACD)
11.48am Disc of the Week –
JOHN BLOW: AN ODE ON THE DEATH OF MR HENRY PURCELL & OTHER WORKS
JOHN BLOW: Begin the Song!; Chaconne a 4 in G major; An Ode on the Death of Mr Henry Purcell; Ground in G minor; The Nymphs of the wells; Sonata in A major; Dread Sir, the Prince of Light
Samuel Boden (tenor), Thomas Walker (tenor), Arcangelo, Jonathan Cohen (director).
Hyperion CDA68149  (CD)