Main content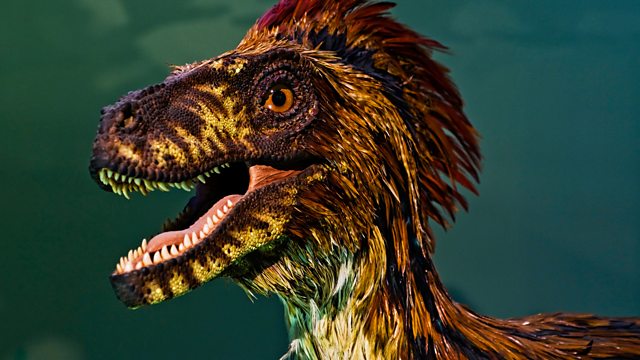 Feathered Dinosaurs
Melvyn Bragg and guests discuss theories about dinosaur feathers. Which ones had them, what sorts of feathers were they and where were they found on their bodies?
In a programme first broadcast in 2017, Melvyn Bragg and guests discuss the development of theories about dinosaur feathers, following discoveries of fossils which show evidence of feathers. All dinosaurs were originally thought to be related to lizards - the word 'dinosaur' was created from the Greek for 'terrible lizard' - but that now appears false. In the last century, discoveries of fossils with feathers established that at least some dinosaurs were feathered and that some of those survived the great extinctions and evolved into the birds we see today. There are still many outstanding areas for study, such as what sorts of feathers they were, where on the body they were found, what their purpose was and which dinosaurs had them.
With
Mike Benton
Professor of Vertebrate Palaeontology at the University of Bristol
Steve Brusatte
Reader and Chancellor's Fellow in Vertebrate Palaeontology at the University of Edinburgh
and
Maria McNamara
Senior Lecturer in Geology at University College, Cork
Producer: Simon Tillotson.
Last on
LINKS AND FURTHER READING
Mike Benton at the University of Bristol
Maria McNamara at University College Cork
Steve Brusatte at the University of Edinburgh
Feathers, melanosomes, and the colour of dinosaurs - Palaeobiology Research Group
Feathered Fossils Give Scaly Dinosaurs a Makeover – National Geographic
Feathered dinosaurs – Science Daily
Do dinosaurs still live among us? – BBC iWonder
Living dinosaurs: How birds took over the world – New Scientist
How Dinosaurs Shrank and Became Birds - Scientific American
Birds: The Late Evolution of Dinosaurs – Natural History Museum
Birds Really Are Dinosaurs, Explained - Newsweek
How we finally figured out the color of dinosaur feathers – Popular Science
Amber specimen offers rare glimpse of feathered dinosaur tail – University of Bristol
Feathered Dinosaurs – Wikipedia
Maria McNamara: Preservation and palaeobiology of exceptionally preserved fossils
Fossilisation of melanosomes via sulfurization by Maria E. McNamara, Bart E. van Dongen, Nick P. Lockyer, Ian D. Bull and Patrick J. Orr (Palaeontology, 2016)
Reconstructing carotenoid-based and structural coloration in fossil skin by Maria E. McNamara, Patrick J. Orr, Stuart L. Kearns, Luis Alcalá, Pere Anadón, Enrique Peñalver (Current Biology, 2016)
The taphonomy of colour in fossil insects and feathers by Maria E. McNamara (Palaeontology, 2013)
Experimental maturation of feathers: implications for reconstructions of fossil feather colour by Maria E. McNamara, Derek E. G. Briggs, Patrick J. Orr, Daniel J. Field, Zhengrong Wang (Biology Letters, 2013)
READING LIST: 
Michael Benton, Vertebrate Palaeontology (Wiley-Blackwell, 2014)
Stephen L. Brusatte, Dinosaur Paleobiology (Wiley-Blackwell, 2012)
David E. Fastovsky and David B. Weishampel, Dinosaurs: A Concise Natural History (Cambridge University Press, 2016)
John Long, Feathered Dinosaurs: The Origin of Birds (Oxford University Press, 2009)
Darren Naish and Paul Barrett, Dinosaurs: How They Lived and Evolved (The Natural History Museum, 2016)
Mark A. Norrell, Unearthing the Dragon: The Great Feathered Dinosaur Discovery (Pi Press, 2005)
John Pickrell, Flying Dinosaurs: How Fearsome Reptiles Became Birds (Columbia University Press, 2017)
Credits
| Role | Contributor |
| --- | --- |
| Presenter | Melvyn Bragg |
| Interviewed Guest | Michael Benton |
| Interviewed Guest | Steve Brusatte |
| Interviewed Guest | Maria McNamara |
| Producer | Simon Tillotson |
Broadcasts

Featured in...
Browse the Prehistoric era within the In Our Time archive.

Scientific principles, theory, and the role of key figures in the advancement of science.