Main content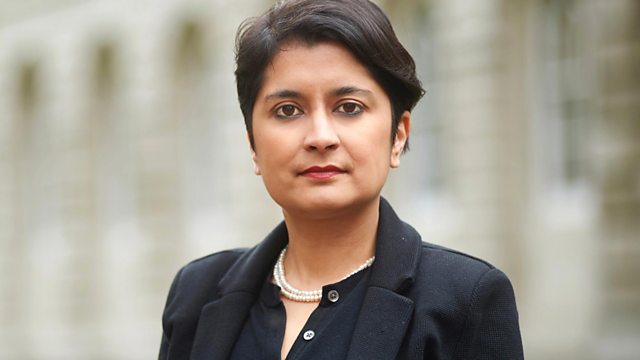 Shami Chakrabarti; The safest place to raise children - town v country; Men and the body positive movement
Shami Chakrabarti on her new book Of Women. Where is the safest place to raise children, in the city or in the country? Plus men and the body positive movement.
Shami Chakrabarti talks about her new book -Of Women. It gives a variety of examples which supports her view that women are still at the bottom of the pile even though it's the 21st century.
Town v Country. We discuss the safest place to raise children with Dr Audrey Nazelle, lecturer in air pollution management at Imperial College and Emma, an assistant headteacher of a primary school who blogs under the name West Country Mum.
Over the past couple of months, a new trend on social media has seen a number of men sharing photos of their wives and girlfriends who self-identify as 'curvy' or 'plus-size.' The intention is often to celebrate body positivity - but many of these posts have been faced with criticism. How can some men be better allies to the body positive movement ? Steph Yeboah is a plus size fashion blogger and model. Jessie Thompson is an online arts and culture journalist for the Evening Standard in London.
'A hundred songs for Kneeze and Vijay' is a neon artwork currently on display in Rochdale Bus Station. Commissioned by recoverist arts organisation Portraits of Recovery, they are a part of a project called UNSEEN, which looks at the extra challenges of recovery in diverse communities, including LGBT and South Asian. Vijay and her son, Charlie, now clean for more than four years, join Jane to talk about dealing with his drug addiction. Project worker, Leanne Harper, who works with the drug and alcohol treatment service in Wolverhampton discusses why facing drug addiction is such a hidden problem in these communities.
Presenter Jane Garvey
Producer Beverley Purcell
Shami Chakrabarti; photographer Roddy Paine.
Chapters
Shami Chakrabarti

Duration: 10:15

Men and the body positive movement

Duration: 08:16

South Asian mothers and drug addiction

Duration: 11:46

The safest place to raise children - town v country

Duration: 07:12

Drug and Alcohol Addiction

Credits

| Role | Contributor |
| --- | --- |
| Presenter | Jane Garvey |
| Interviewed Guest | Shami Chakrabarti |
| Interviewed Guest | Audrey Nazelle |
| Interviewed Guest | Steph Yeboah |
| Interviewed Guest | Jessie Thompson |
| Interviewed Guest | Leanne Harper |
| Producer | Beverley Purcell |