Main content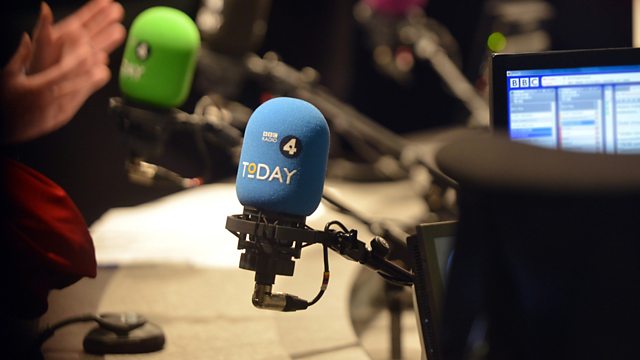 24/10/2017
News and current affairs. Including Yesterday in Parliament, Sports Desk, Weather and Thought for the Day.
Last on

Running order
0650
Is China's president Xi Jinping about to become a ruler for life – and what would that mean for China? Carrie Gracie is our China editor.
0655
New research suggests that sleepwalkers are blessed with skills the rest of us do not share. Dr Oliver Kannape is a lecturer in cognitive neuroscience at the University of Central Lancashire and lead researcher on the study.
0709
There is a new crisis facing Kenya - elections held in the summer were annulled by the Supreme Court after the electoral commission decided that President Kenyatta had won. But the main opposition leader Raila Odinga, given the chance to have a re-run, has pulled out of the new election which is due to take place tomorrow.  Raila Odinga is Kenya's opposition leader.
0715
Whitbread interim results are announced this morning. Alison Brittain is the CEO of Whitbread and one of only seven women FTSE 100 CEOs.
0720
NHS hospitals could carry out 280,000 more non-emergency operations a year by organising operating theatre schedules better, a new study suggests. Professor Derek Alderson is President of the Royal College of Surgeons
0725
Cuts to the marines, cuts to beach landing craft, cuts to the number of troops - all under consideration by the Ministry of Defence. Malcolm Chalmers is Deputy Director-General of the Royal United Services Institute.
0740
Trump's Democrat opponents are engaged in what they call 'the resistance' - with state governors and mayors trying to use their own powers, and the courts, to frustrate him. Our special correspondent Jim Naughtie reports from California.
0745
Today is National Polio Day when global health campaigners will mark the dramatic fall in the numbers affected in the past thirty years from 350,000 to just 37. Jonathan Cavendish is a film producer and son of polio treatment pioneer Robin Cavendish. He joins us with his mother Diana Blacker Cavendish.
0755
Schools in England are seriously underfunded and desperately need extra cash soon - that's the message that will be taken to Parliament today by six unions who are organising a mass lobby. Angela Rayner is the shadow education secretary. 
0810
There's a month to go before the Chancellor Philip Hammond delivers the Budget. He's already under pressure to increase public sector pay, reverse benefit cuts, to build more houses and increase defence spending. Over the next few weeks we'll examine the case being made starting today with defence. Sir Richard Barrons was the head of Joint Forces Command until last year.
0815
Governor Jerry Brown of California is the longest serving governor the biggest state in America has ever had - he served in the 70s and 80s and returned to office seven years ago. Jim Naughtie sat down with Jerry Brown in San Francisco.
0835
Victims of modern slavery are being let down at every stage by police forces, according to a report by the inspectorate of constabulary. Wendy Williams is Her Majesty's Inspector of Constabulary who led the investigation,
0840
How far should Spain go to stop Catalan independence? Francisco Martinez Vasquez is a member of the Spanish Parliament for the governing People's Party.
0845
Two of Italy's richest northern regions have a mandate for greater autonomy following legal but non-binding referendums on Sunday, according to their leaders. Alvise Armellini is Rome correspondent for the DPA news agency
0855
Today is National Polio Day when global health campaigners will mark the dramatic fall in the numbers affected in the past thirty years from 350,000 to just 37. Dr Michael Zaffran is head of the WHO's polio eradication programme and Professor Heidi Larson is director of the vaccine confidence project at the London School of Hygiene and Tropical Medicine.
All subject to change
Broadcast