Main content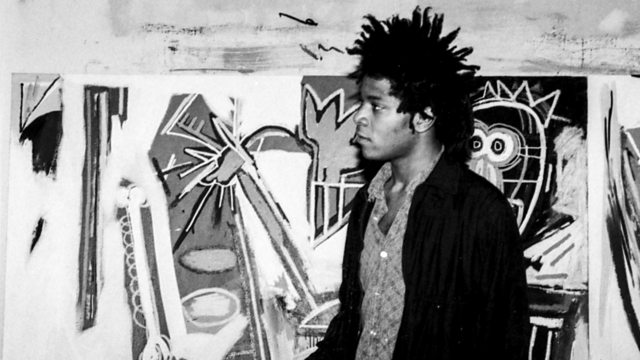 Basquiat - Rage to Riches
Documentary film telling the story of Brooklyn-born artist Jean-Michel Basquiat after a recent Sotheby's auction of a skull painting sold for over a hundred million dollars.
Nearly 30 years after his death from a drug overdose in 1988, the legendary artist Jean-Michel Basquiat has managed to take the world by storm yet again when one of his Skull paintings from 1982 sold recently at Sotheby's for a recorded breaking sum of over one hundred million dollars. The monetary value and art historical importance of work by this former Downtown NYC street graffiti artist is now considered on a par with such luninaries as Picasso, Pollock, and Francis Bacon.
This film features exclusive interviews with Basquiat's two sisters - Lisane and Jeanine Basquiat - who have never before talked about their brother and his art for a TV documentary. Other contributors include some of the most powerful and legendary art dealers in the world such as Bruno Bischofberger, Larry Gagosian, and Mary Boone. They helped fuel Basquiat as he rocketed to art world fame but whose own careers and fortunes may have benefited just as much and possibly more. With striking candor, Basquiat's art dealers as well as his most intimate friends, lovers, and fellow artists spill the beans on the cash, the drugs, and the pernicious racism which Basquiat encountered and fought against on a daily basis. And the main weapon which Basquiat used to fight this racism was his art.
The beating heart of this documentary is the actual art of Basquiat - and the substantive ways in which it embodied and reflected breakthroughs in music, poetry, and a new type of expressionism in modern art. But the story of his life is the raw material for countless legends!
The film reveals for the first time the truth of what actually happened at a swank NYC Soho restaurant - when Basquiat - still only a teenager - had his first legendary encounter with Andy Warhol while hawking his postcards for one dollar each. The film leaves a trail of surprise, joy, and laughter as Basquiat's sisters talk about the unforgettable night in Brooklyn when their brother brought an eccentric friend home for dinner - the eccentric friend was Andy Warhol.
In a 1983 campaign which long predates Black Lives Matter, Basquiat used his art as part of a protest movement following the beating to death by NYC transit cops of a friend of his - Michael Stewart. It was a protest movement joined by Basquiat's one time girlfriend - Madonna.
In this film, these are only some of the many stories that give shape and insight into a life which was constantly torn between public acclaim and personal pain, the bold confidence of has greatness as an artist and the secret fear he would be regarded a flash in the pan, between a deep desire for fame and money but an even deeper resentment that his work was being transformed into a commodity. Basquiat's relationship with drugs and the role they played in his life, work, stellar rise, and fatal crash - is sensitively and insigtfully explored.
Music Played
Timings (where shown) are from the start of the programme in hours and minutes
00:04

Charlie Parker Quintet

Hot House

00:06

Donna Summer

A Man Like You

00:08

James White and the Blacks

Almost Black (Richard Sen's Padded Cell Edit)

00:11

Grandmaster Flash & The Furious Five

New York New York

00:14

Blondie

Accidents Never Happen

00:19

Public Enemy

Lost At Birth

00:21

Charlie Parker

Bird Gets The Worm

00:24

Blondie

Rapture (Special Disco Mix)

00:30

Miles Davis

Billy Preston

00:31

Brian Eno

Wire Shock

00:40

Grandmaster Flash & The Furious Five

It's Nasty

00:54

The B‐52s

Hero Worship

00:43

Brian Eno, David Byrne

The Jezebel Spirit

01:00

Brian Eno

In Dark Trees

01:05

James Brown

Say It Loud (I'm Black and I'm Proud)

01:08

Sister Sledge

We Are Family

01:12

Ludwig van Beethoven

Symphony No.3 In E Flat Major: Movement 2- Marcia Funebre, Adagio

01:19

Brian Eno

Stedelijk

01:22

Brian Eno

Small Craft on a Milk Sea
Credits
| Role | Contributor |
| --- | --- |
| Executive Producer | Janet Lee |
| Director | David Shulman |