Main content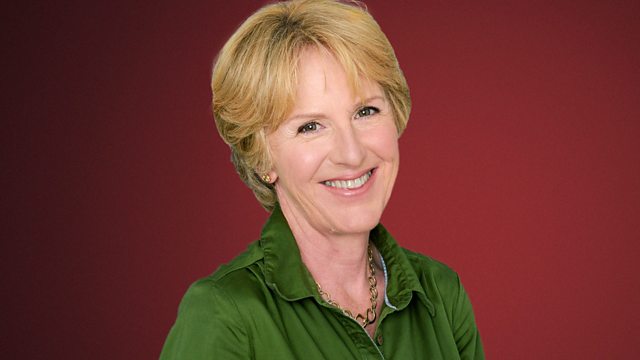 A world premiere symphonic ballet by Cecile Chaminade
Catriona Young presents a world premiere recording of Cecile Chaminade's symphonic ballet 'Callirhoe' by the BBC Concert Orchestra.
Catriona Young presents a world premiere recording of Cécile Chaminade's symphonic ballet 'Callirhoë' by the BBC Concert Orchestra.
1:01 AM
Cécile Chaminade (1857-1944)
Callirhoë: Ballet symphonique, Op 37, arr. Martin Yates
BBC Concert Orchestra, Martin Yates (conductor)
2:04 AM
Moszkowski, Moritz (1854-1924)
Piano Concerto in E major, Op 59
Janina Fialkowska (piano), Kitchener-Waterloo Symphony Orchestra, Raffi Armenian (conductor)
2:41 AM
Mahler, Gustav [1860-1911]; arr. Schoenberg, Arnold [1874-1951]
Lieder eines fahrenden Gesellen
Urszula Kryger (mezzo-soprano), Kwartesencja Ensemble: Marcin Kaminski (flute), Adrian Janda (clarinet), Bartosz Jakubczak (harmonium), Bartlomiej Zajkowski (piano), Tomasz Januchta (double bass), Hubert Zemler (percussion), Monika Wolinska (director)
3:01 AM
Albrechtsberger, Johann Georg (1736-1809)
Trombone Concerto
Heiki Kalaus (trombone), Estonian National Symphony Orchestra, Peeter Lilje (conductor)
3:18 AM
Ockeghem, Johannes (c.1410-1497)
Missa prolationum
The Hilliard Ensemble: David James & Ashley Stafford (altos), Rogers Covey-Crump, John Potter & Mark Padmore (tenors), Gordon Jones (baritone), David Beavan (bass), Paul Hillier (bass/director)
3:53 AM
Franck, César (1822-1890)
Cantabile in B major, M36
David Drury (William Hill and Son organ of Sydney town Hall, Australia)
4:00 AM
Vladigerov, Pancho (1899-1978)
Elegie d'automne (3 pieces for piano, Op 15)
Ludmil Angelov (piano)
4:07 AM
Beethoven, Ludwig van (1770-1827)
Romance in F major, Op 50
Taik-Ju Lee (violin), Young-Lan Han (piano)
4:16 AM
Falla, Manuel de (1876-1946)
Vivan los que rien' - Salud's aria from Act 1 Scene 1 of 'La vida breve'
Manon Feubel (soprano), Laval Symphony Orchestra, Jacques Lacombe (conductor)
4:22 AM
Suk, Josef (1874-1935)
Fantastic Scherzo, Op 25
BBC National Orchestra of Wales, Richard Hickox (conductor)
4:36 AM
Pryor, Arthur (1869-1942)
Valse caprice: La petite Suzanne
Peter Moore (trombone), Jonathan Ware (pianoforte)
4:42 AM
Fauré, Gabriel (1845-1924)
Nocturne in B major, Op 33 No 2
Stéphane Lemelin (piano)
4:48 AM
Vivaldi, Antonio (1678-1741)
Violin Concerto in F major, RV 293 (Op.8 No.3) 'L'Autunno'
Elizabeth Wallfisch (baroque violin), Australian Brandenburg Orchestra, Paul Dyer (director)
5:01 AM
Arriaga, Juan Crisostomo (1806-1826)
Los esclavos felices - overture
Bergen Philharmonic Orchestra, Juanjo Mena (conductor)
5:09 AM
Chaminade, Cécile (1857-1944)
Automne, Op 35 No 2
Valerie Tryon (piano)
5:16 AM
Bovicelli, Giovanni Battista (c.1550-c.1597)
Diminutions on Palestrina's 'Io son ferito' for cornett and continuo - from Regole, passaggi di musica, madrigali e motetti passeggiati (Milan 1594)
Le Concert Brisé - William Dongois (cornett/director), Carsten Lohff (harpsichord), Benjamin Perrot (theorbo)
5:22 AM
Gombert, Nicolas (c.1495-c.1560)
Credo a 8
BBC Singers, Bo Holten (conductor)
5:36 AM
Haydn, Joseph (1732-1809)
Piano Trio in E major, Hob.XV.28
Beaux Arts Trio
5:53 AM
Strauss, Richard (1864-1949)
Ewig einsam ... Wenn du einst die Gauen (from 'Guntram' Op 25)
Ben Heppner (tenor), Toronto Symphony Orchestra, Andrew Davis (conductor)
6:06 AM
Mendelssohn, Felix (1809-1847)
Symphony No.4 in A major, Op 90, 'Italian'
Austrian Radio Symphony Orchestra, Milan Horvat (conductor)
6:37 AM
Debussy, Claude [1862-1918]
Images - set 1, for piano
Daniil Trifonov (piano)
6:51 AM
Sterkel, Franz Xaver (1750-1817)
Duet No.3 for two violas
Milan Telecky and Zuzana Jarabakova (violas).