Main content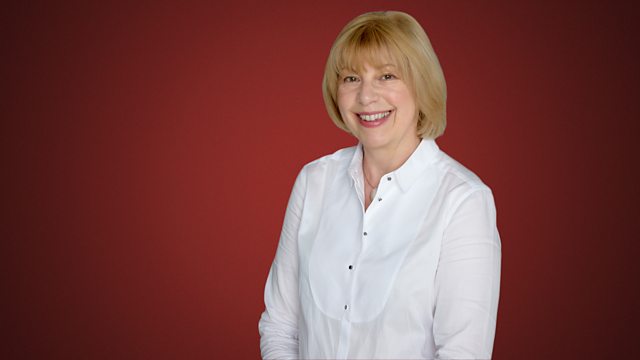 Thursday Opera Matinee - Verdi's Nabucco
Penny Gore presents Verdi's Nabucco, in a 2013 performance from the Royal Opera House, starring Placido Domingo.
2pm
Thursday Opera Matinee, presented by Katie Derham.
Placido Domingo sang the title role of Nabucco for the very first time anywhere in the world as part of the Royal Opera House's Verdi 200 celebrations in 2013, and Liudmyla Monastyrska dazzled in the role of Abigaille. Domingo takes on the baritone role of Nebuchadnezzar, King of the Babylonians, in the biblical story which so much resounded in the hearts of Italians at the time. The fight of the Hebrews against oppression and exile took a different twist in a tale of love and patriotism, represented in the celebrated chorus 'Va pensiero', one of Verdi's most famous pieces. Nicola Luisotti conducts the chorus and orchestra of the Royal Opera House. Followed by performances from this week's featured orchestra, the BBC National Orchestra of Wales in music by Copland and Karl Jenkins.
2pm
Verdi: Nabucco (Opera Cities season)
Nabucco.....Placido Domingo (baritone)
Abigaille.....Liudmyla Monastryka (soprano)
Zaccaria.....Vitalij Kowaljow (bass)
Fenena.....Marianna Pizzolato (mezzo-soprano)
Ismaele.....Andrea Care (tenor)
Anna.....Dusica Bijelic (soprano)
Abdallo.....David Butt Philip (tenor)
High Priest of Baal.....Robert Lloyd (bass)
Royal Opera House Chorus & Orchestra
Nicola Luisotti (conductor)
c.4.10pm
Copland: Appalachian Spring - suite
Karl Jenkins: Over the Stone (Tros y Garreg) - harp concerto
Catrin Finch (harp)
BBC National Orchestra of Wales
Tecwyn Evans (conductor).
Synopsis
War has broken out between the Babylonians and the Hebrews. The Hebrews have captured Fenena, younger daughter of the Babylonian king Nabucco (Nebuchadnezzar) and are holding her hostage. Nabucco has sworn to conquer Jerusalem.
Part I: Jerusalem
'Thus saith the Lord; Behold, I will give this city into the hand of the king of Babylon, and he shall burn it with fire.' (Jeremiah 34:2) 
The Hebrews pray for mercy as the Babylonians advance (Gli arredi festivi). The Jewish prophet Zaccaria rallies them, telling them to have faith in God, who brought them safely out of Egypt (D'Egitto là sui lidi). The Hebrews follow Zaccaria into battle. Ismaele, nephew of the King of Jerusalem, remains behind to guard Fenena, the Hebrews' hostage. Fenena and Ismaele recall how they fell in love while Ismaele was a prisoner of the Babylonians, and how Fenena helped him to escape. They are interrupted by Nabucco's older daughter Abigaille, who also loves Ismaele and is furious that he loves Fenena and not her. Abigaille vows vengeance and then, while Ismaele tries to reason with her and Fenena prays, she pleads for Ismaele to love her (Io t'amava).
The Hebrews rush in – the Babylonian armies have defeated them. Nabucco and his warriors enter triumphantly, and are confronted by Zaccaria, who threatens to kill Fenena. Fearful for Fenena, Ismaele disarms Zaccaria. He, Fenena and Zaccaria's sister Anna pray for divine help as Abigaille exults at Nabucco's victory, and Zaccaria and the crowd curse Nabucco (Tremin gl'insani). Nabucco orders the destruction of the temple.
Part II : The Impious One
'Behold, the whirlwind of the Lord goeth forth with fury, a continuing whirlwind: it shall fall with pain upon the head of the wicked.' (Jeremiah 30:23 )
Nabucco has brought many of the Hebrews as prisoners to Babylon. Meanwhile, Abigaille has discovered and stolen a document that proves her true parents were slaves: she was fostered by Nabucco, and not, like Fenena, a true daughter of the king. She broods angrily on Nabucco's refusal to let her have any role in the war with the Hebrews and his favouritism of Fenena, then remembers past happiness (Anch'io discusso un giorno). The High Priest of Baal informs her that Fenena is freeing the Jewish prisoners. Abigaille decides to take control of the kingdom (Salgo già del trono aurato). Zaccaria is inspired by the Tablets of the Law and prays (Vieni, o Levita!), then goes to find Fenena. Ismaele and a group of Levites enter, the Levites accusing Ismaele of treachery.
Zaccaria returns with Anna and Fenena, and Anna informs the Levites that Fenena has converted to Judaism and is now their ally. She urges the Levites to forgive Ismaele. Abdallo announces the rebellion set in motion by Abigaille. Abigaille and the High Priest enter in triumph. Nabucco pushes through the crowd, seizes the crown and challenges Abigaille to take it from him (S'appressan gl'istanti). He defiantly declares that he must be worshipped. Zaccaria warns that the wrath of God will strike Nabucco down and Fenena denounces her father revealing that she has converted to Judaism. Nabucco declares himself no longer a king, but indeed a god, then suddenly collapses. As he raves in debilitating confusion, Abigaille claims the crown.
Part III : The Prophecy
'Therefore the wild beasts of the desert with the wild beasts of the islands shall dwell there, and the owls shall dwell therein.' (Jeremiah 50:39)
The Babylonians celebrate their victory and rejoice that they now have peace (È L'Assiria una regina). Nabucco, still insane, attempts to regain authority without success. Abigaille orders the Babylonians to leave them. She tricks Nabucco, who doesn't recognize her, into signing a death warrant for the Hebrews (Donna, chi sei?). Once he has signed, Abigaille gleefully tells him that he has sentenced his own daughter to death. Furious, Nabucco regains enough sanity to recognize Abigaille. He tells her that she is the child of slaves, but in front of him Abigaille destroys the stolen document that would prove it. Now desperate, he begs her for mercy (Deh perdona) but she is adamant that the Hebrews must die, and orders Nabucco – still pleading for his daughter Fenena's life – to be imprisoned. The Hebrews mourn their exile in Babylon (Va pensiero). Zaccaria prophesies the destruction of Babylon, and his words give the Hebrews courage.
Part IV : The Broken Idol
'Bel is confounded…; her idols are confounded, her images are broken in pieces.' (Jeremiah 50:2)
Nabucco raves about the war and the defeat of Jerusalem. He hears voices crying for the execution of Fenena but is powerless to help her. In despair, he prays to the God of the Hebrews, vowing that he will convert if God will save Fenena. His sanity is immediately restored, and his servant Abdallo enters with soldiers to release him. Nabucco leads his men out, intent on freeing the Hebrews.
The Hebrew prisoners are led in to be sacrificed and Fenena prepares serenely for death (O dischiuso è il firmamento). Nabucco and his army enter and free the Hebrews. Everyone joins in a prayer (Immenso Jehova). Abigaille stumbles in. She has poisoned herself and comes to beg Fenena's forgiveness (Su me… morente). Praying for God's mercy, she collapses as Zaccaria acclaims Nabucco as a king under God.