Main content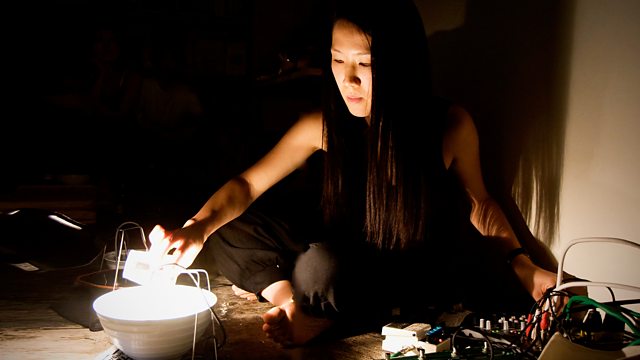 Nick Luscombe
Nick Luscombe shares fuzz guitar from 1970s Zambia, radiophonic music for a decomposing amusement park and Tom Service responds to Robert Wyatt's query on vibrato 50 years later.
Nick Luscombe serves up a smorgasbord of the unusual, from 1970s Zamrock forged during Zambia's liberation from colonial rule to new music by Japanese composer Tomoko Sauvage made with porcelain bowls and water.
Also on the programme, Tom Service answers a question that Robert Wyatt sent into the Third Programme over 50 years ago, we have a punchy piece of avant disco by composer and saxophonist Peter Gordon and The Love of Life Orchestra and an excerpt from Simon James' radiophonic drama which features a crumbling amusement park, a talking cockroach and a mysterious character named Monday Man.
Produced by Alannah Chance for Reduced Listening.
Last on
Music Played
West Norwood Cassette Library

Tom At The Library

WITCH

Janet

We Intend To Cause Havoc!.
Now-Again Records.

Jonathan Nangle

Where Distant Lights Flicker on Half-Frozen Ponds

Performer: Crash Ensemble.

Martin Glass

Okinawa Fantasia

The Pacific Visions of Martin Glass.
Kit Records.

Robert Wyatt

A Last Straw

Rock Bottom.
Virgin Records.

Msafiri Zawose

Tusife Majanga

Roy Harvey

&

Jess Johnston

Guitar Rag

The Rough Guide to Hillbilly Blues.
Rough Guides.

Fatima Al Qadiri

Alkahaf (feat. Bobo Secret & Chaltham)

Tomoko Sauvage

Clepsydra

Musique Hydromantique.
Shelter Press.

Simon James

Akiha Den Den Side One (Excerpt)

Akiha Den Den.
Castles in Space.

Peter Gordon

&

Love of Life Orchestra

Candy Store

Best Available Technology

Session 6192

Exposure Therapy.
Styles Upon Styles.

Dagaday-Khachu

&

Kabbukky Bata

Lilyur Liryur

An Introduction to Ored Recordings, Pt. 1: Song.
Death Is Not The End.

Four Tet

Scientists

New Energy.
Text Records.

Sunny & the Sunliners

My Dream

Mr. Brown Eyed Soul.
Big Crown Records.
Broadcast