Main content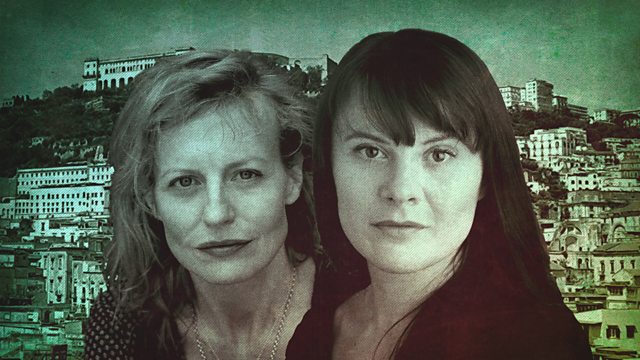 Lila's life is turned upside down by the disappearance of her young daughter and she struggles to hold herself together. The shadow of her friend will haunt her - and vice versa.
Elena Ferrante's story of a life long friendship between Lila and Lena comes to an end in this sad and surprising final chapter.
While deep in conversation with her old lover Nino and holding his child with Lena, Lila loses sight of her own daughter who suddenly disappears. Lila's world will never be the same and, despite Lena's attempts to help her friend try to come to terms with her loss, their past comes back to haunt them and one of them finally decides that there is only one way forward.
Does this free the other or hold her prisoner to her past forever?
Written by Elena Ferrante
Translated by Anne Goldstein
Dramatised for radio by Timberlake Wertenbaker
Directed by Celia de Wolff
A Pier production for BBC Radio 4.
More episodes
Next
You are at the last episode
Credits
| Role | Contributor |
| --- | --- |
| Lena | Monica Dolan |
| Lila | Anastasia Hille |
| Nino Sarratore | Daniel Flynn |
| Pietro | Ferdinand Kingsley |
| Adele | Sylvestra Le Touzel |
| Dede | Grace Wingate |
| Dede | Ella Dale |
| Elsa | Isobel Tinsley |
| Elsa | Georgia Taft |
| Mariarosa | Claudia Jolly |
| Carmela | Louise Calf |
| Colombe | Louise Calf |
| Antonio | Hugh Kermode |
| Mother | Jane Whittenshaw |
| Guido | David Collings |
| Franco | Simon Scardifield |
| Augustin | Simon Scardifield |
| Armando | Josh Dylan |
| Marisa | Sara Markland |
| Elisa | Nelly Harker |
| Photographer | Nelly Harker |
| Enzo | Carl Prekopp |
| Marcello | Ben Crowe |
| Guest | Ben Crowe |
| Alfonso | Nick Armfield |
| Tina | Sylvie Goodwin |
| Imma | Grace Pearcey |
| Imma | Cosima Pearcey |
| Michele | Daniel Ryan |
| Guest | Daniel Ryan |
| Gennaro | Tom Davies |
| Pasquale | Nicholas Gleaves |
| Author | Elena Ferrante |
| Translation | Ann Goldstein |
| Adaptor | Timberlake Wertenbaker |
| Director | Celia de Wolff |