Main content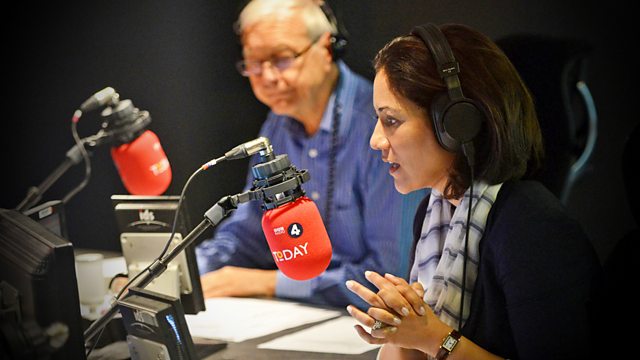 20/10/2017
Morning news and current affairs. Including Yesterday in Parliament, Sports Desk, Weather and Thought for the Day.
Today's running order
0650
The Russian President Vladimir Putin has said Moscow is ready to develop new weapons systems, both nuclear and non-nuclear, in response to other countries doing the same.  Brian Whitmore is a senior Russia analyst and author of the Power Vertical blog which focuses on Russian affairs.
0653
The majority of undergraduate admissions to Oxford and Cambridge come from the top echelons of society. This is despite huge investment in outreach to get more students from working class backgrounds to apply. Ellery Shentall is a philosophy and french undergraduate student at Wadham College.
0709
Theresa May has urged EU leaders to give permission for the negotiations to move on to talks about trade. Our Europe correspondent Kevin Connolly reports from the summit in Brussels.
0712
Leanne Wood has insisted that she will lead Plaid Cymru into the next Welsh Assembly election in 2021, despite rumblings about her leadership. She joins us on the programme.
0720
What if our landscape could create its own music? Scientists from Bristol University have been using the latest digital technology to give the city's most iconic structure a sound and style of its own. Jon Kay reports.
0730
The majority of undergraduate admissions to Oxford and Cambridge come from the top echelons of society. Newly released figures obtained by the Labour MP David Lammy also reveal a north-south divide. David Lammy is MP for Tottenham and Dr Samina Khan is director of undergraduate admissions and outreach at Oxford University.
0740
Could Britain be ready to leave the EU without a deal in 2019? This programme has been told that Whitehall officials were warned a no-deal Brexit could see industry and the taxpayer paying up to £26bn a year in extra customs costs. Ross Hawkins reports.
0750
The Russian president Vladimir Putin has said Russia's biggest mistake over the past 15 years was to trust the West too much, and said he was ready to develop new weapons.Robert Hannigan is the former head of GCHQ.
0810
EU leaders are meeting in Brussels this morning to consider the impact of Theresa May's speech at the summit's working dinner last night. Reports from Kevin Connolly and Laura Kuenssberg and we hear from Peter Mandelson, a former Labour cabinet minister
0820
Tom Hanks has just published Uncommon Type, his first book of short stories, a play on words out about his passion for typewriters.
0836
Jake Sullivan, former director of policy planning for Obama says we are in a new cold war with Russia on the cyber-front.
0843
Is it time for Theresa May to get tough - to tell the Europeans that she is willing to walk out on talks if we seem to be getting nowhere? Iain Duncan Smith is a former Conservative cabinet minister.
0847
Earlier in the week the French equality minister, Marlène Schiappa outlined proposed legislation against sexual harassment, including issuing fines for people who engage in cat calling. Marie Beauchesne is an entrepreneur and feminist.
0851
Today EU leaders are expected to conclude that the talks have not made enough progress to move to a second phase of trade discussions. Alex Barker is the FT's Europe correspondent and Matthew Holehouse is Brexit correspondent for the Mlex news service.
All subject to change.