Main content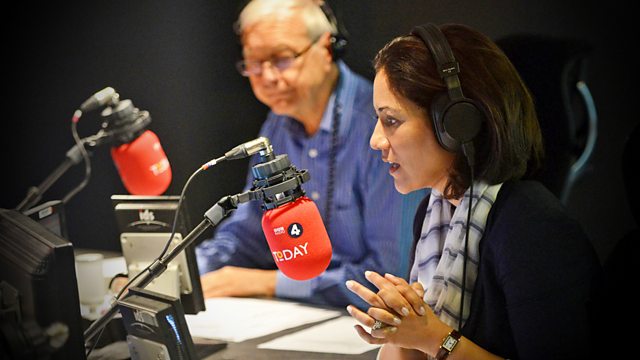 19/10/2017
Morning news and current affairs. Including Yesterday in Parliament, Sports Desk, Weather and Thought for the Day.
Today's running order
0650
EU leaders meet today for the start of a two-day summit in Brussels. A financial settlement is the biggest issue preventing progress in the Brexit negotiations. Chris Morris is our reality check correspondent.
0652
The Behavioural Insights Team, or 'nudge team' is today releasing its annual report. 'Nudging' uses behavioural science to make small, cost-effective changes to improve public services. Dr David Halpern is chief executive of the behavioural Insights team
0709
A number of leading voices from the Leave campaign have signed a letter urging Theresa May to walk away from EU talks this week if trade isn't discussed. Owen Paterson is a former Conservative cabinet minister and signatory to the letter.
0712
In the wake of the Harvey Weinstein affair Sir Tom Jones has been talking about sexual abuse in the music industry. Colin Paterson reports.
0720
Google has unveiled an AI programme so powerful that within three days it derived thousands of years of human knowledge from the ancient Chinese game Go and then invented better moves of its own. Andrew Jackson is the director of the American Go Association.
0735
The son of an investigative journalist killed in a car bomb attack in Malta has denounced what he called the country's "mafia state". Jonathan Benton is the former joint head of the international corruption unit at the National Crime Agency.
0740
A new opera called The Arsonists, written specially for Northern vowel sounds is about to open. David Sillito reports.
0750
Theresa May will have the chance to put the UK's position in the Brexit talks directly to EU leaders after dinner this evening. Sir Keir Starmer is the shadow Brexit secretary.
0810
The fall of Raqqa, the centre of so-Islamic State's caliphate, has raised the question: where will the jihadists go? Might they try to travel to Europe? Richard Barrett is the former global counter-terrorism director of MI6 and Max Hill is an independent reviewer of terrorism legislation.
0820
Leave campaign voices have penned a letter to Theresa May urging her to walk away from EU talks this week should trade not be on the agenda. Katya Adler is our Europe editor and John Pienaar is our deputy political editor.
0830
In the past 5 years just over 500 families across the UK have blocked organ donation from a deceased relative, despite them being on the organ donor register. Emma Nottingham is a lecturer in medical law and ethics at the University of Winchester.
0838
Tom Karen is the man behind the iconic Raleigh chopper bike, the Robin Reliant and the toy 'Marble Run' - which is still in production. Now his work is to feature in a special exhibition at the Jewish museum in London. Zoe Conway reports.
0842
Prime Minister Theresa May has issued an open letter to 3 million EU citizens living in Britain, promising she will make it as easy as possible for them to stay after Brexit. Nicolas Hatton is the founder of The 3 Million pressure group, which campaigns for the rights of EU citizens in the UK.
0845
A number of British banks are likely to be investigated over new claims that they may have been used to launder money stolen from the South African state. Andrew Harding is our correspondent in South Africa and Peter Hain is a British Labour Party politician.
0849
Scientists have found an invisible "aura" surrounds some flower petals and acts as a signal for bees. Professor Beverley Glover is director of Cambridge University's botanic garden.
0852
The European Commission has agreed to "accelerate" Brexit talks but can the UK expect any significant concessions from the other EU leaders when the latest EU summit begins in Brussels today? Yanis Varoufakis is the former Greek finance minister and Radek Sikorski was minister of foreign affairs in Donald Tusk's cabinet.
All subject to change.