Main content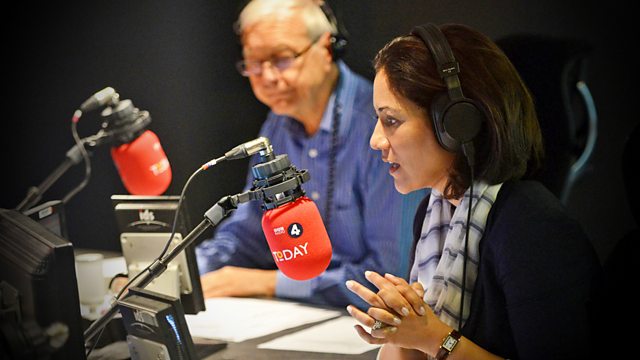 17/10/2017
News and current affairs. Including Yesterday in Parliament, Sports Desk, Weather and Thought for the Day.
Today's running order
0650
Later this morning the ONS will publish the latest inflation figures. Some economists think this month's inflation will hit 3%. DeAnne Julius is a former member of the Monetary Policy Committee.
0655
Childline have warned that their helpline has received its highest number of suicide-related calls last year. John Cameron is head of helplines at the NSPCC (which includes Childline).
0712
Revised proposals to cut the number of Westminster seats have been published by the Boundary Commission. The number of MPs would be reduced from 650 to 600. Sam Hartley is secretary to the Boundary Commission.
0720
Children are "invisible" in the English family justice system, according to the most senior family court judge Sir James Munby. Sanchia Berg reports.
0730
US-backed Syrian Democratic Forces say the former Islamic State stronghold of Raqqa is now under its control. Major General Rupert Jones is deputy commander of strategy and support for the Combined Joint Task Force.
0740
Four big companies - Amazon, Google, Apple and Facebook - infiltrate every aspect of our lives, and are producing a "culture of misinformation". That's according to Franklin Foer, the author of World without Mind a new book examining this.
0750
Plans to protect critical national infrastructure in regards to foreign investment are revealed today. Greg Clark is secretary of state for business, energy and industrial strategy, and is making the announcement this morning.
0810
Theresa May has returned to London after talks with President of the EU Commission Jean-Claude Juncker which were described in a joint statement as "useful and constructive". Dr Michael Fuchs is vice chairman of the Christian Democratic Union (CDU).
0820
Why do unusual meteorological and astronomical events such as yesterday's orange sky unnerve us so much? Chris French is professor of psychology at Goldsmiths and Twm Elias is a folklorist.
0830
A UN agency dedicated to family planning warns today that women's rights and access to sexual and reproductive health care must be improved, or risk unrest and threats to peace around the world. Dr Natalia Kanem is executive director of the United Nations Population Fund.
0835
Since this programme first came on air 60 years ago, the threat of terrorism to our country has changed, and with it, the way that security services have to deal with it. Ed Butler is head of research at Pool Re, and Ed Webb is the grandson of Airey Neave.
0845
Household debt in Britain in on course to reach the same level as before the crash of 2008. What action should be taken? Sangita Myska reports.
0850
Crimewatch is to be moved to a daytime slot after a fall in ratings following a recent relaunch. Nick Ross is a former presenter of the programme.
All subject to change.