Main content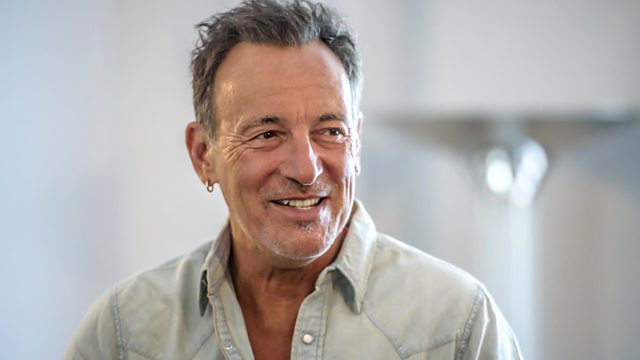 Episode 1
A revealing documentary giving listeners a unique insight into the life of Bruce Springsteen, providing an intimate understanding of the determination and dedication of the man.
Bruce Springsteen: A working-class hero and plainspoken visionary whose sincere romantic insights into everyday lives have earned comparisons to American literary giants like John Steinbeck and Woody Guthrie. His belief in Rock's mythic past - and its potential - has revitalised pop music and made Springsteen a superstar.
Now, 5 decades after his mother bought him an $18 guitar and he began playing for small audiences at a trailer park on New Jersey's Route 34, Bruce tells his story and explains the factors in his life "full of poetry, danger, and darkness" that have provided inspiration for some of the most acclaimed songs of his extensive career. In intimate conversation Bruce describes his early years growing up in Freehold, New Jersey, recounting the seminal moments that fuelled his relentless drive to become a musician, his years as a bar band king in Asbury Park, the rise of the E Street Band and his eventual ascendancy to the top of Rock's hierarchy.
The frank and revealing documentary will give Radio 2 listeners a unique insight in to the life of one of the most admired individuals in the world, providing them with an intimate understanding of the determination and dedication which has made Bruce the most captivating storyteller of his generation as he reveals his greatest influences, detailing the people and places that have inspired him.
The 2 part documentary will feature Bruce explaining the soundtrack of his life from the early impact of the delicious 50's Doo-Wop that emanated from the family radio to the thrill of Elvis's Rockabilly rebellion; Dylan's evocative and potent new language, Soul music's deep spiritual connection, Punk's raucous power and the purity and beauty of legends of American Country and Folk like Hank Williams and Woody Guthrie, highlighting his immense pride in his work ethic and the decades he has spent honing his skills as a performer and songwriter, because he has always seen rock 'n roll as more than music. "I got tremendous inspiration and a sense of place from the performers who had imagined it before me. They were searchers - Hank Williams, Elvis Presley, James Brown. The people I loved - Woody Guthrie, Bob Dylan - they were out on the frontier of the American imagination, and they were changing the course of history and our own ideas about who we were."
Through the course of the documentary Bruce will explain how, right from the moment he decided he wanted to be a writer and performer, he learned all he could about the legendary artistes who inspired him, studying their techniques diligently mastering the art of crafting a cinematic pop song, eventually perfecting the ability of balancing epics like 'Blinded by the Light' with the Wall of Sound sweep of 'Jungleland' and tightly constructed stories of struggle that delivered even bigger results, like 'Thunder Road' and 'Born to Run'. And as he focused his sound and narrative, his music continued to gain power and the mass audience he knew it always deserved.
Last on

Broadcasts