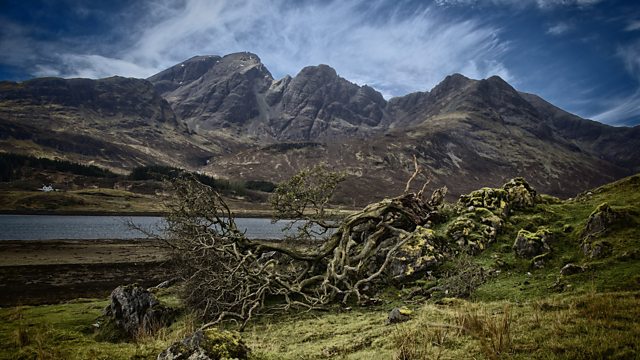 14/10/2017
Join Euan McIlwraith and Helen Needham for the latest outdoor activities from Shetland to the Borders, plus the key stories for those who live and work in the countryside.
Last week we heard about ambitious plans by the community around Aviemore to take control of the ski facilities at Cairngorm. The plan involves making use of new legislation similar to a community buy out and Euan finds out more from Highlands and Islands Enterprise who help advise communities wanting to buy assets.
In the case of Cairngorm, as well as being the community asset transfer advisors, HIE actually own the land the community is trying to take control of. So Euan speaks to their head of business development about the criticisms they have faced about their ownership of the mountain.
Helen is near Stirling visiting a father and son growing something rather unusual on their farm, tea. She finds out about the challenges they face as well as hearing about the success of Scottish tea growing across the country.
Scotland's first ever national Geoheritage festival is happening right now. Events are being held to promote some of our famous and unique geological sites, as well as the hidden gems. Mark visits one of those sites, Siccar Point and hears from one of the festival organisers.
Sparrowhawks are amazing wee birds of prey. According to research carried out by RSPB Scotland and the Scottish Raptor Study Group it seems nowadays you've got more chance of spotting them in the city than in the country. Euan headed to Edinburgh to try and catch a glimpse of one.
While the site of chairlifts and ski tows being dismantled on Cairngorm is a sad sight, ski enthusiasts are being given the chance to own a little bit of the mountain forever by purchasing a chairlift chair. Euan chats to some of buyers.
Every week we try and bring you a bit of an experiment with sound. This week as gales screamed over Scottish skies Euan headed out with his kit.
Last week Mark sparked off a lively discussion on the subject of shepherd's boots. The boots appeared in an old photograph unearthed in Lanark mart. We wondered if anyone still makes them or even repairs them so Euan headed out to meet a cobbler and find out.
And ahead of our special on the Inverness to Kyle of Lochalsh railway, we bring you the soothing soundscape of a train trundling down the track.